Aputure have been making awesome and affordable LED lights such as the Light Storm 120D, the 300D and the 120D II COB, and now they are launching the upgraded version of their original Fresnel attachment the Aputure Fresnel 2X.
The previous model Aputure Fresnel did the job, but the engineering and design team at Aputure had to go back to the drawing board and redesign the successor based on user feedback some serious R&D effort. Thus, the Aputure Fresnel 2X was born. The new design makes for a bigger overall attachment with a larger 6-inch front Fresnel lens; however this brings benefits such as dual optical elements, improved ventilation, and minimized light leaks, making this the ultimate Bowens Mount Fresnel.
Thanks to its dual lens design, the new Aputure Fresnel 2X is now twice as powerful, and it achieves zero light waste since the rear lens focuses and magnifies the beam onto the larger 6" front Fresnel lens, this achieves zero light waste. The new dual lens design also makes the Light Storm 120D II up to 14x brighter, transforming your already existing Aputure COB arsenal into powerhouses.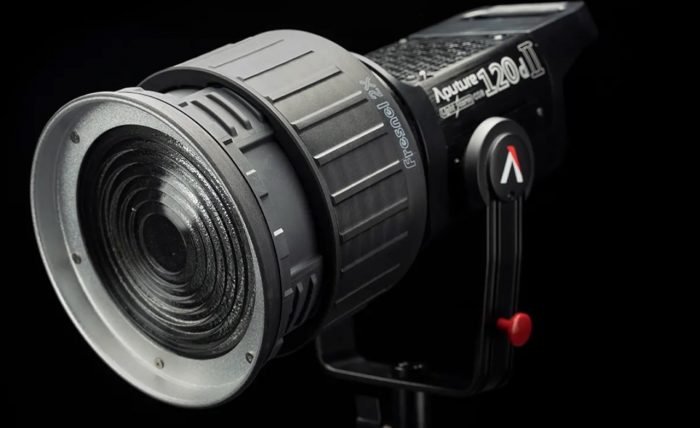 The Fresnel 2X also features a new rotating barrel design, thus creating a more intuitive user experience, akin to mounting a camera lens. The smooth focus throw gives users an ability to accurately finesse the beam angle of their light source, allowing you to easily spot or flood your light with a simple twist.
Aputure Fresnel 2X Highlights
Dual lens design with larger 6-inch Fresnel element
2x more output than using Fresnel 1st Generation
Multiple times more output to a 300D light at 1 meter
Zero light leakage
More stable and smoother zoom in/out design
12-40 degrees smooth spot to flood
Robust and great heat resistance material build
Compatible with Bowens mount lights
Compatible with Aputure Barndoors
Price: $120 USD from Aputure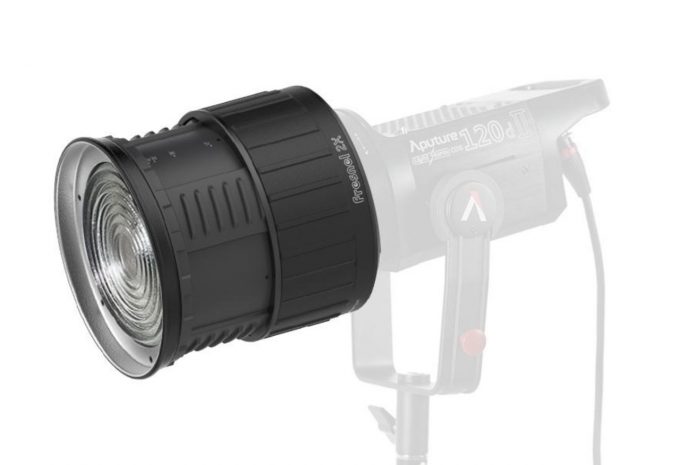 The Fresnel 2X is highly adaptable to any situation, thanks to its Bowens Mount design, much like the predecessor. This fresnel can be attached to a huge range of lights. The 7" front ring accepts the Aputure Barndoors, meaning your light shaping options are endless. With the included carrying case, the Fresnel 2X can easily follow you, wherever your shoots may take you.
Aputure Fresnel 2X Technical Specifications
Dimension: 180 × 180 × 141mm / 7 × 7 × 5.5′
Weight: 1.24kg / 2.73lbs
Beam angle: 12 – 40°
At IBC 2018 I saw a pre-production version of the Fresnel 2X and had a chat with Ted from Aputure about it. See our video interview from the show floor below.
The Fresnel 2x is priced at $120 US and for more info about it and other Aputure lighting products, head over to Aputure.
Claim your copy of DAVINCI RESOLVE - SIMPLIFIED COURSE with 50% off! Get Instant Access!