Wooden Camera have just announced an on-camera mic – the VX Skateboard Camera Mic! Yes, you read that right – the company you normally associate with high-quality camera accessories ranging from QR baseplates, follow focuses and matte boxes have now resurrected a classic microphone from days gone by adored by filmmakers, who got their start in making skateboard videos a couple of decades ago.
For those of you reading this, who may not even been born back in 1995, the early to mid 90's was a glorious time, but I don't want to get into walking down memory lane as I will start sounding like an old man reminiscing of "how things used to be (much better)…"
And while I can't say that I have ever been a part of the skateboard sub-culture back in the day, I can appreciate resurrecting something that worked and improving it for modern times, so younger creatives can take advantage. This is what Wooden Camera did with their new VX Skateboard Camera Mic. This on-camera mic is a recreation of the Sony VX1000 microphone for use on modern cameras to clearly record action sports sounds.
The VX skateboard mic incorporates four microphone capsules are arranged in the same orientation as the original VX1000 and a digital signal processor emulates the frequency filtering and compression. The mic includes a coiled 3.5mm TRS cable that allows you to hook-up the VX Mic to a wide range of capture devices from DSLRs, mirrorless cameras, good-old handycams, and even high-end stuff like a RED Raven or GEMINI 5K or any other camera with a 3.5mm stereo input.
For those, who prefer to connect the VX Mic to pro camcorders equipped with dual-XLR inputs, Wooden Camera have made a VX Skateboard Camera Mic XLR Adapter Y Cable which is sold separately.
The Wooden Camera VX Skateboard Mic has an internal lipo battery, which provides more than 48 hours of continuous operation and can be charged using the included USB-C wall adapter. You can also use external USB power banks to charge and power the mic at the same time.
The mic can be mounted via a hot shoe (included) or 1/4-20 mounting point, as well as an optional Horseshoe Mounting Bracket, which provides two additional shoe mounts and a 1/4-20 screw on top, while a custom Windscreen by Rycote is also available for crisper and cleaner sound when using in windy situations.
So, what makes the VX Mic so special?
The Sony VX1000 camcorder was introduced in 1995 and quickly revolutionized the skateboarding filmmaking community thanks to its unique look and more precisely – sound. The internal microphone design was particularly good at recording clear skateboard noises compared to previous Hi-8 cameras. Since the move to HD, there has been no standard for audio capture in skateboarding which is why no two skate videos sound the same. That's why Wooden Camera decided to reinvent the VX mic and "make it sound like 1995 again".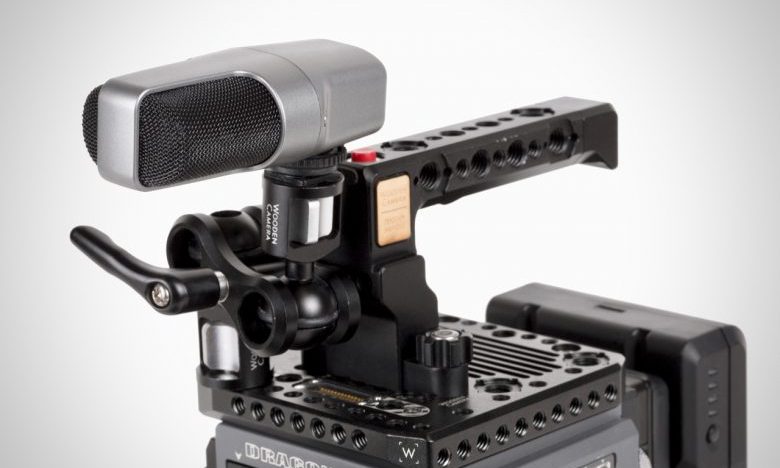 Check out this interview with skateboarding filmmaking legend Ty Evans, who's been testing the VX mic for a few months:
The Wooden Camera VX Skateboard Mic is priced at $299 and you can learn more about it here https://VXmic.com
Claim your copy of DAVINCI RESOLVE - SIMPLIFIED COURSE with 50% off! Get Instant Access!