ARRI have announced a new WVR-1s compact wireless video receiver that has been specially designed to be used hand-held focus pullers and as a companion to compact handheld director monitors. With the announcement of the WVR-1s ARRI expands its Wireless Video System – WVS range and strengthens their ongoing collaboration with wireless technology market leaders Teradek, who are part of the Vitec Group.
In November of 2018, Vitec acquired Amimon, who are the supplier of the video transmission technology inside the Teradek Bolt and ARRI Wireless Video System (WVS). In a joint statement with ARRI, Vitec Group confirms its continued commitment to the ARRI WVS product line, which is being expanded with its latest addition, the ARRI WVR-1s, a compact and lightweight wireless video receiver.
The ARRI Wireless Video Receiver WVR-1s, as with all things ARRI has been built to withstand the rigours of modern video production to last thanks to its robust aluminium casing. The WVR-1s has been designed to give focus-pullers and directors a compact and reliable solution to remotely monitor footage as it is being captured. A smaller, lighter-weight counterpart to ARRI's long-range WVR-1, the WVR-1s can be quickly paired with the ARRI WVS transmitter and has an operational range of up to 150 meters/500 feet.
To increase hand held flexibility and reduce overall weight, it has integrated antennas, battery adapters for micro batteries, and an extra power out for a monitor.
With the backing of ARRI's global network of service centers, any downtime will be reduced to a minimum, and as the ARRI WVS is fully certified, operators can be confident they are always in compliance with local transmission regulations.
ARRI WVR-1s Features & Highlights
Compact, lightweight footprint
Rugged aluminium casing
Reliable transmission, simple and fast pairing
Spray and dust-proof with protective collars for connectors
Robust mechanical and electrical interfaces
Large temperature range (-20 C/+45C or -4 F/+113 F)
Custom battery adapters for:

V Mount
Gold Mount
Bebob V-MICRO or A-MICRO

Power output to power receiver and monitor from one battery
Legal with local certifications
Price: TBD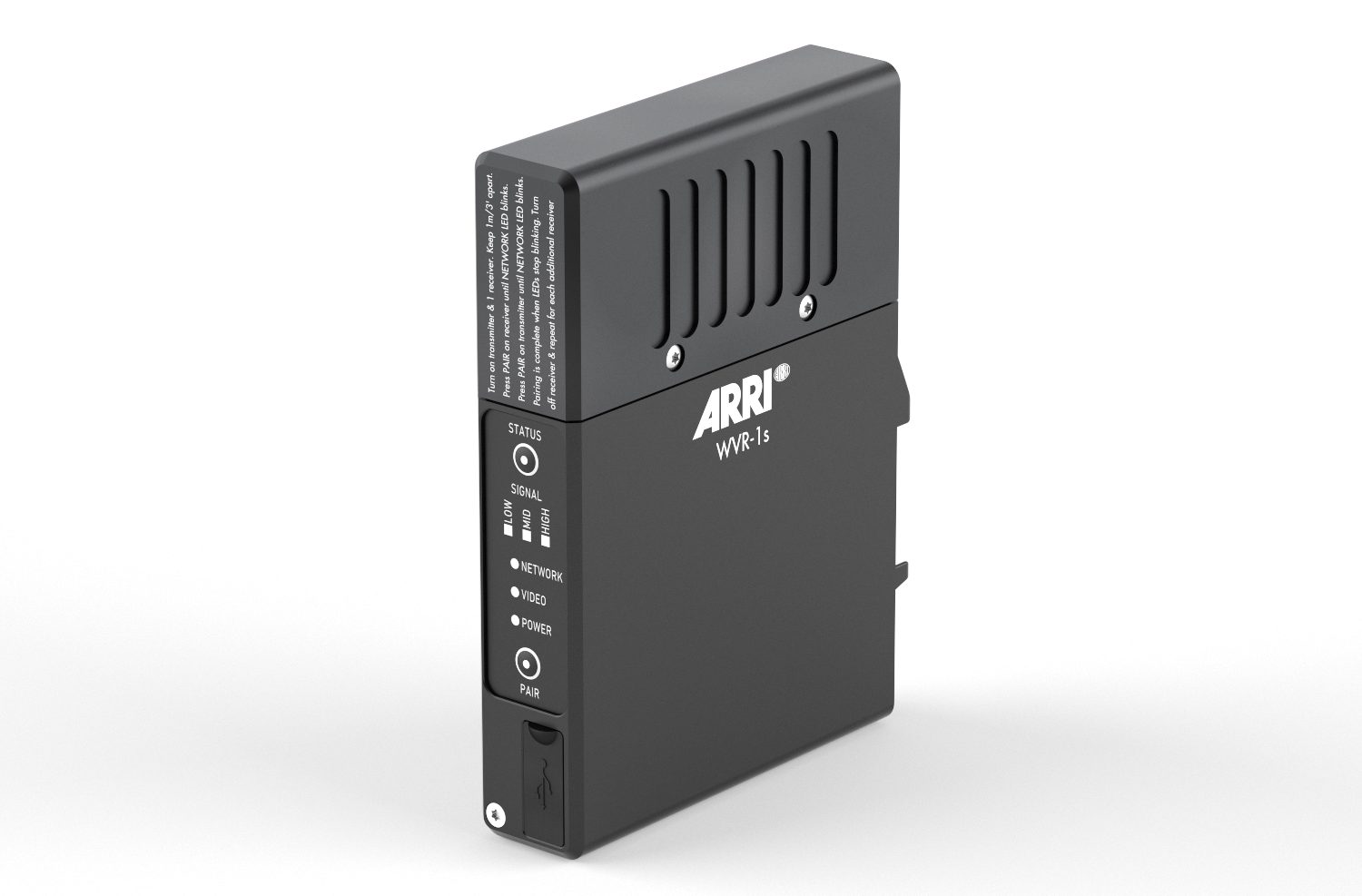 "The ARRI Wireless Video System features are based on many conversations with industry professionals," says Marc Shipman-Mueller, a Camera Systems Product Manager at ARRI. "Responding to further customer demand, we are now taking the next logical step of introducing a small receiver, the WVR-1s. We are doing this in close coordination with Teradek, which supply the Amimon technology inside the WVR-1s and are looking forward to a continued positive working relationship."
Teradek Founder and CEO, as well as Vitec Creative Solutions CEO, Nicol Verheem, comments:
"Our team within Teradek has long admired the market leadership and innovative spirit of ARRI and we continue to appreciate the way their technology and products transform our industry year after year. Bringing the brilliant Amimon R&D team and wireless video technology inside our organization was an important step for us. Owners of the ARRI Wireless Video System should have total confidence that this acquisition will not affect the continued support of ARRI's Amimon-based solutions. In fact, with Teradek leading Amimon to develop more cine-focused products, the production community will see faster development of new enabling tools and capabilities. We are excited about our joint roadmap and our continued cooperation with ARRI."
The WVR-1s is part of ARRI's comprehensive WVS range, which includes both integrated and external transmitters, receivers, monitors, and a wide variety of associated accessories.
The new ARRI WVR-1s compact receiver is expected to start shipping in May 2019. For full specs head over to ARRI.
Claim your copy of DAVINCI RESOLVE - SIMPLIFIED COURSE with 50% off! Get Instant Access!