The new Insta360 EVO is a Foldable Camera that Shoots 5.7K 80 3D and 360! HoloFrame – is a new, optional attachment, which allows users to view 18 megapixel 180 3D photos or video without 3D glasses or other wearable accessories. 
Popular 360 degree camera maker Insta360 has just launched the Insta360 EVO, a revolutionary new 360 degree and 180 degree 3D camera with a unique folding body design. The Insta360 EVO can be folded quickly and easily allowing it to transform between two shooting modes, one shooting lifelike 5.7K 180-degree 3D content and another for immersive 360 that captures every angle at once.
Insta360 VR is a new app for Oculus Go and Samsung Gear VR, which allows you to connect EVO to a headset for streamlined wireless playback and transfer. Also, the aforementioned HoloFrame resembles a smartphone case and has been a specially designed phone display cover that lets you watch 3D photos and video with the naked eye. RED Hydrogen One anyone?
Yes, I know the Hydrogen One has this functionality built-into the display, but still, this functionality on the EVO made me think of the RED smartphone.
Insta360 EVO Specifications:
Lens Aperture: f/2.2
Photo resolution:
Video resolutions:

5760 x 2880 at 30fps
3840 x 1920 at 50fps
3840 x 1920 at 30fps
3008 x 1504 at 100fps

Photo format:

Insp, Jpeg(can be exported via App), DNG (RAW)

Video format: Insv, MP4 (can be exported via App), LOG
Video encoding: H264 at up to 100Mbps
Stabilization:

Built-in 6-axis gyroscopic stabilization

Compatible devices:

iPhone XS, iPhone XS Max, iPhone XR,
iPhone X, iPhone 8/8 plus,
iPhone 7/7 plus,
iPhone 6s/6s plus, iPhone SE,
iPad Pro, iPad (2018)
Content captured on the EVO can be played back on any VR headset, allowing for 3D immersion. Using the new Insta360 VR app, users can also connect an Oculus Go or Samsung Gear VR directly to EVO for instant playback and file transfer.
The HoloFrame pops straight over a smartphone display (Insta360 say – it works similar to a reverse phone case). Then, users open their favourite 3D photo or video in the EVO app. During playback, the app uses eye-tracking to align with a viewer's gaze and display an image that takes on a lifelike three dimensions in their line of sight.
The HoloFrame is sold separately and available today for iPhone models X, XS, XS Max and XR, with additional versions for Samsung Galaxy S8, S8+, S9, S9+ and Note 8 models coming soon.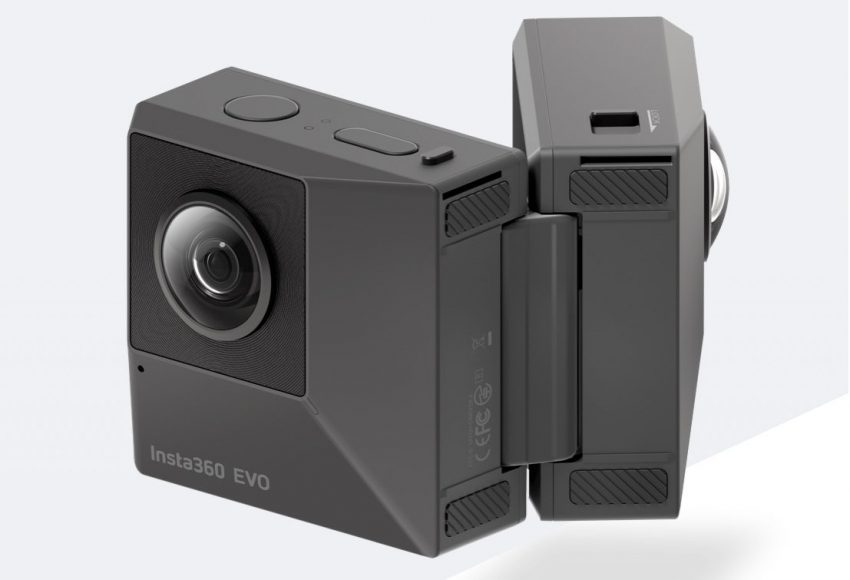 Good stabilization is essential for both 360 and 180 3D content, especially when it's viewed in a headset. That's why EVO uses two purpose-built stabilization technologies. 360 mode packs FlowState Stabilization, the industry-leading tech that captures footage so stable it looks gimbal-mounted.
For 180 3D mode, EVO introduces a groundbreaking new 3D stabilization tech. Filming 180 3D used to mean you were stuck in place, with footage that became unwatchable as soon as you moved. Now, creators can move freely to get the shot, while ensuring footage stays smooth, stable and headset-ready.
Insta360's signature TimeShift mode puts a 360 twist on time-lapse and hyper-lapse photography, allowing EVO users to control both the flow of time and the perspective of the camera at any given moment.TimeShift is a killer feature for travel experiences, family events and more.
EVO uses best-in-class HDR video capture technology for both 180 and 360 shooting modes. Scenes look natural and vibrant in every direction, with no post processing necessary. HDR photos are also supported for both shooting modes.
The EVO's companion app makes capturing and editing great moments easy. and thanks to the built-in WiFi connectivity you can see what you're capturing on EVO in real time, and then quickly transfer footage to your mobile phone. Users can also review, trim and tweak 180 and 360 content with a few taps, or reframe 360 footage to create a perfect edit. The app also supports publishing 360 and 180 3D content to supporting platforms, such as YouTube and Facebook.
The Insta360 EVO will launch at a price of $420 USD and available to order now via Insta360.com, B&H Photo Video and select retailers worldwide.
Disclaimer: As an Amazon Associate partner and participant in B&H and Adorama Affiliate programmes, we earn a small comission from each purchase made through the affiliate links listed above at no additional cost to you.
Claim your copy of DAVINCI RESOLVE - SIMPLIFIED COURSE with 50% off! Get Instant Access!