It's seem like it's all about the Sony full-frame mirrorless cameras these days when it comes to new lenses. And despite major competitors such as Canon, Nikon and even Panasonic, who have announced and released their first full-frame mirrorless systems, it has to be noted that Sony beat them to market years ago.
Sure, it's not 2015 anymore, and mirrorless technology has evolved, but Sony keeps on chugging spending millions of dollars on R&D and making some sweet full-frame cameras.
Third party glass makers were quick to jump on the Sony FE ecosystem and Tokina, a brand that is no stranger to making solid, but affordable lenses for various Japanese camera makers, recently announced the expansion of their FiRIN range of lenses with the new Tokina FiRIN 100mm f2.8 Macro for Sony E mount.
The new FiRIN lens is a short telephoto macro, offering a life-size, 1:1 maximum magnification along with an 11.8″ minimum focusing distance. The lens also utilizes a flat-field optical design to for realistic rendering, without bending, as well as high sharpness and clarity throughout the focusing range.
Tokina FIRIN 100mm f/2.8 Macro Features
Sony E-Mount Lens
Full-Frame 35mm Coverage (36x24mm)
Bright maximum aperture f/2.8 (can be closed to f/32)
Multi-Layered Coating
1:1 Magnification, 11.8″ Min. Focus
Autofocus with Full-Time MF Override
Supports In-Camera Assist Functions
9 Blade Diaphragm for organic bokeh
Price: $599 at B&H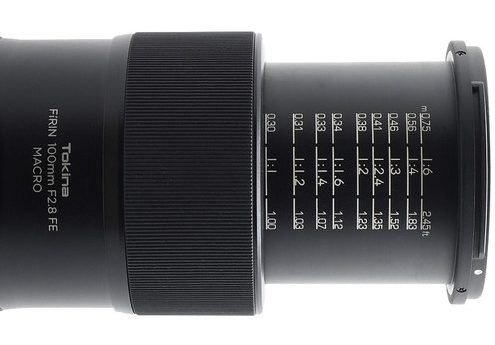 The FiRIN 100mm f2.8 optics are fully coated to reduce light fall-off, as well as control chromatic aberration, and reduced pesky artifacts such as flare and ghosting. The optical design also incorporates 9 elements in 8 groups and the lens weighs just over 20 oz.
At the 100mm focal length, with a wide f/2.8 aperture, this FiRIN lens is not just made for Macro purposes, but is also well suited for portraiture, telephoto landscape work, and of course video.
The new Tokina FiRIN 100mm f2.8 Macro for Sony FE is available now for $599 at B&H.
Claim your copy of DAVINCI RESOLVE - SIMPLIFIED COURSE with 50% off! Get Instant Access!