DJI have just officially announced their first action camera! Considering all unique and innovative features it brings to the table, DJI Osmo Action seems to be the most serious competitor of GoPro HERO series to date. The all-new camera is, of course, compact, lightweight, and sturdily built as well as it can shoot 4K UHD video up to 60fps (240fps in HD) using MOV, MP4 (H.264) at up to 100 Mb/s.
What's more, the Osmo Action comes equipped with RockSteady stabilization, HDR, automatic time-lapse photography alongside unique dual full-color screen configuration. Other notable features include 1/2.3′′ 12MP CMOS Image Sensor, a fixed f2.8 aperture lens, D-Cineline mode as well as built-in De-Warp feature that allows users to do some quick image corrections on the fly.
Arguably the most unique feature of the Osmo Action that instantly sets the camera apart from the competition is its unique dual-screen design. The unit has a 2.25″(5.7 cm) touchscreen on the back with 640 x 360 resolution and 750 nits of brightness, as well as a 1.4″ (3.56 cm) 320 x 320 screen on the front.
In fact, this is the very first action camera that lets you see yourself when you turn the camera around which makes it a highly appealing option for travel vloggers and sports enthusiasts who want to take their action videos to the next level.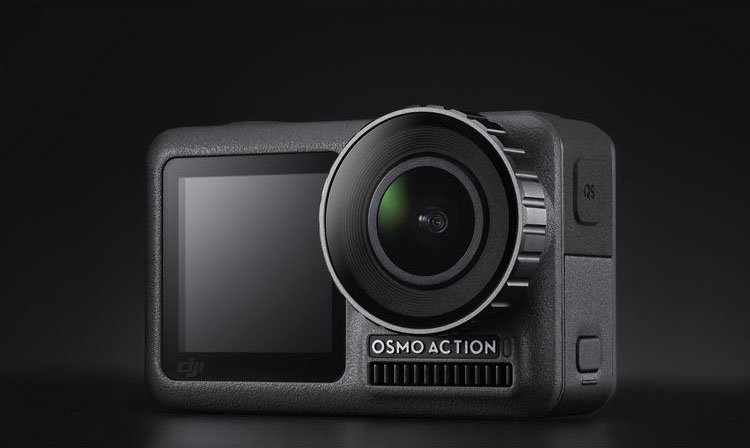 Furthermore, when recording in 4K30p format, you can take advantage of the camera's High Dynamic Range (HDR) support. Keep in mind, though, that you want to be able to use the RockSteady stabilization while the HDR mode is enabled. EIS can be utilized in all video modes except in slow-motion, hyperlapse, or time-lapse mode.
It's also worth mentioning that the camera is a bit limited in terms of image control features as it allows you to switch only between Standard and D-Cinelike picture profiles. Nevertheless, you can still change the shutter speed and ISO and set those manually.
Other than that, the Osmo Action uses a removable battery that will let the camera record for up to 135 minutes in 1080p 30p (stabilization disabled), and 63 minutes in 4K 60p (stabilization enabled). All stills and video are saved to a microSD card in a slot that supports microSD/SDHC/SDXC cards with a minimum of 30 Mb/s write speed and a maximum 256GB capacity.
DJI Osmo Action also allows users to capture still images in up to 12MP resolution in raw or JPG format.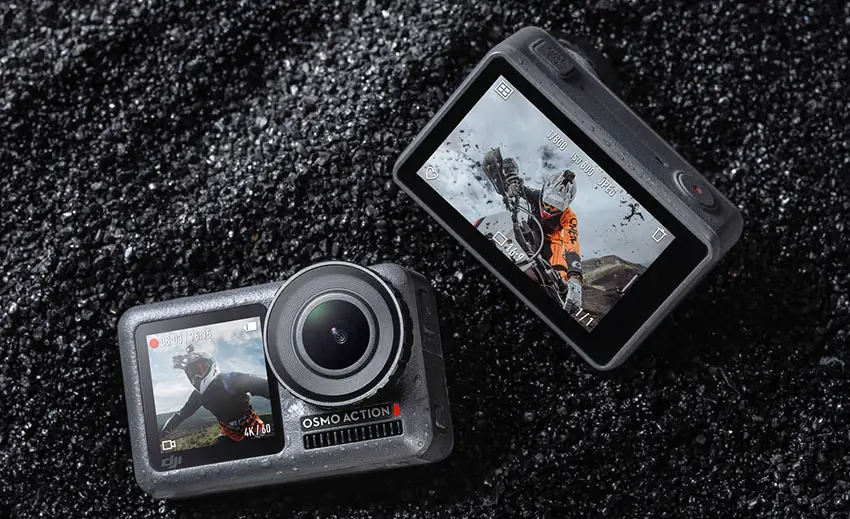 In order to avoid accidentally pressing anything on the touchscreen while shooting, there is a handy screen locking switch on the side of the housing. The Osmo Action can also be controlled via Bluetooth or Wi-Fi from an iOS or Android smartphone using the DJI Mimo app. The brand new camera is waterproof to 36′ deep as well as it can easily withstand drops from up to 5′ high.
DJI Osmo Action 4K Camera Highlights
1/2.3″ CMOS Sensor, Wide f/2.8 Lens
Up to 4K60 Video, 12MP Still Photos
Up to 3200 ISO, HDR Support
Wide Dynamic Range in 4K30
RockSteady Digital Video Stabilization
Time-Lapse, Hyperlapse, Slow-Motion Mode
Waterproof to 36′ without a Housing
Wi-Fi and Bluetooth Support
Touchscreen Displays on Front and Back
Records to microSD/SDXC/SDHC Cards
Price: $349
Availability May 2019
DJI Osmo Action is available now worldwide selling for $349. You can order it directly from DJI Store or by using the link below.
[source: DJI]
B&H Pre-Order Link:
Claim your copy of DAVINCI RESOLVE - SIMPLIFIED COURSE with 50% off! Get Instant Access!