Just a week ahead of Cine Gear Expo, Blackmagic Design just released Beta 3 of their newly updated DaVinci Resolve 16 and DaVinci Resolve 16 Studio. Beta 3 update comes packed with hundreds of performance and stability enhancements based on user feedback.
DaVinci Resolve Beta 3 features better font rendering, improved elastic wave alignment for audio, timecode output for driving external audio applications, improved H.264 and H.265 encoding on AMD hardware, smart bin enhancements, improved codec support for H.264, H.265, MJPEG, ARX, AVCHD, DNxHR 444 and much more.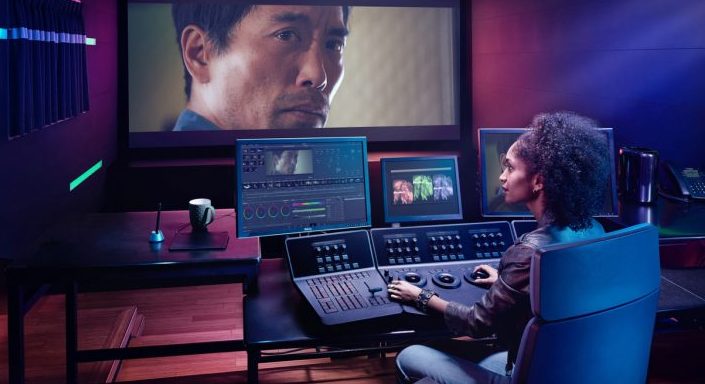 Blackmagic DaVinci Resolve 16 Beta 3 Summary
Added dragging smart bins to smart bin folders
Added copying retime and scaling attributes between clips in the edit timeline
Added a timecode generator output in Fairlight page for driving external audio applications
Improved support for:

Elastic Wave with the ability to stretch or compress ends of the clip
compositing compound clips containing gaps
video names and descriptions for Vimeo, YouTube and Frame.io exports from the deliver page and quick export dialog
keyboard shortcuts for clip and timeline actions in cut page
marquee selecting multiple clips in edit page
playback performance when selection follows playhead is enabled in the edit page
bit rate handling when using AMD hardware acceleration to encode H.264 and H.265 clips
naming behaviour for duplicated bins, clips, and timelines in the media pool
Better Organization
DaVinci Resolve Public Beta 3 adds support for dragging and organizing smart bins into folders, lets you copy retime and scaling attributes between clips, improves elastic wave alignment for dialog replacement work, adds new timecode output in the Fairlight page for driving external audio applications and more.
Better H.265 and H.264 encoding with AMD hardware
Compositing compound clips that contain gaps is now more accurate, performance when selecting multiple clips on the Edit page has been improved, as well as H.264 and H.265 encoding with AMD hardware. Blackmagic Design engineers have also added support for keyboard shortcuts for both clip and timeline actions in the cut page.
Improved Edit Page
Dynamic trimming with synced multi-channel audio is now improved, as is compound clip editing, and you also get more accurate clean up behaviour when flattening unused clips. In addition, speed changes now correctly ripple the timeline, audio waveforms now display properly when using stacked or tabbed timelines, keyboard shortcuts are more reliable, text rendering has been improved, clip colours are refreshed correctly and much more.
Improvements to Fusion
For visual effects, Fusion now correctly handles undo changes for certain node parameters, the icons for aux channels now reflect the current state in the viewer, OpenGL rendering of aux channels has been improved, improvements have made to CUDA processing with the fast gaussian blur, and overall stability has been greatly improved.
Colourists will be happy to find out that in Beta 3 third party OpenFX plugins are now more stable; timeline wipe actions now display correctly in the GPU scopes, and histogram backgrounds are now displayed properly when viewing the timeline node graph.
Improved Fairlight Page
Multiple issues have been addressed on the Fairlight page. These include B-Chain setup, foley sampler accuracy when detecting the fundamental frequency of a sample, VCA grouping states and more accurate bus loudness history when zooming on the Fairlight timeline.
For a complete list of improvements and to download DaVinci Resolve 16, please visit the Blackmagic Design website.
Claim your copy of DAVINCI RESOLVE - SIMPLIFIED COURSE with 50% off! Get Instant Access!