Guys, we're super excited to announce that the biggest and most exciting education event in the world of aspiring filmmakers and video creators is back for another year in a row! The exclusive Complete Video Creators Bundle by 5DayDeal is now better than ever with tons of new goodies and a brand new giveaway!
The 5DayDeal Team has been working for months to collect some of the most marvelous products, resources, subscriptions, and other tools to help expand the world's creativity efforts. Through June 11th, you'll have numerous opportunities to enter to win one of over $5,000 worth of prizes.
Winners will be picked each day from June 6th through June 11th, during this year's Video Creators Bundle sale and online event! Here are just some of the grabs:
Spekular Core Kit from Spiffy Gear – valued at $499
1-year, 50 GB subscriptions for Wipster – valued at $300 each
1-year Promo.com subscriptions – valued at $469 each
Vegas Pro licenses – valued at $368 each
In the meantime, this year's sale goes live on Thursday, June 6th, 2019 at 12 pm PT!!!
The resources in this bundle come from award-winning cinematographers and industry experts whose work and leadership are known around the world. This year there are some amazing items contributed from Denver Riddle, Planet Mitch, Hurlbut Visuals, Serge Ramelli, Fstoppers and many, many more!
So, whether you're a seasoned professional or an aspiring enthusiast that is just starting out and looking to learn the craft of creating cinematic and engaging videos, you're bound to find the right course/tool for you in the 2019 bundle. There's literally something for everyone in this bundle — and the savings are ridiculous!
Now you have a chance to spread the word about this amazing video creators event and win some fantastic prizes like professional gear, a bunch of free courses, some fantastic annual subscriptions, and other noteworthy goodies from event's sponsors by taking part in the crazy good 5DayDeal Giveaway that's already up and running. (just click on the link here to get in)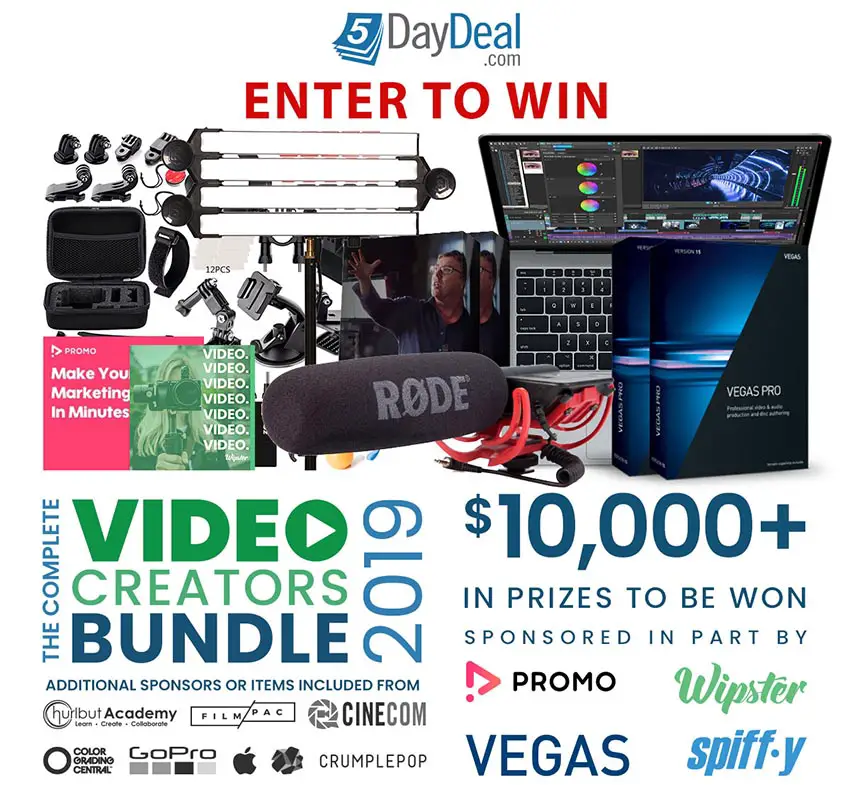 As usual, 10% from every sale goes to charity, which means, when you partake in this event, you are joining an enormous network of other video creators in making a huge impact on the lives of those in need. Since 2014, the 5DayDeal initiative alongside the supportive community of creative professionals managed to raise and donate to charity over $1.5 million!
Of course, these products have never been offered through 5DayDeal, and they will never be offered again. So, if you're serious about gaining new skills, working with industry-leading tools, and saving money, you simply can't afford to pass this up.
The biggest and most exciting education event starts next Thursday, June 6st, at Noon Pacific Time so stay tuned! Meanwhile, you can enter this year's 5DayDeal Giveaway by using the following link for your chance to win incredible prizes you simply don't want to miss!
Disclaimer: As an Amazon Associate partner and participant in B&H and Adorama Affiliate programmes, we earn a small comission from each purchase made through the affiliate links listed above at no additional cost to you.
Claim your copy of DAVINCI RESOLVE - SIMPLIFIED COURSE with 50% off! Get Instant Access!