Professional gimbal control systems seem to be a rising trend at this year's NAB. After DJI announced the proprietary Master Wheels and Force Pro gimbal controllers yesterday, today Redrock Micro rolled out their brand new MōVI Commander.
Even though it's specifically designed for the Freefly MōVI Pro/XL gimbals, the multi-function mobile controller provides the ability to work equally well in conjunction with other third-party systems as well while delivering just as flawless remote focus/iris/zoom and gimbal control.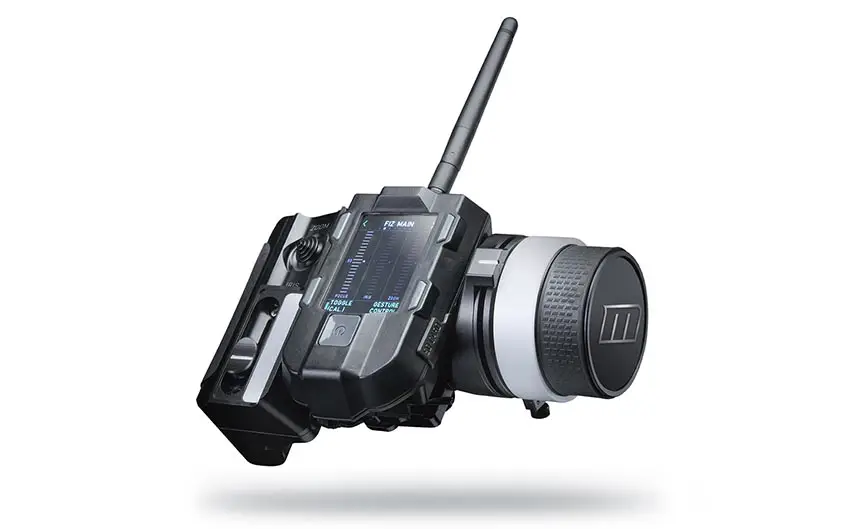 Besides that, the MōVI Commander is built around industry-standard ergonomics for focus, iris, and zoom. The focus wheel offers refined features including the illuminated marking point, interchangeable focus disks, and adjustable hard stops. According to Redrock Micro, each controller feels comfortable and intuitive and can be adjusted for personal taste.
Furthermore, the dual-axis joystick of the wireless Movi Commander gives users remote control of gimbal pointing while the smartly placed record button enables run/stop for any camera plugged into the MōVI's camera control port. You can plug your Freefly MIMIC directly into the MōVI Commander as the link to your MōVI Pro/XL to access all MōVI settings and adjustments making them instantly available at your fingertips.
The Commander also addresses some of the MōVI shortcomings, including extending the MIMIC battery life, and lens control without being connected to the MōVI. Another worthy feature of the MōVI Commander is the interchangeable Command Module.
You can simply unplug the Freefly MIMIC and plug in another module for standalone FIZ, VR, or other planned platforms. The MōVI Commander is also touted as the first truly affordable mobile controller on the market with a special pre-order price of just $995.
MōVI Commander Highlights
Precision focus iris and zoom control with the ergonomics professionals expect
Works with any lens motors including Preston, Arri, Redrock and others
Illuminated marking disk and marking strip for recording your focus and iris presets, including illuminated focus mark
Camera run/stop button for remote camera recording management
Complete access to MōVI settings and calibrations by integrating the MōVI Mimic
Use outside of Freefly Ecosystem – a first for MōVI lens controllers: Using the modular command module, unplug the Mimic and use other control modules for standalone FIZ or use with other platforms.
Extended battery life with optional hot-swappable Canon LP-E6 battery for longer shooting times and fewer battery delays, including power for the MIMIC
An incredible value – MōVI Commander costs a fraction of comparable solutions with all the features you need and more
Special pre-order price of just $995
Redrock Micro's MōVI Commander should hit the shelves later in Summer 2018. In addition to the standalone product, the gimbal control system will also be available in a Deluxe Bundle that will include the tiny but powerful SLS motors designed for MōVI Pro/XL.
[source: Redrock Micro]
Claim your copy of DAVINCI RESOLVE - SIMPLIFIED COURSE with 50% off! Get Instant Access!