Big day for Sony today – the company just announced two highly anticipated full-frame lenses – the massive and hella expensive Sony G Master 600mm f4 prime lens and a new Sony FE 200-600mm f5.6-6.3 G OSS super-telephoto zoom lens.
There were no new camera announcements today, but you can rest assured that the 2nd half of 2019 will be very interesting as we have the new Sony A7s III launch supposedly coming soon in September, and maybe even a new a6500 successor, not to mention a new a9 follow-up.
Back to the new lenses though – Sony's new FE 200-600mm f5.6-6.3 G OSS super-zoom reps the G zoom lenses, which are top notch lenses that are optimized for high-speed AF and fall into the lightweight category in their class. Yes, it's not a constant aperture zoom, but that range is more than impressive, considering the relatively compact size of the lens. If it was an f4, it would have been 2 or 3 larger and more expensive.
Built for the latest E mount mirrorless camera bodies such as the highly regarded Sony A7III and Sony a9 cameras, the new 200-600mm super-telephoto zoom has been made for pro's shooting fast moving subjects including birds, wildlife, athletes, sports and more.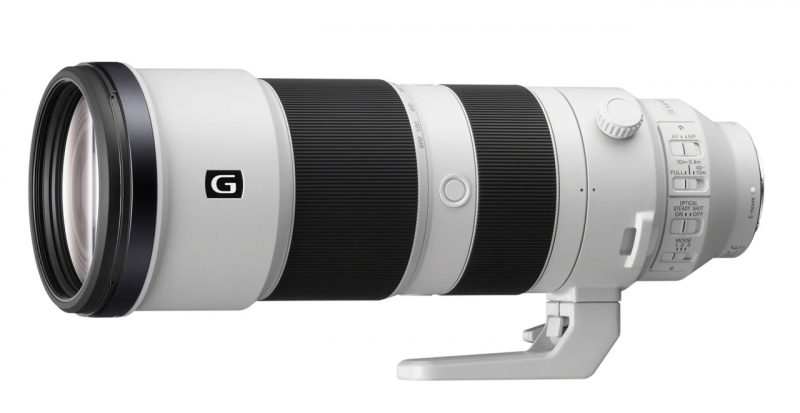 Sony FE 200-600mm F5.6-6.3 G OSS Features
E-Mount Lens/Full-Frame Format
Aperture Range f/5.6-6.3 to f/32-36
5 ED Elements & 1 Aspherical Element
Nano AR Coating and Fluorine Coating
Direct Drive Super Sonic Wave AF Motor
Optical SteadyShot Image Stabilization
Zoom Torque Adjustment Ring
Internal Focus; Focus Range Limiter
Dust and Moisture-Resistant Construction
11-Blade Circular Aperture for pleasing "bokeh"
Pre-order: $1,998 at B&H
Estimated to ship in August 2019
The lens comes with built-in stabilisation and is also compatible with Sony's 1.4x and 2.0x teleconverters, extending the reach to a maximum of 840mm at f/9 or 1200mm at f/13 with outstanding image quality and AF performance.
The built-in optical stabilisation (the OSS part in the name) comes with three different mode settings to allow users to capture sharp images at extended super-telephoto focal lengths.
Sony say their new FE 200-600mm G OSS is built for high resolution sensors and offers corner-to-corner sharpness throughout the entire zoom range.
The 5 ED (Extra-low Dispersion) glass elements and an aspherical element also help out in this department as they are arranged in a new optical design that minimises chromatic aberration.
The lens comes with a 11-blade circular aperture for pleasing and organic round bokeh and is also coated with Sony's original Nano AR coating to suppress any unwanted reflections, glare, or ghosting in images
The new Sony FE 200-600mm f5.6-6.3 is also equipped with Sony's Direct Drive SSM focusing system, optimized for some really fast, accurate focusing, while the internal zoom mechanism offers reliable and stable handheld shooting. The lens is also dust and moisture resistant, and of course the internal zoom mechanism helps to deal with such difficult outdoor conditions.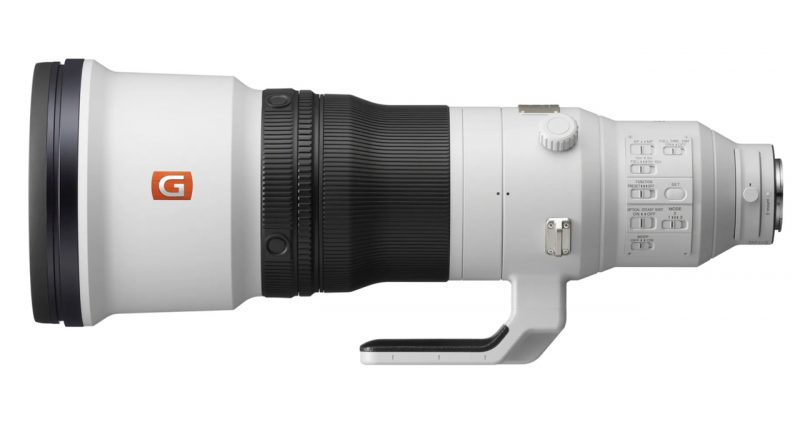 Sony also expanded their flagship full-frame G Master series lens line-up with the new Sony FE 600mm F4 GM OSS super-telephoto prime lens, which will set you back about $13,000 US in America, or about €14K in Europe, because of well, we always get the short end of the stick in Europe…
Their longest reaching prime lens to date, the new 600mm is packed with Sony's most advanced optical and mechanical technologies, for exceptional image quality combined with extraordinary focusing speed and precision.
The 600mm f4 GM OSS tips the scales at just over 3 kg, which is featherweight considering its class and Sony pride themselves with "an extremely balanced design to ensure the best possible shooting experience…" as they say.
The FE 6oomm f4 GM OSS will be a perfect companion to the Sony FE 400mm F2.8 GM OSS lens and find its home among wildlife and news photographers giving them more options for capturing subjects at great distances with extreme accuracy and detail.
Sony FE 600mm f4 GM OSS  Features
E-Mount Lens/Full-Frame Format
Aperture Range: f/4 to f/22
ED, Fluorite, and Aspherical Elements
Nano AR Coating and Fluorine Coating
Extreme Dynamic Linear AF Motors
Optical SteadyShot Image Stabilization
Internal Focus; Focus Range Limiter
Dust and Moisture-Resistant Construction
Fixed, Rotating Tripod Collar
Eleven-Blade Circular Diaphragm
Pre-order: $12,998 at B&H
The 600mm f4 GM OSS is a beast of a lens with a unique optical design that includes a large XA (extreme aspherical) and an ED (extra-low dispersion) element that effectively suppress all common telephoto lens aberrations, plus 3 fluorite elements that help to minimise chromatic aberration and suppress any amount of colour bleeding.
The 11-blade circular aperture ensures high quality of bokeh and you also get Sony's original Nano AR coating to suppress any unwanted reflections, glare, or ghosting in images.
The new FE 600mm F4 GM OSS is also compatible with Sony's 1.4x and 2.0x E-mount tele-converters and features two XD (extreme dynamic) Linear Motors that drive the lens' focus group to provide fast, precise AF and reliable subject tracking.
As expected the build quality is "off-road"-like thanks to a durable magnesium alloy design capable of high tolerances for withstanding the harsh conditions of sporting events and wildlife photography. The lens also features a strong, lightweight carbon fibre hood and is also dust and moisture resistant with its front element fluorine coated to resist dirt and fingerprints.
There is also an number of hard controls on the lens, including customisable focus-hold buttons in four different locations on the lens barrel, which can be programmed for control of features, if desired. There is also a 'Full-Time DMF' switch to engage manual focus at any point, and a focus ring that features Linear Response MF for fine, responsive manual focus.
Additionally, the new lens includes built-in optical stabilisation for dynamic action and three different 'Mode' settings, including a Mode setting with an advanced algorithm that ensures easier framing when following moving subjects.
The Sony FE 200-600mm f5.6-6.3 G OSS is estimated to start shipping in August 2019 in Europe for about €2,100 ($2000 in the US), while the FE 600mm F4 GM OSS will be priced around €14,000 or $13,000 in the US and start shipping around the same time.
Both lenses are listed on B&H (see links below), and pre-orders start at 11am ET this Thursday, 13th June. For more info and specs head over to Sony.
Disclaimer: As an Amazon Associate partner and participant in B&H and Adorama Affiliate programmes, we earn a small comission from each purchase made through the affiliate links listed above at no additional cost to you.
Claim your copy of DAVINCI RESOLVE - SIMPLIFIED COURSE with 50% off! Get Instant Access!