Having a reliable and high-quality all-in-one professional lens control system can be a pretty handy tool on set, especially when it provides full control over focus, iris, and zoom of your lens alongside the ability to record and replay focus transitions, keyframe at multiple points through a single app. That's the level of control and functionality Moxie lens control system aims to deliver once it gets funding and makes it to the market.
In a nutshell, the wireless setup that is currently in a prototype stage gives you full remote control over your lens using a smartphone or handheld controller. The system mounts onto a camera using standard 15 or 19mm mounting rods, with the associated gear then driving focus, iris, or zoom depending on where you've positioned it.
Getting started with Moxie seems to be a simple and straightforward process as well. First, you need to mount the controller to your lens using standard mounting rods and connect it to your camera's battery or to an external power supply.
The next step is to calibrate automatically for lenses with end-stops or manually for lenses without and you are all set.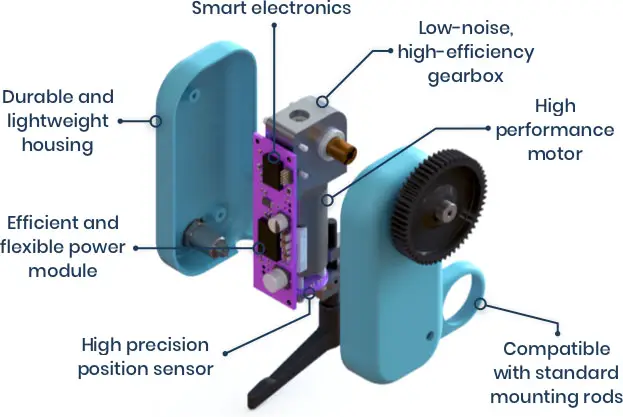 Now, you can wirelessly control the system through your smartphone or a hand-held controller depending on your needs and shooting situation you are in. It's also worth noting that the motors are driven by a Lemo cable and 1Nm+ of torque which seems to be more than enough even for the stiffest lenses that can be driven at up to 200rpm.
Furthermore, you can run up to three Moxie motors from a single app (Android or iOS), meaning that you can get full control over your lens from up to 80m away.
Gravity Labs Moxie Highlights
Durable and lightweight housing
Low noise high-efficiency gearbox
High-performance motors
Top speed of 200rpm
Automatic calibration for lenses with end stops
Compatible with standard 15mm or 19mm mounting rods
Wireless control over up to 80m
Control up to three Moxie motors from a single app
Compatible with input voltages ranging from 6 to 30V
Android and iOS app
By combining the motor and the motor driver into a single unit and replacing the handheld controller with an app, the creators at Gravity Labs have managed to successfully lower the cost and complexity of the system without sacrificing reliability when compared to other competitive products.
Only time will tell, though, whether the Moxie's Kickstarter campaign will be successfully funded or not. So, if you want to back the project or simply learn more about the lens control system itself, head over to Gravity Labs' official Kickstarter page.
[source: Kickstarter]
Disclaimer: As an Amazon Associate partner and participant in B&H and Adorama Affiliate programmes, we earn a small comission from each purchase made through the affiliate links listed above at no additional cost to you.
Claim your copy of DAVINCI RESOLVE - SIMPLIFIED COURSE with 50% off! Get Instant Access!