Pilotfly, a gear maker normally associated with making handheld gimbal stabilizers for compact cameras, are unleashing a compact, pocketable RGB LED light that has some really cool features. The new AtomCUBE RX1 appears to be made out of constructed out of high-grade aluminium, weighs under 300 grams, and boasts brightness up to 1800 lumens at half a meter, which is quite impressive given its compact size.
Moreover, the AtomCUBE RX1 also promises TLCI 97 colour quality from A-class LED diodes, and an even more impressive 3 hour battery life at full brightness. Since it's a RGBCW LED light, naturally it offers a CCT mode with Kelvin adjustment ranging from 2500 to 8500K, Hue/Saturation/Intensity or HSI mode, as well as a manual mode, whatever that is supposed to mean. Pilotfly also say they have included 12 built-in SFX into this little beast.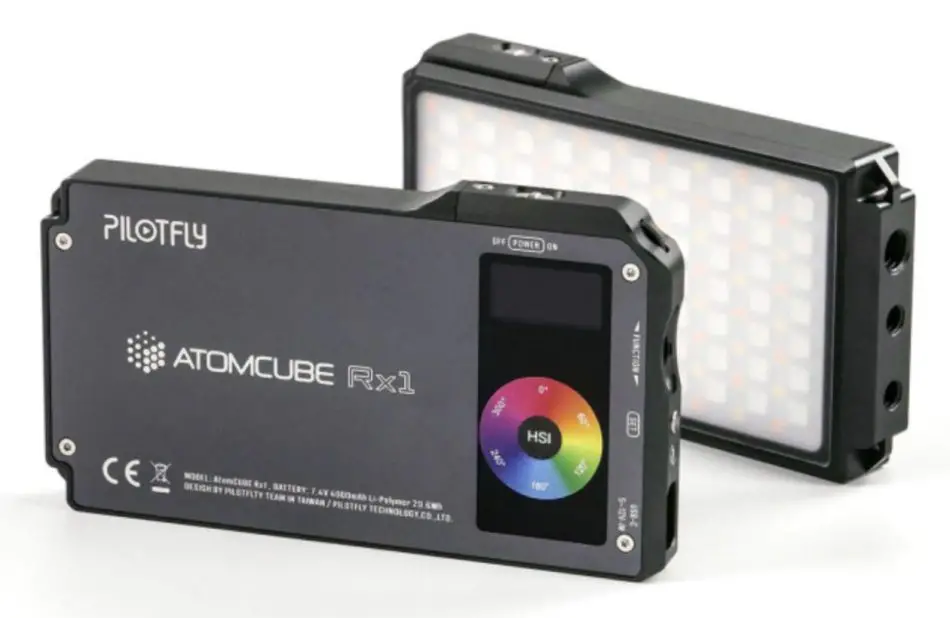 I've been eyeballing this little LED light on the Pilotfly FB page for quite some time as they have been posting some short videos and teaser pics, and it appears that now the AtomCUBE RX1 is available to pre-order for $169, which includes a $20 discount from the regular price.
Not bad for pocket-friendly light that looks well built and one that allows wireless control from a smartphone thanks to the new bluetooth mesh technology that allows for multiple devices to be tethered one another and controlled via a smart device.
Pilotfly AtomCUBE RX1 LED Features
High-grade aluminium construction
RGBCW LED with A-class LEDs;

360-degree colour & saturation control
Max. brightness up to 1800 lumens at 0.5m

3 hours battery life at full brightness
0-100% dimmable
Accurate colours:
Connect up to 255 units at the same time via Bluetooth Mesh Technology
Built-in colour modes:

CCT MODE: temperature adjustment 2500 – 8500K
HSI MODE
MANUAL MODE

12 built-in Special FX
iOS and Android app for remote light control

adjust group lighting and CCT, HUE & SAT adjustment
Support for dynamic sound mode

1/4″ 20 holes on L-bracket integrated into the design
USB Type-C Quick Charge from 5V/9V/12V

charging time about 90-120 minutes

Exclusive LED calibration technology:

ensures colour consistency is maintained at various brightness levels
The AtomCUBE RX1 comes with an its own iOS/Adroid app that lets users take full advantage of the advanced features of the light. The intuitive user interface of AtomCUBE App allows you to connect multiple LED lights and create groups effortlessly, even better, you can control the brightness or colour temperature in real time just with a few clicks.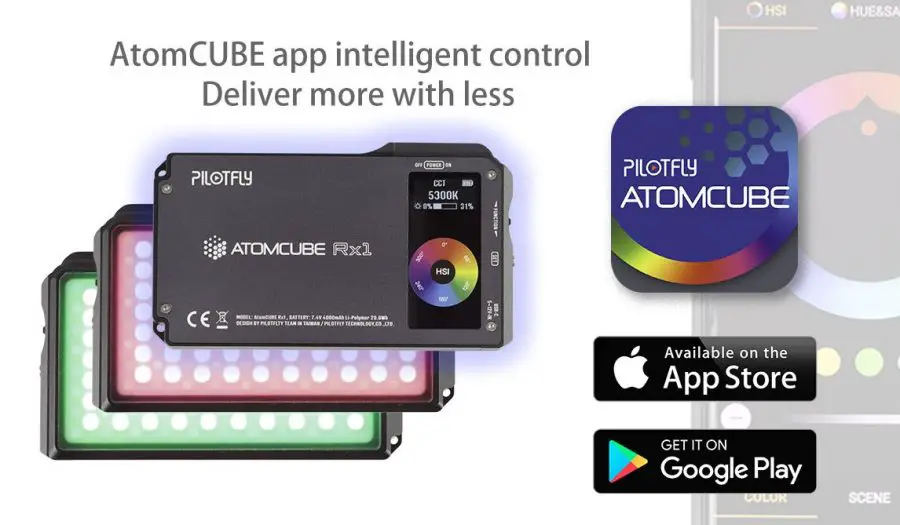 Pitched as a direct competitor to the upcoming (yet to be released) Aputure MC RGB LED, the AtomCUBE RX1 does appear to have the chops to do some damage, at least on paper and from the limited demos available on Pilotfly's website/YT channel, but it won't be easy – Aputure have grown as a brand substantially over the past couple of years and have become favourites among indie filmmakers and video creators as a whole thanks to some really innovative and high quality LED lights.
What do you guys think of this little Pilotfly LED light? Let me know in the comments below.
The Pilotfly AtomCUBE RX1 LED light is now available to pre-order directly from Pilotfly for $169 US (which includes a $20 discount).
Claim your copy of DAVINCI RESOLVE - SIMPLIFIED COURSE with 50% off! Get Instant Access!