Aputure are back with their highly-anticipated sequel to the now legendary Aputure LS C300D as well as a brand new Aputure Lantern lighting modifier. The Aputure LS C300D II, a result of tons of feedback from the filmmaking community, comes packed with a boatload of improvements including more brightness, smarter and more durable design, and benefits from better portability.
Equipped with the latest advancements in the Aputure COB LED technology, the 300D Mark II outputs a whopping 20% more light than its predecessor. When combined with the Fresnel 2X, the 300d Mark II can produce up to 80,000 lux, approaching the luminance of a 575W HMI.
The D signifies a daylight balanced LED at 5500K of high colour fidelity with CRI and TLCI ratings of 96+ and 97+ respectively.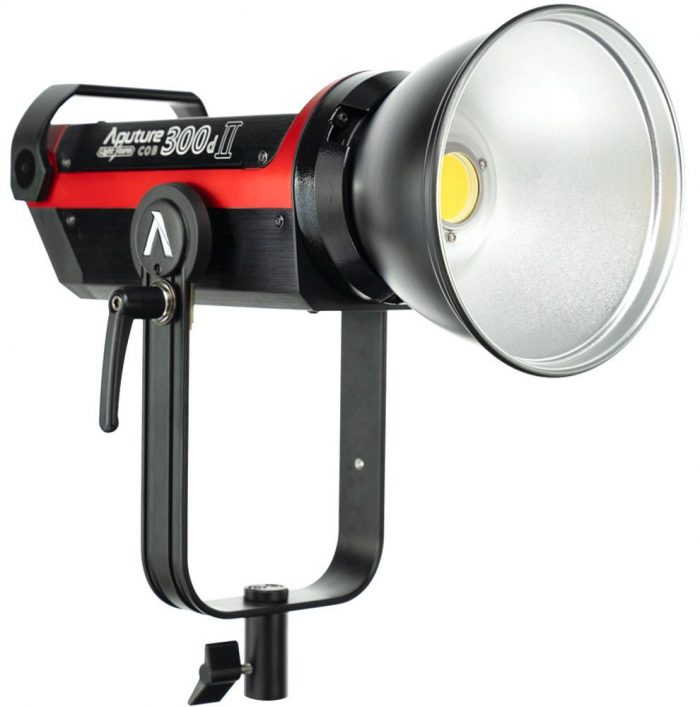 Max Efficiency – New Reflector
The Aputure LS 300D Mark II is also the first Aputure LED light to feature the all-new, hyper-efficient 55-degree reflector. By slightly narrowing the beam from 60-degrees to 55-degrees and redesigning the inner shape and coating of the reflector, the engineering team at Aputure were able to increase the output of the 300D II by more than three times, when compared to the original design.
More Robust Lamp Head & Design
The 300d Mark II also introduces new design features, while maintaining the same form factor and lightweight aircraft aluminium body as the original 300d. The new yoke allows for 360-degrees rotation, and when combined with the handbrake locking mechanism from the 120d Mark II, you'll be able to mount the light in any position, with any modifier.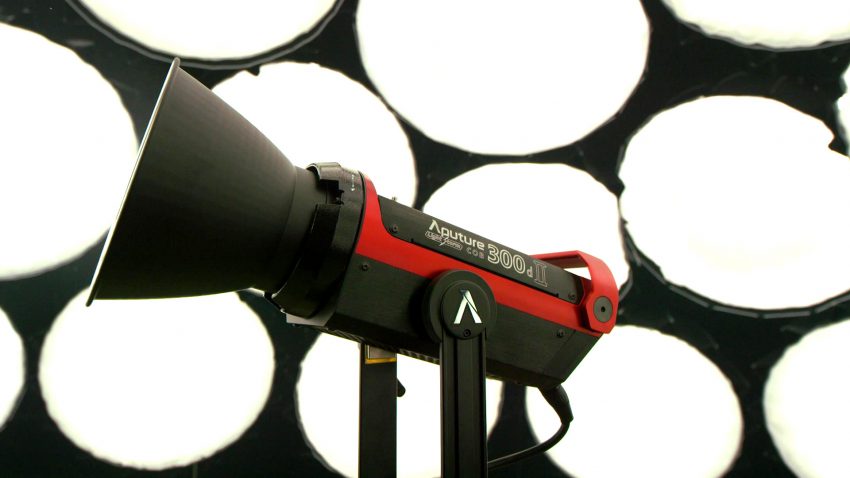 Complete Redesign of the Control Box
However, the real advancement is in the complete redesign of the control box. By utilizing Aputure's fan-less heatsink design, the 300d Mark II's All-in-One control box is now completely silent.
Composed of a durable aluminium alloy, with a new concealed antenna and military-grade para cord strap, the control box is ready to withstand the rigour of any film set. The 300d Mark II control box is also the first product to utilize Aputure's new quick release plate and clamp system, allowing you to firmly secure it on any stand, truss, or speed rail.
The 300d Mark II can produce its maximum output by using two high capacity V-Mount or Gold Mount batteries, but it also features new technology that allows you to power the light with a single battery at up to half output.
The included 6m NEUTRIK cable provides the 300d II with a sturdy power connection and allows you the convenience of not having to grab a stinger to power your light. And now, by utilizing a standard 3m male-to-female 5-pin XLR, you can easily replace the header cable in a pinch.
An optional 7.5m 5-pin XLR is also available, letting you keep your control box within arm's reach while giving you the ability to rig your light anywhere you want, from a menace arm to a tall goalpost rig.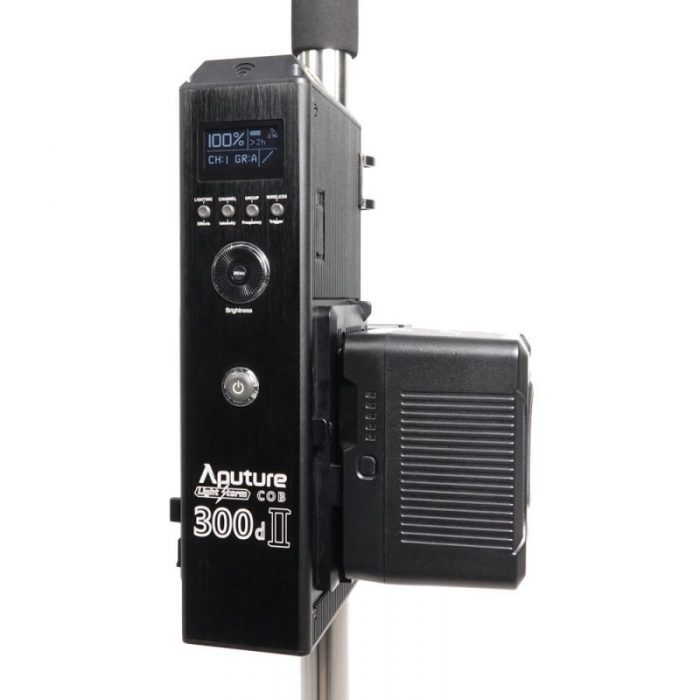 The control box of the 300d Mark II features 8 built-in lighting FX:
Paparazzi
Fireworks
Lightning
Faulty Bulb
TV
Pulse
Strobe
Explosion
Aputure are promising to bring more SFX features to the 300d II in future firmware updates via the control boxes USB interface. The control box also features a new "trigger" button to activate lighting FX instantly.
The long-awaited 0%-100% step-less dimming control allows you to use the 300d II in lowlight environments or to overpower the sun, and can utilize any of 4 different dimming curves: Linear, Logarithmic, Exponential, and S-Curve.
The 300d Mark II also features a "studio mode" that allows the lights to turn on and be controlled immediately upon receiving power, making it perfect for DMX lighting grids.
In addition to the control wheel, the 300D Mark II also features DMX512-compatibility, a new 2.4GHz Aputure Wireless remote with an FX toggle button, and the ability to be controlled by the Sidus Link App using our Bluetooth mesh network protocol.
Featuring all-new Bluetooth SIG mesh network technology, the 300d Mark II will also the first app-controllable Aputure lighting fixture. This technology will allow you to control a 300d Mark II from up to 400 meters away, by linking multiple lights up to 80 meters apart.
Using the Sidus Link app, you'll be able to access all of the functions of the control box, in addition to being able to save presets, finely tune and trigger additional lighting FX, as well as install firmware updates, all from your smartphone or tablet.
The 300D II also features a new redesigned carrying case that will fit run-and-gun filmmakers well. Composed of ABS honeycomb walls with a soft exterior lining that can support up to 100kg, the new 300D II carrying case provides both ample protection and a seat for you on set.
The bottom of the case is also covered with an easy to clean, slash-proof material, letting you rest easy, knowing the 300d II will survive any situation you throw at it.
The Aputure LS 300D II is priced at $1,099 and can be pre-ordered from B&H or directly from Aputure here. The light is estimated to start shipping at the end of July.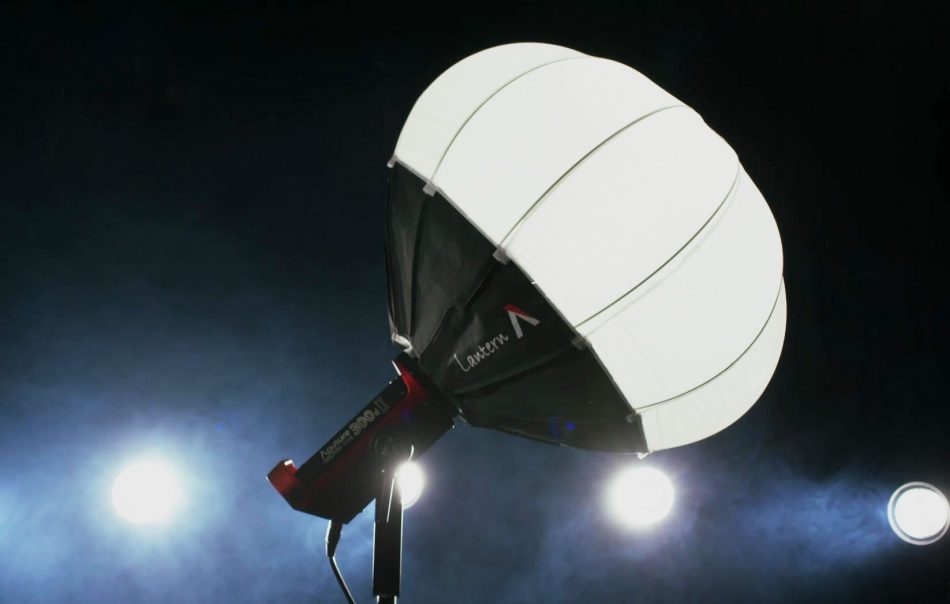 The new Aputure Lantern offers a super-quick setup – its spherical soft box can pop open and be ready to use in mere seconds. With the ability to fit onto any Bowens mount Studio Strobe or LED fixtures, such as our Aputure 120D or 300D series lights, the Lantern is the perfect photo or video accessory for casting soft light over a wide area, while still maintaining control.
The Aputure Lantern is perfect for when you want to get an even, omnidirectional spread of soft light for an entire room, table or interview.
By utilizing a 26" spherical design, the Lantern spreads the light from your LED or Studio Strobe in all directions with a 270° beam angle. Now you can fill an entire space with soft, even light with just a single light source.
The Aputure Lantern is one of the only spherical soft boxes on the market with a 4-section fully adjustable light control skirt. By using a hook-and-loop design, the removable skirts can attach in any position, to quickly and precisely control your soft light. You can roll the skirt up or down to flag off unwanted light.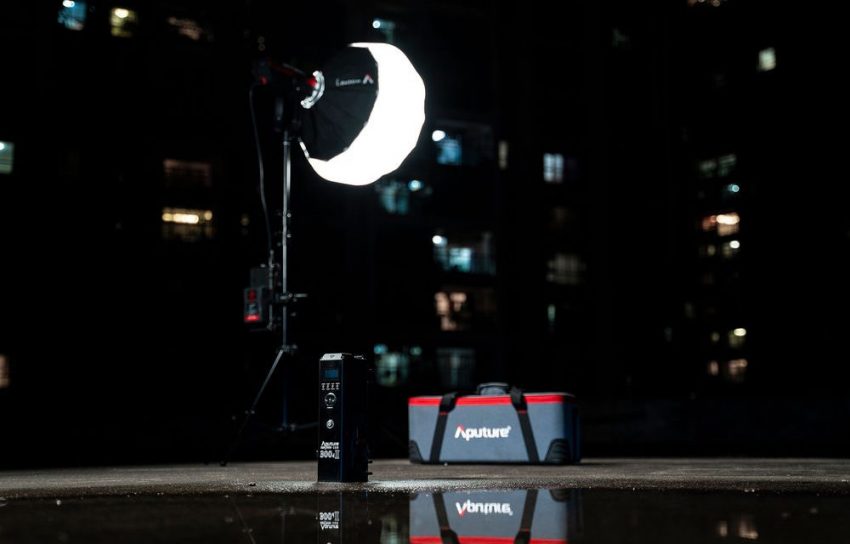 With its tension-based quick release design, the Lantern can be set up or broken down in just a few seconds, allowing you to set up fewer lights, faster. Combining that with its durable and portable design makes the Lantern the perfect run-and-gun soft light modifier.
The Aputure Lantern is priced very affordably at $89 US and is available to pre-order from B&H here.
For full specs and to learn more about the new Aputure lighting solutions head over to their website here.
Claim your copy of DAVINCI RESOLVE - SIMPLIFIED COURSE with 50% off! Get Instant Access!