Venus Optics have been making some of the most unique lenses ever in the last few years, and now the company unveiled the pricing and availability of one of their craziest lenses to date – the Laowa 4mm f/2.8 Circular Fisheye lens for Micro Four Thirds cameras.
Unlike to popular Laowa 'Zero-D' wide angle lenses, the new Laowa 4mm f/2.8 fisheye lens has been designed to create an extremely distorted fisheye perspectives giving you more room to expand your creativity.
Thanks to its ultra-wide 210 degrees angle of view, video creators and photographers can use the Laowa 4mm f2.8 Circular Fisheye to get some pretty dramatic vistas and epic shots.
A full 360-degree panorama can also be done using a few as 2 images as opposed to shooting 6 or more images with conventional fisheye lenses. This lens is also particularly good for VR photography, shooting virtual tour and spherical panorama. The fast f/2.8 aperture makes it an ideal option for astro-photography and shooting in low-light conditions.
The lens also allows users to focus as close as 3.14" (8cm) from the sensor, while those who fly drones such as the DJI Inspire X5, can get some wild birds eye view perspectives such as this:
The optical construction includes 7 elements in 6 groups, giving the new Laowa 4mm f2.8 outstanding sharpness throughout the frame. Along with the 210-degree ultra-wide angle, photographers can either 'de-fish' the image in post-processing or crop to transform the image into a rectilinear image.
The lens is extremely tiny and lightweight measuring only 1.77" (45mm) long and weighing at 4.7 oz (135g).
Due to its extreme field of view you get some epic depth of field that is so deep that you don't really need to worry about focus. At around f/5.6, when the focus ring is set to infinity, pretty much everything will be in focus.
Laowa 4mm f2.8 Circular Fisheye Specifications:
Focal Length: 4mm
Max. Aperture: f/2.8
Min. Aperture: f/16
Angle of View: 210°
Format Compatibility/Lens mount: Micro Four Thirds
Lens Structure: 7 elements in 6 groups
Aperture Blades: 7
Min. Focusing Distance: 8cm (3.15")
Max. Magnification: 1:9
Dimensions: 25.5 x 45.2mm
Weight: 135 g (4.76 oz)
The Laowa 4mm f2.8 lens is priced at $200 USD and currently available to pre-order from Venus Optics. The lens is expected to start shipping in mid-August 2019.
Switching gears to medium format, Venus Optics have also announced the pricing and availability for the widest lens for the Fujifilm GFX system – the Laowa 17mm f/4 Zero-D GFX.
This super-wide angle lens has a 13.5mm FF equivalent and has been specifically designed for the Fujifilm GFX camera system. The 113-degrees ultra-wide perspective makes it an ideal lens for landscape and architecture photography.
There's a lot of glass inside this lens – a whopping 21 elements in 14 groups, and the new Laowa 17mm f4 GFX Zero-D lens happens to be the 4th member of the Laowa "Zero-D" lens line-up, which claims to exhibit a close-to-zero optical distortion rate.
Similar to other Laowa wide angle lenses, the new 17mm f/4 has a very good close-focus capability at just 7.9-inches/20cm.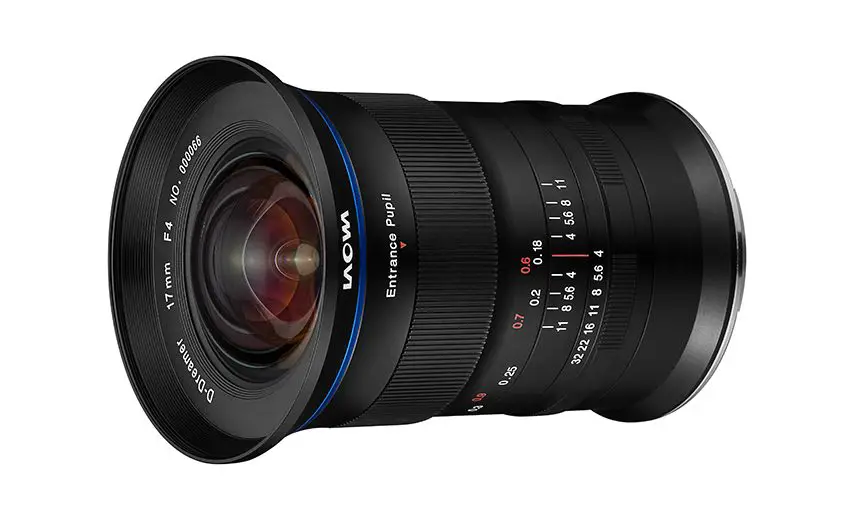 Venus Optics have also managed to keep the footprint of the Laowa 17mm f/4 Zero-D to the smallest in its class, measuring approximately 4.9 inches (~12.5cm) long and weighing only 1.8 lbs (~800g) with diameter of 88mm. The lens also features a 5-blade aperture system to create a pleasing 10-point sunstar rendering.
Being able to use a front screw-on filter on such a massively wide-angle lens can be challenging, and most super-wide angle primes don't even allow you to do that, however the Laowa 17mm f4 is no ordinary lens.
The lens features an 86mm filter thread natively, as well as an optional magnetic filter holder for using with 100mm-wide slot-in filters with no vignetting even when used with 2 stacked filters according to Venus Optics.
Laowa 17mm f/4 GFX Specifications:
Focal Length: 17mm
Max. Aperture: f/4
Min. Aperture: f/32
Angle of View: 113°
Format Compatibility:
Lens Structure:
Aperture Blades: 5
Min. Focusing Distance: 20cm
Max. Magnification: 0.27x
Filter solutions:

85mm Filter Thread
via 100mm Magnetic Filter Holder System

Dimensions: 88×124.5mm
Weight: 829 g
Mounts: Fujifilm G
The Laowa 17mm f4 Zero-D GFX is priced at $1,199 US and, is now available to pre-order from authorized resellers such as B&H here or directly from Venus Optics.
First shipments are expected to start later in August.
Claim your copy of DAVINCI RESOLVE - SIMPLIFIED COURSE with 50% off! Get Instant Access!