Just two weeks ago Nvidia announced the long-awaited GTX1080 – the first Nvidia video card on the market based on the company's revolutionary Pascal architecture, boasting advanced 16nm FinFET chip, 2560 CUDA cores along with next generation 8GB GDDR5X graphics memory. The manufacturer claims that the flagship GPU is not only faster than the company's previous generation monster $1000 flagship graphics card the GeForce GTX Titan X, but it also costs half the price. On top, Nvidia also announced the cut-down version GTX 1070 and now two weeks later the company has made public the official GTX 1070 specifications.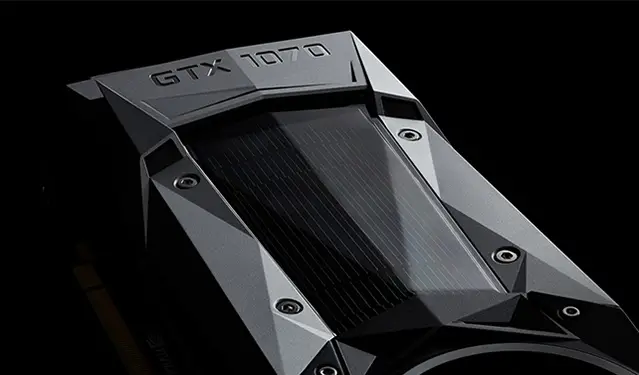 The budget-oriented GPU will also sport HDMI 2.0b and DL-DVI connectors and will be able to output maximum digital resolution of 7680 x 4320 at 60Hz through the three built-in Displayport 1.4 interfaces. The card will output the highest resolution at 60Hz RGB 8-bit with dual DisplayPort connectors or 7680×4320 at 60Hz YUV420 8-bit with one DisplayPort 1.3 interface. Again, the GTX 1070 graphics card will be powered by the latest Nvidia proprietary Pascal technology that delivers up to 3x the performance of previous-generation graphics cards along with advanced breakthrough gaming and VR experiences.
It's also worth noting that if you tend to utilise a couple of GTX 1070 cards in an SLI configuration for some advanced color grading or multicam workflows, the Nvidia's SLI HB bridge can double the available transfer bandwidth compared to the Nvidia Maxwell architecture. All in all, this setup is an effective way to enjoy an exponential boost in performance while having much more processing power resources at your disposal. Currently, this enhancement is only available for the GeForce GTX 1080 and 1070 graphics cards.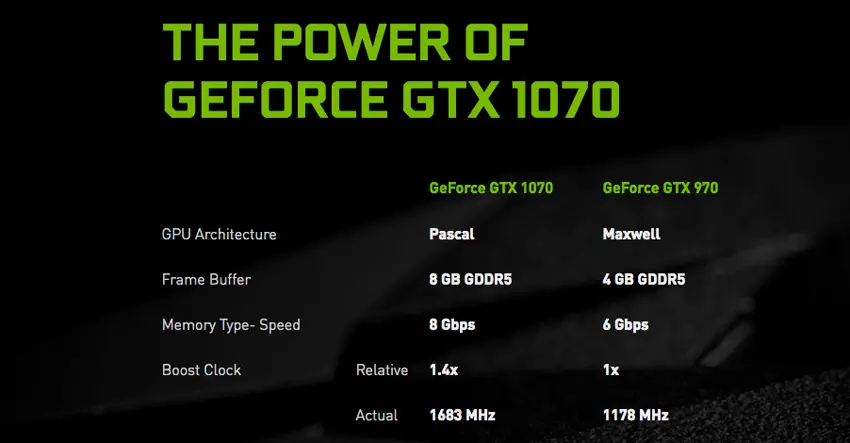 All in all, it seems that the budget-oriented GTX 1070 won't fall too much behind its flagship sibling as the GPU will come with 1920 CUDA cores providing Boost Clock speeds up to whopping 1683MHz. The aggressively priced GPU will also feature 8Gbps of standard GDDR5, unlike the GTX 1080 that comes with the latest generation 8GB GDDR5X graphics memory. GTX 1070, however, will have a lower power draw than the 180W of its fully enabled sibling, with a shipping thermal design power of 150W.
Combined with the lower clock speed, less Cuda cores, and lower bandwidth, it's expected that the GTX 1070 will provide roughly around 25% lower computational performance compared to the GTX 1080, but it will still outperform a stock 980 Ti. Considering the highly competitive price tag of just $379 the GTX 1070 is an excellent bargain, especially for those of you looking to build an affordable, yet powerful editing workstation on a shoestring budget.
Ultimately, just as the GTX 1080, the GTX 1070 will also be launching in two configurations. The base one is priced at $379. Nvidia will also be offering a Founders Edition version of this card that will set users back $449 once it becomes available at the beginning of next month.
[source: Nvidia]
Claim your copy of DAVINCI RESOLVE - SIMPLIFIED COURSE with 50% off! Get Instant Access!