Single grip, or pistol-grip gimbal stabilizers for compact mirrorless and DSLR cameras seem to be all the rage these days and there are more and more manufacturers getting into this exciting sub-segment of the "gimbal stabilizer" marketplace. Not that long ago, earlier in the year, even consumer drone/stabilizer behemoth DJI jumped on the "band wagon" with the announcement of their DJI Ronin-S, which we still know very little about when it comes to pricing, availability as well as more in-depth tech specs. Just earlier this week, we posted about the new Ikan Pivot gimbal, and now Tilta are announcing the new generation Gravity G2 and Gravity G2X single grip gimbal stabilizers.
From what I can tell, both the G2 and G2X gimbals seem to share the stabilization technology with the bigger Tiltamax Gravity Gimbal, however they have been optimized for a maximum payload of 8 lbs. The Gravity G2X differs from the G2 thanks to its angled roll motor arm, which gives the operator unobstructed access to the back LCD screen of the camera he/she would be using on the gimbal.
Both gimbals can accommodate a 360 degree rotation on the Pan/Tilt motors, and 60 degree on the Roll motor – Left/Right; in addition, both gimbals can be used in Under-sling and Over-sling modes. The G2/G2X feature also a new 5V MiniUSB output on the tilt motor for powering the Nucleus-Nano Motor. Tilta products are well known for their very polished design, and the new G2 and G2X appear to be no different; the body is constructed out of a precision CNC milled aluminium and you also get an ergonomic Rosewood handle.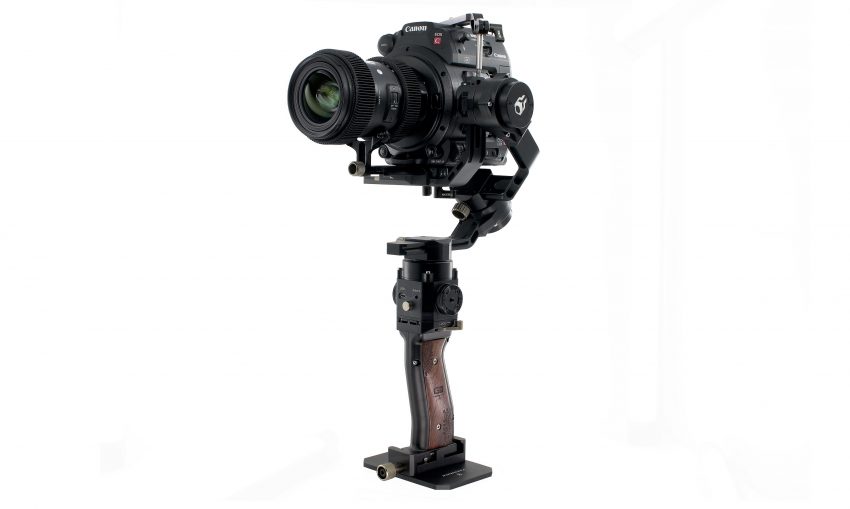 The product shots of the G2X interestingly feature a Canon C200B (the one without the viewfinder, optimized for gimbal stabilizers and such), so I won't be surprised to see other S35 camcorders balanced on these types of gimbals, however, each and every setup needs to be tested so don't make the jump before testing as you may be surprised to find out that your S35 camera/lens combo although technically below the weight limit, may be difficult or even impossible to balance due to the physics of the camera.
Operators also get a wide range of mounting possibilities thanks to the inclusion of 2 x ARRI Standard female rosettes, which can be used to mount external monitors or handles for better ergonomic experience. The new G2 and G2X are also compatible with the TILTA Assistant App via Bluetooth for greater calibration of features and wireless remote control, including, but not limited to Wireless Timelapse Function, Wireless Remote Control Functions of torque, acceleration and loads more.
As for power consumption, Titla claim 10-hours of operation with 4 x Rechargeable 18650 Batteries, which are inserted into the handle, however bear in mind that the units do NOT come with batteries when purchased, so you have to supply your own. Tilta do recommend EBL 16850 3.7v 3000mah batteries, which you can get from Amazon here.
Tilta Gravity G2/G2X Features
8 lbs maximum payload (3.2/3.6kgs)
Designed for DSLR, mirrorless and Compact S35 cameras (varies)
360 degree rotation on the Pan/Tilt
60 degrees on Roll – Left/Right
The Roll motor arm can also be used in either a right or left-sided position for viewing the camera's fold-out EVF LCD displays
Four Distinct User Modes:

Solid Green LED – Pan Follow Mode
Solid Red LED – Tilt Lock Mode
Solid Blue LED – Fully Stabilized Mode
Flashing Blue LED – Roll Lock Mode

14.8V DC input/output for powering your camera and/or camera accessories
Wide range of custom Power Distribution Boxes (Lemo and PTAP) accessories by Tilta and 3rd Parties
Compatibility with all previous G1 DC in/out accessories
Tilta Assistant App compatible (via bluetooth)
Tilta Gravity G2/G2X Tech Specs
Color: Black
Weight: 4.180 lbs (with Balancing Plate, Baseplate with Riser, No Lens Support, No Batteries, No Camera)
Height: 19 Inches (Top of Hot Shoe Mount to Base of Balancing Plate)

Note: Height may vary depending on height of camera.

Gimbal Body Only:

Width: 9 Inches (gimbal end)
Length/Height: 11.5 Inches
Depth: 9 Inches (gimbal end)

Handle Only:

Length: 3 Inches
Depth: 1 Inch

Balancing Plate Only:

Length: 5 Inches
Depth: 4 1/2 Inches

Materials: Aluminum-Alloy / Brazilian Rosewood
What's included:
1 x 3-axis Gimbal Unit
1 x Quick-release Manfrotto Standard Baseplate

with Riser and Lens Support

1 x Rosewood Pistol Grip Handle
1 x Pistol Grip Handle Balancing Plate
1 x Tilta 18650 4 Slot Battery Charger
1 x Hard Shell Waterpoof Safety Case
1 x Multi-head Screw Driver
NOTE: Batteries are NOT included:
The Tilta Gravity G2 as well as the G2X are priced at $730 USD without the case, or $790 with the carry case, and are available for purchase direct from Tilta here.
In the UK, you can head over to CineGear Pro UK and get a G2X for £619 + VAT.
Claim your copy of DAVINCI RESOLVE - SIMPLIFIED COURSE with 50% off! Get Instant Access!