As previously promised, RODE released the first major firmware update for the RODECaster Pro Podcast Production Studio. Firmware Update 1.1.0 brings a load of new features to their portable podcasting studio machine, including the much-anticipated and requested multitrack recording functionality, as well as an updated user interface and mix-minus on the USB output.
Multitrack mode, which is also referred to as "multi-channel" mode on the RODECaster allows users to record not only the stereo mix of your podcast, but also each individual track, meaning you can now mix your podcast in post-production.
There is a small fine print though – multitrack is only available over USB, and not on the MicroSD card on the RODECaster Pro. For some users, this may still not be ideal, but at least there is now a way for the RODECaster Pro to at least output individual channels for recording on your PC or Mac.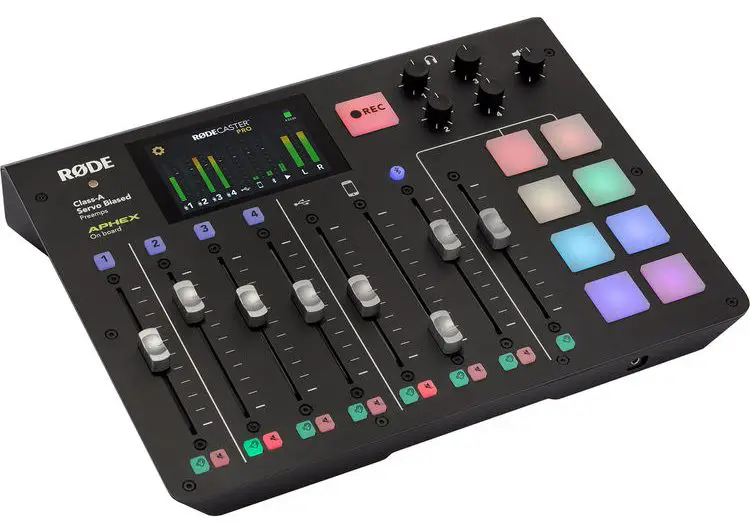 Multitrack Recording to USB
Once enabled in the "Advanced Settings", an additional RODECaster Pro USB output device will appear on your computer, in addition to the regular stereo USB output. You may need to disconnect and re-connected if prompted by the RODECaster Pro.
From the 14 different sources available the first two tracks are the stereo mix, exactly as the RODECaster Pro records to the microSD card.
The remaining tracks represent the sources on the RODECaster Pro, going from left to right across the console – starting with Mic 1 and going across through Mics 2, 3 and 4, the USB input, TRRS phone connector, Bluetooth input, and finally the sound pads. The mic channels are single mono tracks, and all the other tracks are stereo – first left, then right.
The process for accessing and allocating tracks in a DAW will vary between platforms and software, but in general you need to select the multitrack USB device in your preferences and select the individual source on a per-track basis.
By default, each of the tracks output in multitrack mode will include any audio processing you have selected while recording, such as the on-board APHEX processors or any compression. However, you can choose to bypass this processing, giving you the raw channel output of each track instead.
Ryan from RODE, has an excellent detailed overview on how to record multichannel audio over USB with your RODECaster Pro:
Here are the rest of the updates in Firmware 1.1.0:
Switchable Mix-Minus on USB Main Output
Switchable mix-minus on the USB channel is now also supported, in addition to the mix-minus on the Bluetooth and TRRS channels. This means if you want to connect a computer-based communication app like Discord or Skype via the USB channel, you can do so without a feedback loop.
Colour Coded Microphone Channels
Each microphone channel on the RODECaster Pro now has its own dedicated colour, which remains on the sidebar as you cycle through the menus. This means you'll always know which channel you're adjusting while in the settings.
Other Changes to The User Interface
The record button on the RØDECaster Pro now gently pulses when the unit is ready to record, making it easier to tell the difference between when the unit is armed to go and actually recording. When you are recording, the button goes a solid bright red as before.
The menu layout has also changed slightly to accommodate the new features, and to make it easier to navigate between settings.

RODECaster Pro Firmware 1.1.0 Overview with Ryan from RODE:
RODECaster Pro Features
4 x XLR inputs for pro microphones:
Separate inputs for:

3.5mm TRRS (phone or device)
Bluetooth (phone or device)
USB (for music/audio or app calls)

Pro audio quality phone and app calls – with no echo (mix-minus).

Easily adjust levels – no extra gear or messy set-up involved

Now with Multitrack (Multi-Channel) recording over USB!

with Firmware Update 1.1.0
Mix individual channels in post

Programmable sound effects pads:

8 colour coded sound effects triggers for programmable jingles and sound effects

APHEX Exciter and Big Bottom 

patented processing for that rich, warm tone only found in professional broadcast systems
Also includes multistage dynamics:

compression,
limiting
noise-gating

Full Colour, High-Resolution Touch-screen

Allows easy control of all settings
EQ presets for a range of professional voicing

Four high-power headphone outputs and stereo speaker out:

each with independent volume controls

Records direct to microSD Card

for completely self-contained operation,
or to your preferred computer and software via USB.

Live streaming
TRRS, USB, and Bluetooth Connectivity
4 Discrete Headphone Outputs
Price: $599 at B&H /Adorama
The RODECaster Pro Firmware Update 1.1.0 is available as a free download from RODE here.
Disclaimer: As an Amazon Associate partner and participant in B&H and Adorama Affiliate programmes, we earn a small comission from each purchase made through the affiliate links listed above at no additional cost to you.
Claim your copy of DAVINCI RESOLVE - SIMPLIFIED COURSE with 50% off! Get Instant Access!