So, apparently it's all about the "S" this CES 2018 (wink, wink that Panasonic GH5s later today….) and now gimbal and consumer drone market dominator DJI are starting CES 2018 with the announcement of 2 new gimbal stabilisers. First off is the new OSMO Mobile 2, a redesigned smartphone gimbal stabiliser that according to DJI turns "smartphones into Steadycams…", and second – a new gimbal called the DJI Ronin-S, which makes DJI's first single-grip stabilizer for DSLR and mirrorless cameras.
There is a burgeoning market for compact, single grip handheld gimbals for mirrorless and DSLR cameras; and DJI have finally responded with a model of their own.
The "single-hand" gimbal trend or wave has been spearheaded by companies like Filmpower, who have the Nebula 5100 Slant, and more recent offerings from Zhyiun-Tech, who've been making a name for themselves with their super-successful Crane series, which now includes the Crane 2, and most recently the Crane Plus (check out my post about it here). Not to mention other companies such as Pilotfly, Moza, Feiyu and a few others.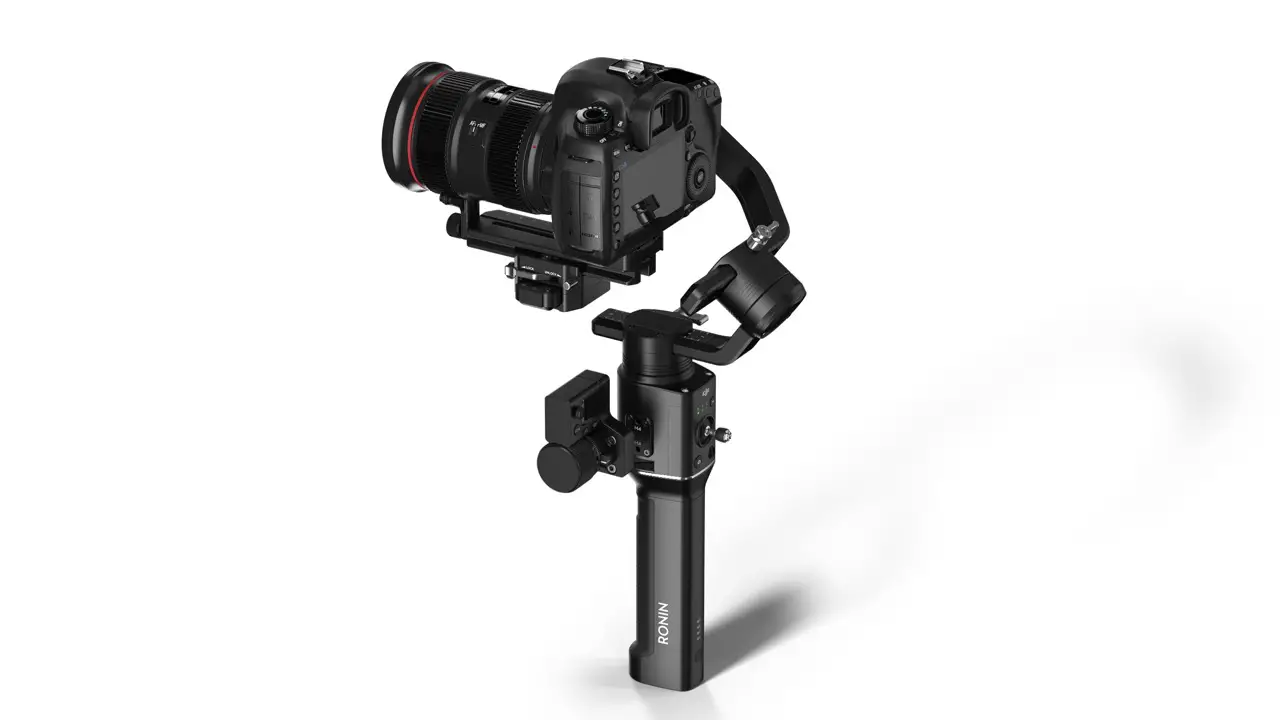 The new DJI Ronin-S does sport a similar design to a few models from the aforementioned companies, but it does have that DJI quality feel to it. Having owned a DJI Ronin MX, and used the Ronin (OG) as a rental a few times, I can attest to that. DJI have been making great quality stabilization systems for both the sky and ground, so I am super excited about the Ronin-S to say the least.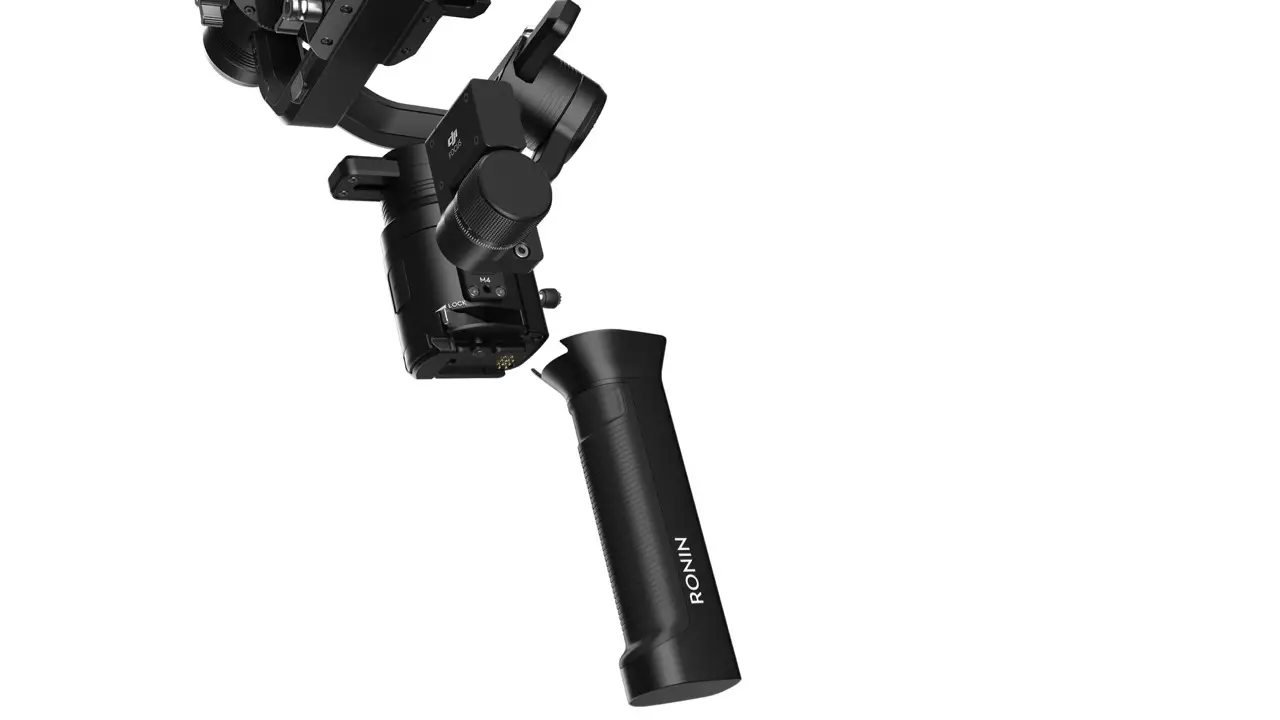 DJI Ronin-S Highlights
New Push mode

allows adjustment of axis by hand while powered

Dedicated buttons to control camera settings and precise positioning
New Focus Control Center:
Unobstructed view of back LCD screen
New Sports mode
Powerful high torque motors
High precision joystick
Store 2 Smooth track parameters
Complex moves via DJI app such as:

Panorama, Hyperlapse, Track and CamAnchor

Supports DSRLs – Nikon, Canon 5D Mark IV and more
Supports Mirrorless:

Panasonic GH5/GH4, Sony Alpha – A7s/A7r III/A7sII, a6500 etc.

intelligent features for advanced shooting modes all designed to help bring a steady shot to any set.
Hot-swappable intelligent battery
Pricing: TBD
Available: Q2 2018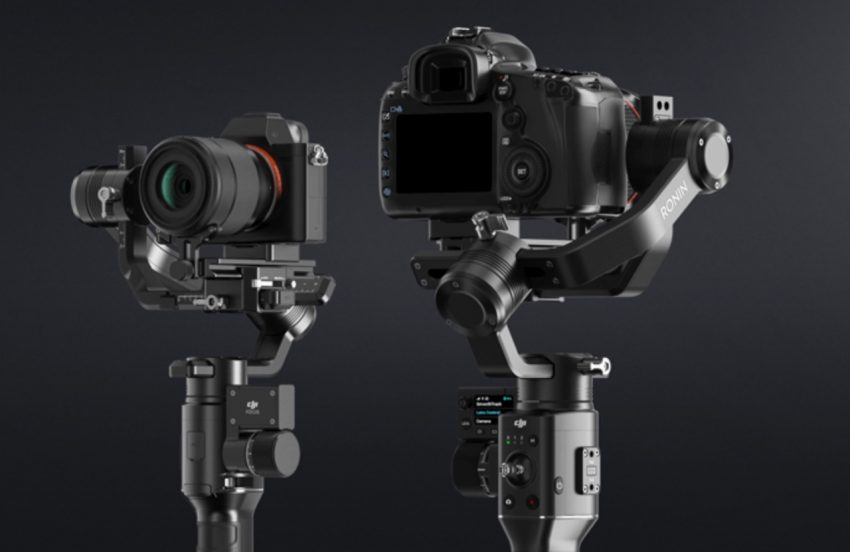 DJI say the Ronin-S will be available in "two frame sizes for either camera type", I'm assuming they mean – heavier DSLRs and big mirrorless and slimmer mirrorless cameras?
A new Push mode lets users adjust the pan and tilt axis by hand while the Ronin-S is powered on. The DJI Ronin-S also features a comfortable, ergonomic curved design that helps capture smooth cinematic movements from upright to underslung positions without obstructing the camera's display. Ronin-S also features DJI's intelligent battery technology that can be hot-swapped during operation for extended shoots.
Dedicated control buttons for the camera and gimbal let you toggle between SmoothTrack settings, record and stop the camera, and the high-precision joystick changes the camera position to help frame your shot perfectly. A new Sport mode allows for fast movements with tight and quick subject following speed.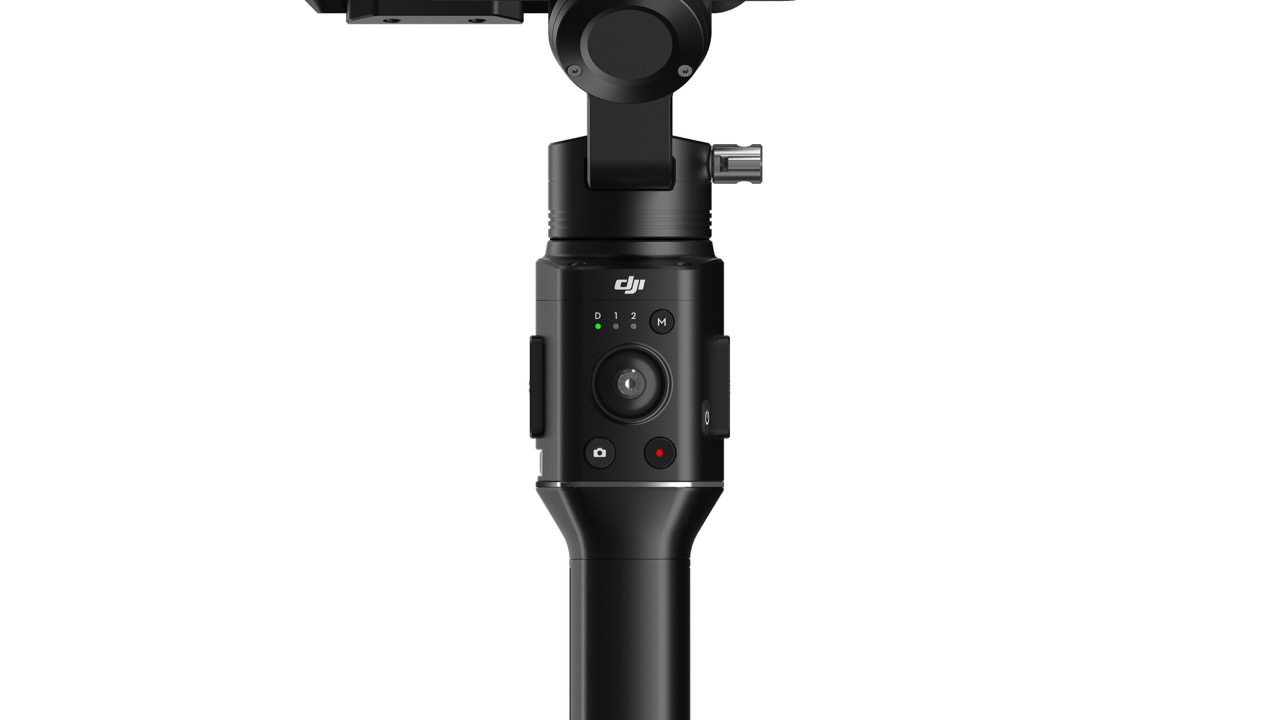 The DJI Ronin mobile app to gives the user the ability to create complex camera moves automatically like Panorama, Hyperlapse, Track and CamAnchor with the Ronin-S. You can also directly customize SmoothTrack settings with dedicated controls for responsiveness of each axis.
The new Ronin-S is compatible with a variety of DJI Pro Accessories. For a lot of shooters the big new feature would be the Focus Control Center accessory – which consists of a focusing dial and a screen allowing advanced gimbal and focus control without a mobile device.
The handle is also removable turning the Ronin-S into a vehicle mount solution; the Ronin S is also compatible with the DJI Master Force, DJI Master Wheels, an external focus motor, and a cheese plate adapter for third-party accessories.
Multiple accessory mounts are allocated on the Ronin-S, providing full support for add-ons such as a microphone, LED lights, and even a wireless video transmitter. DJI also say they will be making a dual-handle, which is huge – I used to love my dual handles on my Zhiyun Crane v1.
The DJI Osmo Mobile 2 gets a new lightweight design, with support for portrait orientation, a longer battery life (up to 15 hours) for the built-in battery, which is over three times longer than the original Osmo Mobile. A new zoom slider lets you completely operate your smartphone camera from the handle and you can even produce a dolly zoom-like effect.
Simpler controls let you use your phone's camera like a professional camera with integrated settings for ISO, shutter speed and more.  The new USB port enables phone charging during use and serves as a power bank for charging other electronics while on the go.
ActiveTrack allows users to automatically follow of subjects in motion, or create Motion Timelapse with up to five different camera positions, in addition to other features such as Hyperlapse, Panorama, Long Exposure, or stream live to popular social platforms like Facebook and YouTube.
Osmo Mobile 2 retails for $129 (pre-orders start March 10 at B&H) and will be available exclusively for pre-order at Apple.com on January 23, 2018.
Starting in early February, it will also be available at store.dji.com, DJI Flagship Stores, and DJI Authorized Retailers, with additional availability later in February at Apple Stores in select regions worldwide. For more information on all the new features and capabilities of Osmo Mobile 2, please visit www.dji.com/osmo-mobile-2.
DJI say that the Ronin-S will be available sometime in Q2 this year and pricing should be announced sometime prior to launch. I am hoping for pricing within the range of similar models from the competition – $600-750 USD, but it could be more.
Claim your copy of DAVINCI RESOLVE - SIMPLIFIED COURSE with 50% off! Get Instant Access!