Tilta now have a small piece of kit that will make your Tilta BMPCC 4K cage compatible with the new Blackmagic Pocket 6K EF camera.
Tilta have been making some high quality accessories for popular cameras in addition to gimbal stabilizers and affordable follow focus systems, but lately they have been working hard to get their Tilta Assault Armor cage for the BMPCC 4K and accessories out the door to the thousands of filmmakers, who had pre-orders.
And while the Tilta cage for the Blackmagic Pocket Cinema Camera 4K offers quite a few options when it comes to tailoring it to your preference by selecting different powered or non-powered handles and more, Blackmagic Design came out of nowhere with another pocket camera – the BMPCC 6K, now with a Canon EF mount, Super 35 sensor and 6K recording options.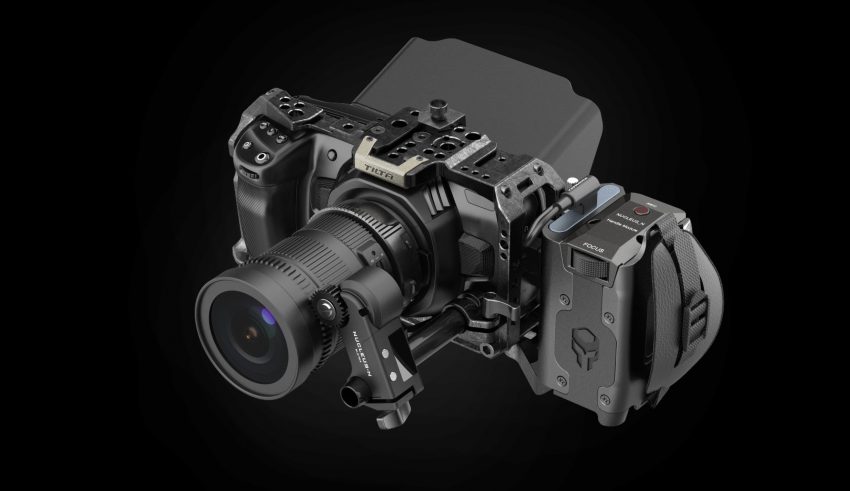 The release of the new Blackmagic Pocket Cinema Camera 6K sparked a big discussion among compatibility of not just the BMPCC 4K Tilta cage, but also other cages and accessories and their ability to be ported over from the BMPCC 4K to the 6K version, which despite having very similar, if not identical body design, features a larger lens mount protrusion due to the inherent dimensions and physics of the EF mount.
However, Tilta has some good news for users who have adopter their Tilta cage for the BMPCC 4K. Although some of their customers have been able to fit the BMPCC 6K into the cage, there is a small modification that needs to be made to accomodate the larger sensor and its external housing.
The modification involves a simple procedure switching out the cage logo plate with the piece below (pictured below) to make it compatible with the Blackmagic Pocket Camera 6K EF.
Tilt say that this separate piece is only needed for those who purchased their Tilta BMPCC 4K cage prior to August 23, 2019, and as such will get it for free (excluding shipping and handling). This piece will be included in BMPCC 4K/6K kits that have been manufactured from August 23, 2019 onwards.
The kit includes the necessary driver and screws to switch out the logo plate on the older cages. Shipping is a flat rate of $8 in the US (exc. AK/HI) and $20 internationally for this item.
Authorised dealers may not have this upgrade piece, so best to head over to Tilta where you can grab yours and learn more.
Claim your copy of DAVINCI RESOLVE 16 - SIMPLIFIED COURSE with 50% off! Get Instant Access!