There are many third-party battery solutions for compact mirrorless cameras and DSLRs on the market, but this one, in particular, combines powering capabilities and smart design integration that definitely deserves consideration.
In a nutshell, the Soonwell PH70 is a 70Wh rechargeable battery pack handle that attaches directly to your camera cage via a 1/4-20″ screw, thus providing a variety of powering options alongside the ability to be used as an additional grip for your camera setup. This makes it the perfect fit for cameras such as the BMPCC 4K and 6K which are notorious for their bad battery performance.
The Soonwell PH70 can be used either as a side handle or top handle while giving you two D-Tap (14.8V, 5A each), one USB (5V, 2.1A) and two DC (12V and 8V with 3A each) connectors to power your camera as well as other attached accessories such as lights, audio gear, small monitors or audio/video transmitters.
On top of that, the device comes with a safety overload indicator which turns on when the power draw on the dual D-Tap port exceeds 10A.
Aside from these features, the PH70 is covered with anti-slip rubber while providing long standby times and low heat operation.
The Shenzhen based manufacturer also claims that the device uses Class A cells and is MSDS qualified which makes it resistant to powering problems and outages – an essential prerequisite for flawless and reliable operation during the long shooting days.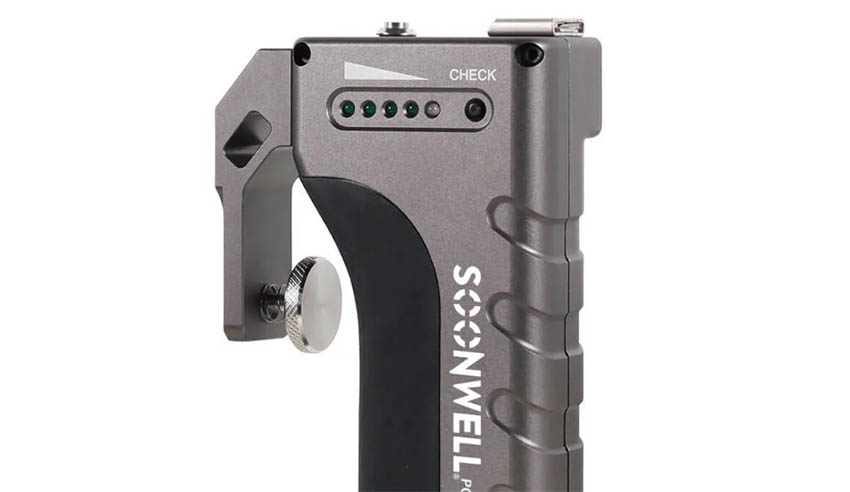 Additionally, there are five LEDs with a check button to display the actual battery charge level at any given moment. Another handy feature is the inclusion of a cold shoe on top of the unit that allows users to attach further accessories to the top handle.
The Soonwell PH70 is already available for pre-order retailing for $380. If you want to learn more about the product, head over to the company's official website here.
[souce: Soonwell]
Amazon Order Link:
SOONWELL 70Wh Rechargeable Battery Pack Handle
Disclaimer: As an Amazon Associate partner and participant in B&H and Adorama Affiliate programmes, we earn a small comission from each purchase made through the affiliate links listed above at no additional cost to you.
Claim your copy of DAVINCI RESOLVE - SIMPLIFIED COURSE with 50% off! Get Instant Access!