New for IBC 2019, award-winning UK-based professional LED lighting manufacturer Rotolight is redefining cinematic LED lighting with the new Rotolight Titan X2. A ground-breaking LED soft light, Titan X2 utilizes state-of-the-art RGBWW technology to provide unparalleled light output, outstanding colour accuracy for gorgeous skin tones, and a suite of industry-first features designed to enhance the creative possibilities of lighting professionals.
Designed and manufactured in the UK to uncompromising aerospace standards, the Rotolight Titan X2 represents the very latest in LED technology in a sleek yet robust package; engineered to last.
Boasting more than impressive max light output of 16,800 lux at 1m with no diffusion, the Titan X2 is pitched "as the brightest 2×1 soft light ever made with none of the added weight", providing enough power to adapt to any lighting situation and provides industry-leading performance across the entire CCT spectrum all the way from 2800K up to 10,000K.
Perfect for high speed work, the Rotolight Titan X2 is entirely flicker-free at any shutter angle or intensity.
Rotolight Titan X2 Features
Super-bright 2×1 Soft LED Light
Full RGBWW colour gamut

with Hue, Saturation and Diffusion Control

2,800 to 10,000 continuously variable CCT
TLCI = 98/CRI = 95+

CRI at 5600K >95
CRI at 3200K >95
CRI at Skintone R15 = 98

68 to 150 degrees beam angle (electronically variable)
Focus and spread with SmartSoft™ diffusion technology
Touchscreen display with quick-start icons

and 10 user presets for fast set up

Award-winning suite of CineSFX™ Built-in Effects

Fire, Lightning, TV, Paparazzi, and more

Superior colour rendition saves time in post-production
IP20 protection / 50,000 hours Estimated LED Lifetime
0-100% continuous dimming
0 – 2 stops continuous diffusion (0%- 100%)
Lightweight for its class: 10.6kg for Titan X2 body
Ships in November 2019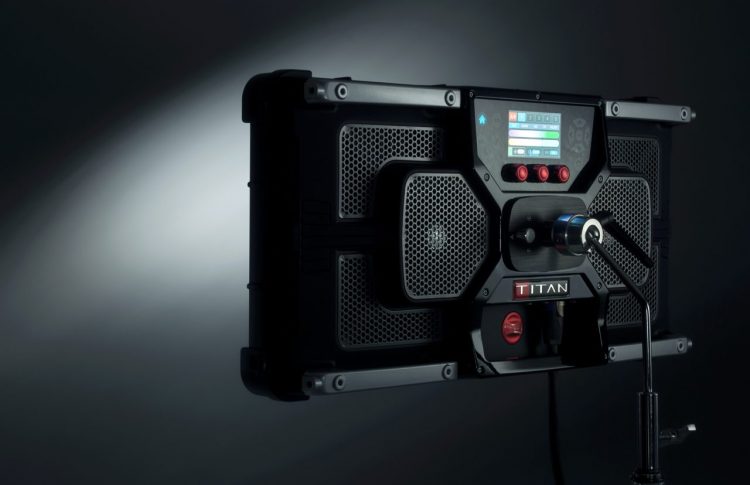 The Titan X2 features the patent-pending SmartSoft™ technology, thanks to which gaffers and cinematographers can now electronically adjust the light's diffusion, focus and spread; providing unrivalled control whilst eliminating the need for gels.
A revolution in lighting control, saving both time and money, SmartSoft™ can be adjusted locally on the light, via DMX or wirelessly. With the largest light aperture of any 2 x 1 fixture, Titan X2's gorgeous soft output wraps flatteringly around subjects and avoids sharp shadows.
Featuring a toughened LCD touchscreen display with an intuitive, fast and responsive user interface, Titan X2 exemplifies ease of use and saves time on set. Lighting professionals no longer need to navigate through complex sub-menus, instead able to access key features with a single touch thanks to quick-start icons and up to 10 user customisable presets for instant recall.
For the first time, the full-colour display enables on-screen previews of the Titan X2's extensive filter library allowing cinematographers to achieve the exact colour they want and eliminating the guesswork.
Rotolight's expertly engineered PentaChromic Colour Engine™ guarantees beautiful, precise skin tones, colour accuracy, and vivid colour saturation has been developed using cutting-edge RGBWW technology.
With high CRI numbers of 95+ and TLCI performance of 98, the Titan X2 gives cinematographers access to an incredible palette of over 16.7 million vibrant colours in seconds, all accessible across five lighting modes: CCT, HSI, RGBW, XY and Filter which includes a comprehensive library of more than 1300 industry standard gels.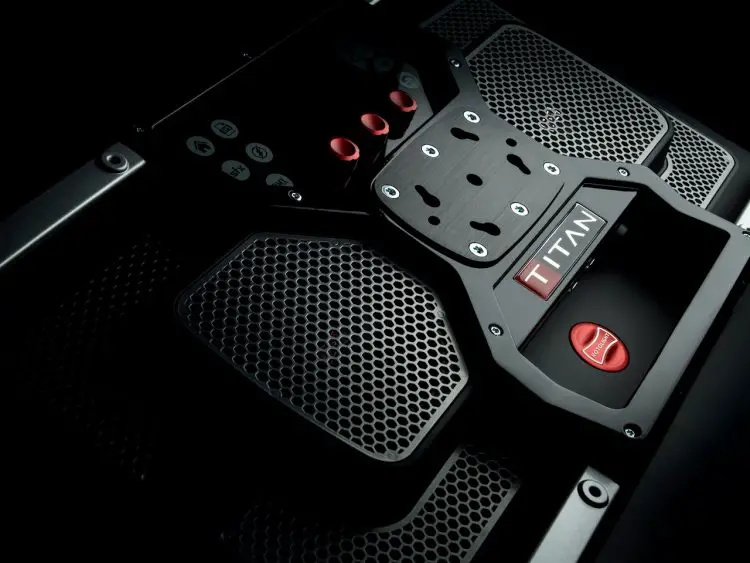 Titan X2 is also packed with built-in effects such as Fire, Lightning, TV, Gunshot, Paparazzi and more, which eliminates the need for expensive, time consuming legacy 'flicker-box' workflows. Designed in conjunction with Stefan Lange, Visual FX veteran (Batman, James Bond 'Skyfall', Tomb Raider), the patented CineSFX™ suite utilizes Titan's RGB colour engine to deliver realistic full colour lighting effects; providing endless creative possibilities on set.
As well as being the perfect fixture for cinematographers and broadcasters, the Titan X2 is also a powerful tool in the arsenal of any pro photographer shooting portraits, offering High Speed Sync flash (1/8000th) with a powerful output and zero recycle time. Featuring an integrated Elinchrom Skyport flash receiver, up to ten Titan X2's can be wirelessly triggered at up to 656ft (200m) with the Rotolight HSS transmitter, available for all major camera brands.
Uniquely versatile, Titan X2 is equipped as standard with wired/wDMX, Bluetooth (for app control) and integrated LumenRadio compatibility (both coming as an upgrade in Q1 2020), Elinchrom Skyport flash receiver and RJ45, providing full control straight out of the box.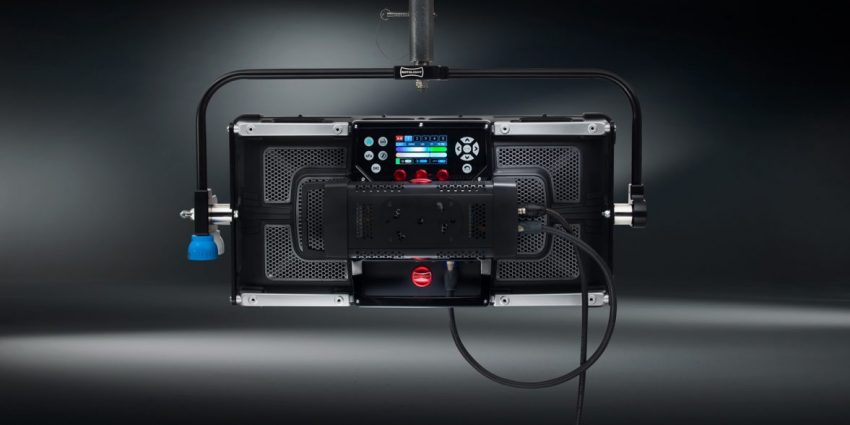 With best-in-class energy efficiency, the Titan X2 is a compelling companion for shooting both in studio and on location. Compact yet robust, Titan features four secure aluminium handles for effortless rigging and is available with a variety of mounting options. Individually hand-calibrated and crafted using the highest quality materials, Titan X2 will deliver consistently outstanding performance and years of reliable service.
See Titan in action at IBC 2019 on booth 12.E37, or visit www.rotolight.com/titan for more information.
The Titan is due to start shipping very soon (November) and I recently interviewed Rod from Rotolight about their newest, and most advanced LED light to date. Read what he had to say about the Titan X2, its significance, and development below.
Why the Titan X2 now, why would it be so ground-breaking for cinematographers? 
For us, the Titan™ X2 is about giving users the entire package. We wanted to use state-of-the-art technology to not only provide unparalleled light output, but also outstanding colour accuracy and a suite of industry-first features designed to enhance the creative possibilities of our users.
Titan™ combines this with a seamless user experience using an intuitive and responsive interface. We had to avoid those complex submenus that just waste time and leave gaffers feeling so frustrated!
What is the one key feature or two that separates the X2 from the competition?
The Titan™ X2 really does bring something special and unique to the film industry, but the feature we're most excited by is our SmartSoft™ Diffusion technology. For the first time on an RGBWW light, you can electronically adjust the diffusion, focus and spread of the output. Users no longer need to manually install diffusion and it can be adjusted in precise increments so users can get exactly the look they're after. 
One of the biggest pieces of feedback we had early on in development was that Titan™ needed to be easy to use. Lights are capable of so much now, yet they often have small displays and complex submenu systems. You don't need a manual to know how to use your smartphone; it's intuitively designed so that you know how to use it straight out of the box.
Your lighting should be no different, and this is why we opted for a toughened touchscreen display – the first on a light of its kind – and designed a user interface that can be navigated easily, even in the midst of a hectic set! 
What advancements in LED technology in Rotolight are you most proud of? 
 The Titan™ X2 uses the very latest in LED technology to save lighting professionals both time and money on set, and when paired with cutting-edge RGBWW chips, Titan™ delivers uncompromising colour accuracy. Our specially designed Rotolight PentaChromic Colour Engine™ guarantees gorgeous skin tones and vivid saturation with a TLCI of 98 as well as best-in-class power.
What features were the hardest to implement? 
Definitely the SmartSoft™ technology, as there are a few technical challenges we had to address and overcome. Using an electronic diffusion panel can potentially, without adjustment, introduce flicker at higher frame rates. When you are shooting at higher frame rates, eliminating this issue is as easy as inputting the frame rate you're shooting at which will in turn adjust the light's frequency to ensure absolutely no flicker.
The other main issue we faced was how introducing diffusion has the potential to affect colour shift. After rigorous testing, we engineered the Titan™ X2 to compensate for this in real time, so as you adjust the diffusion, the light will monitor itself to maintain the kelvin measurement you have set, so no sacrifices in terms of colour accuracy.
When would the Titan X2 be available? 
The Titan™ X2 is available for pre-order now and will begin shipping in November. We've already got a long list of pre-orders and we can't wait to see how filmmakers will utilise the new technology available to them!
Any hints as to what's next? I am sure you are always working on new lights, any teasers (nothing concrete of course) you could share? 
Yes, we are always working hard on the next big idea! We have an exciting roadmap of 15 new products in the next 5 years. The launch of the Titan™ X2 is just the beginning; we'll be continuously providing users with free firmware updates in the coming months and years to add new functionality and special effects.
We're also already working on some entirely new products, so stay tuned!
The Titan X2 is scheduled to ship in November 2019 and is now available for pre-order now from B&H starting at $4,699.
For those based in the UK or Europe, you can pre-order directly from Rotolight here or their authorised dealer network.
Claim your copy of DAVINCI RESOLVE - SIMPLIFIED COURSE with 50% off! Get Instant Access!