SLR Magic has just added two new lenses to their MicroPrimes series with the inclusion of the 21mm T1.6 and the 50mm T1.4. The optical structure of the former consists of 13 elements in 11 groups whereas the latter offers 6 elements in 5 groups.
Other than that, the new arrivals feature identical design, full manual control, have an 82mm thread front, an 85mm front diameter for clamp-on matte box, and are all 0.8 Mod geared.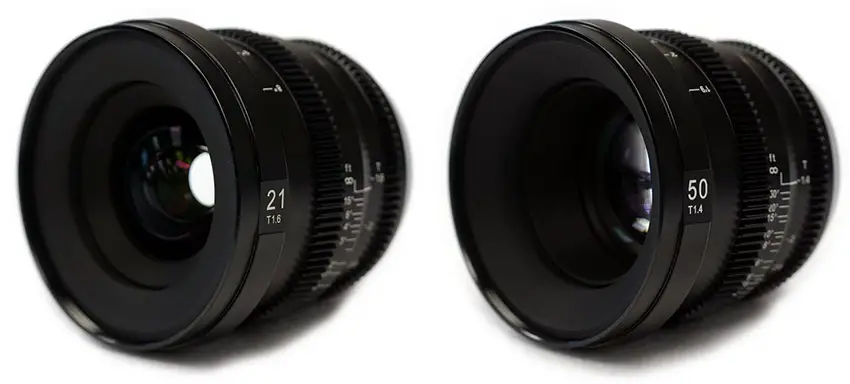 Now, the full MicroPrime lineup includes five lenses – the 12mm T2.8, 18mm T2.8, 21mm T1.6, 25mm T1.5, and the 50mm T1.4. It's worth noting that each lens in the MicroPrime Cine series has similar size and weight with consistent lens gear positions for rapid lens changes and easier re-balancing when changing lenses.
The length and weight are also the same so that if you use a gimbal, you won't have to recalibrate it if swapping in one lens for another of a different focal length. The short focus throw on each lens, on the other hand, is incorporated so that when you rotate the focus ring by hand, you'll be able to comfortably adjust it from end to end.
Additionally, the MFT MicroPrimes have calibrated witness markings so focus pullers can reliably measure the distance between the focal plane and subject. All in all, the new arrivals are consistent with the other MicroPrime lenses in color, bokeh, gear position, and virtually all other features.
SLR Magic MFT MicroPrime Highlights
Covers Micro Four Thirds sensors
150° focus rotation
Internal focus mechanism; minimized breathing
85mm front diameter
82mm filter thread size
Calibrated witness markings
Clickless iris ring
All MicroPrime lenses are consistent in color, bokeh, gear position, and virtually all other features
The MicroPrime CINE 21mm T1.6 and 50mm T1.4 are already available for pre-order selling for $599.
[source: SLR Magic]
Claim your copy of DAVINCI RESOLVE - SIMPLIFIED COURSE with 50% off! Get Instant Access!