Hey guys, real quick I want to make sure you know that the biggest video industry education event of the year is happening right now! Here at 4K Shooters, we are super excited and grateful to have joined forces with our friends at 5DayDeal to put on what we consider to be the biggest, most exciting education event of the year for every single video creator regardless of experience and skill level.
The 5DayDeal team got a killer 5-day event happening right now that brings a ton of value with а plethora of worthwhile resources put together by some of the best creative professionals in the world.
Best of all, the 5DayDeal Complete Video Creators Bundle 2018 is now LIVE and with it, you get $1,000+ worth of video making, editing, and business resources for the extremely affordable price of $99. Yeap, that's a whopping savings of over 91%!
Just like prior years' editions, the new 2018 Video Creators Bundle has been curated exclusively to help video makers save time and money, hone their technical and creative skill, and advance their career. With this bundle you get a massive collection of expert training, tutorials, eBooks, software, and digital tools for all levels of video creation – there's truly something awesome for everyone!
As always, the Complete Video Creators Bundle is packed with resources which are 100% brand new to 5DayDeal. No repeated products! Sale Ends Tuesday, June 6th at Noon, PDT – never to return!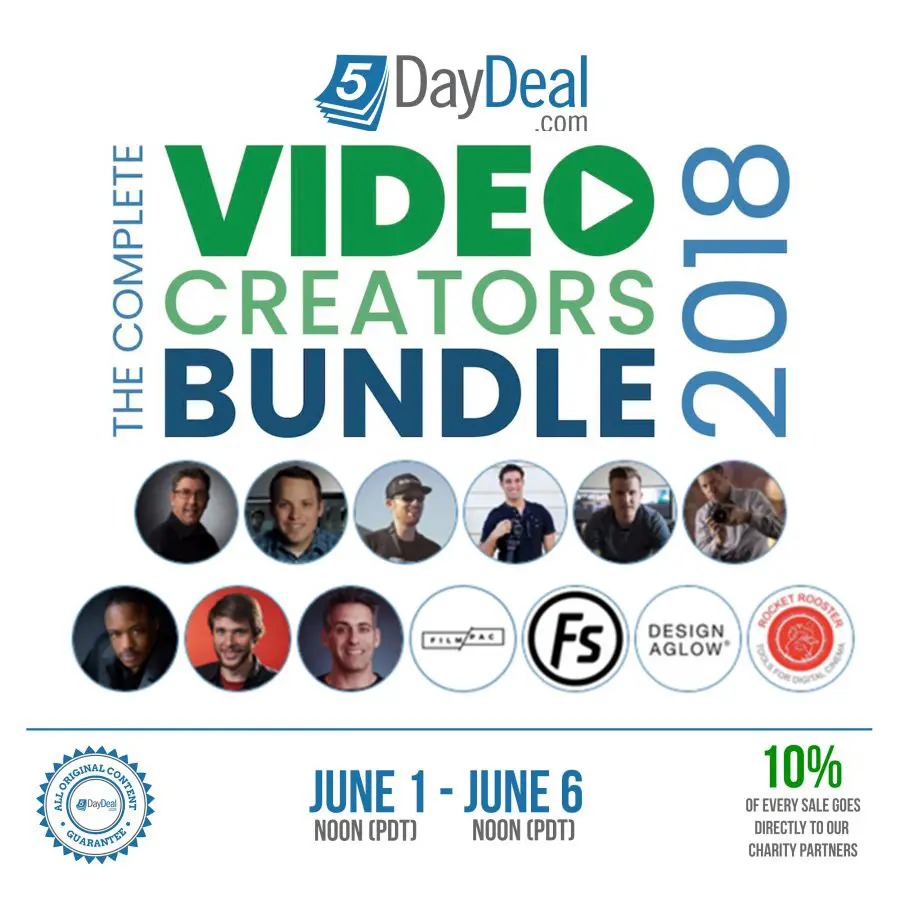 The Complete Video Creators Bundle 2018 includes:
The Filmmakers Process by Shane Hurlbut, ASC – $99.00
Motion Picture Film LUTs by Denver Riddle – $99.00
Drone Pro Academy Premiere Pro Drone Editing Templates by Chris Newman – $97.00
Stabilization Strategies by Mark Wonderlin – $197.00
Introduction to Video Editing with Adobe Premiere by Fstoppers

 – 

$45.00
Premiere Pro – Advanced Editing Course by Uri Soglowek – $97.00
Cinematography Marketing Suite by Design Aglow – $97.00
The Podcasting Professional Frederick by Van Johnson – $97.00
Animating Still Photos: Quickstart by Erick Geisler by Serge Ramelli – $97.00
Rocket Rooster Cine Bundle by Rocket Rooster – $133.50
Creative Camera Framing Workshop by Jordy Vandeput – $45.00
FREE BONUS – Exclusive Discounts From top brands from around the world!
After purchasing your bundle you will be given access to the 5DayDeal Discount Portal to help you save hundreds, even thousands more! Savings vary anywhere from 10% to 50% to 80% off from their sale partners.
CHARITY BONUS – WANT MORE? GET MORE. AND GIVE MORE!
This year 5DayDeal have also partnered up with a select group of video educators to bring you a charity bonus resource package. By selecting this bonus option at checkout you'll give even more to charity and in return, you'll receive more than $400+ in additional shooting and editing resources for just $19!
And by doing so, you can help them break through their charity record of $30,000+ in 5 days and get some additional resources while you're at it! And the best thing is that 10% of every bundle sold gets donated to charity! This equals $9.90 per bundle by default, but you can add $1.90 that by adding the Charity Bonus to your purchase.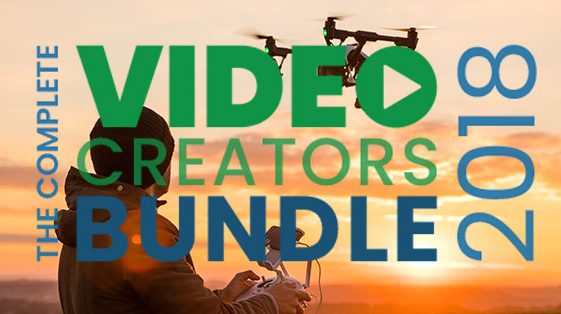 LIST OF BONUS PRODUCTS: 
4K Stock Footage Pac by FilmPac – $99.00
Lighting Secrets Workshop by Eric Thayne – $197.00
Video Editing with Adobe Premiere Pro 2018 for Beginners by Jordy Vandeput – $99.99
Set Up Your Own Grading Suite by Denver Riddle – $49.00
The 2018 5DayDeal Complete Video Creators Bundle is the ultimate package of expert education and practical training from top filmmakers and software developers from around the world, while at the same time trying to contribute to making that world a better place.
Your extra support comes with a huge THANK YOU plus a bonus collection of exclusive products from some of the 5DayDeal expert video creators.
Orbis transforms lives through the treatment and prevention of avoidable blindness through hands-on training, public health education, and more.
Against Malaria Foundation (AMF) protects people from malaria.

They fund nets & ensure they are distributed, positioned & used effectively.
Next, they monitor & report their use and impact.

Mercy Ships brings hope and healing to the forgotten poor by:

mobilizing people and resources worldwide, without regard for race, gender, or religion.

The 5DayDeal Foundation lends a helping hand to scientific, environmental, humanitarian and other charitable causes worldwide.

Even if you choose not to purchase the package yourself, please share the sale with your network to help raise awareness. Not only is this such a great deal, but it champions some great causes that we're extremely proud to support, and I hope you will too. Thanks!
Claim your copy of DAVINCI RESOLVE - SIMPLIFIED COURSE with 50% off! Get Instant Access!