Chinese gimbal maker Zhiyun has just announced the launch of the CRANE 3S Gimbal. The newcomer boasts higher payload, improved power, and a brand new modular design. It also offers a wider range of applications and more intuitive control.
The CRANE 3S sports new more powerful motors allowing it to handle a 6.5kg payload for heavier camera setups including Canon EOS 1DX, Pocket 4K and 6K, Canon Cinema EOS, Sony FS and FX series, and even RED cameras. It also offers a flexible modular design with EasySling and SmartSling Handles, plus it can be used with EasyRig.
For larger cinema camera setups, users can attach the included extension module onto the roll axis. For smaller DSLR combos, the extension module can be removed to make the setup compact and portable.
The CRANE 3S rethinks the structure and introduces a detachable second handle with two options: the EasySling Handle and the SmartSling Handle.
You can either mount EasySling handle to extend the grip for more comfort upright and underslung operation, or choose to mount SmartSling handle featuring an intuitive control panel and OLED screen, for direct camera and gimbal set up, or combine them together.
The handle mods are easy to fit and remove, and both provide multiple thread holes in different sizes to mount accessories. The modular design makes CRANE 3S highly compatible with motorized dollies, jibs, cable cams, Easyrig, etc.
With three 18650-format batteries, CRANE 3S can run for up to 12 hours. A DC-in power port on the battery compartment allows input of up to 25.2-volts for direct charging.
To support long shoots with larger setups, Zhiyun introduces the TransMount PowerPlus Battery Pack, a compact yet fast-charging power bank for the gimbal and camera. The unit houses six 18650 batteries and independently provides 18 hours of runtime.
The newly-designed locking system of the Zhiyun's CRANE 3S, on the other hand, can lock all three axes without noticeable swinging. The modular design comes with double locks to ensure the setup is 100% safe. Larger lens support has been added to the zoom and focus system.
CRANE 3S is driven by a new algorithm that enables more than impressive responsive speed and smoothness. The 55° tilted roll axis is designed for an unrestricted view and allows enough space to mount large cinema camera combos.
Other than that, the CRANE 3S provides compatibility with Zhiyun TransMount Image Transmission Module. The latter allows video to be streamed to up to three monitoring devices including smartphones.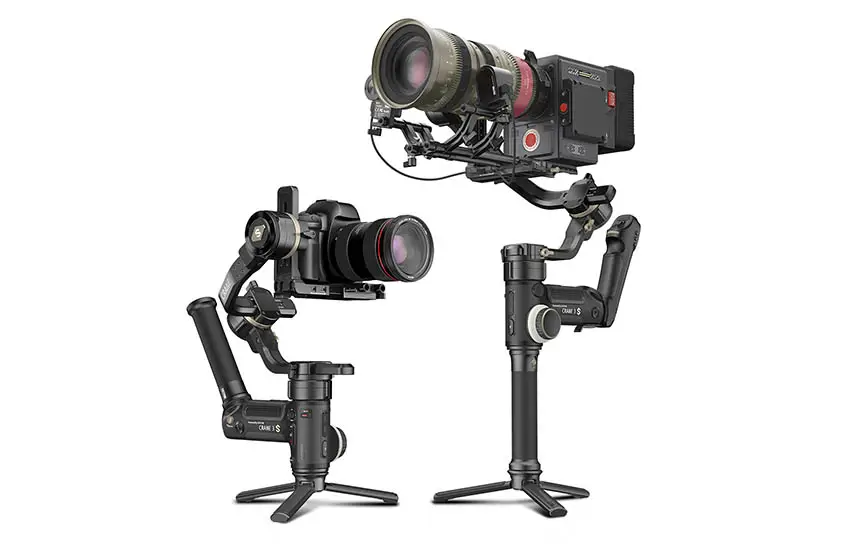 The ViaTouch 2.0 system in the ZY Play app bridges the communication gap between stabilizer, camera and monitoring devices, allowing you to adjust camera and gimbal parameters remotely and intuitively. The ViaTouch 2.0 system also enables a visualized remote motion control for the gimbal itself.
The latest Zhiyun offering is available in three kits – CRANE 3S (with SmartSling Handle) at $739, CRANE 3S-E (with EasySling Handle) at $649 as well as CRANE 3S Pro (with SmartSling Handle, PowerPlus Battery Pack, Zoom&Focus Controllers, Image Transmission Transmitter and Smartphone Clamp) selling for $1,149.
Later today, Zhiyun will host a CRANE 3S debut live show on its official YouTube channel, to fully introduce the gimbal and showcase the field test, followed by a Q&A section.
[source: Zhiyun]
B&H Order Links:
Claim your copy of DAVINCI RESOLVE 16 - SIMPLIFIED COURSE with 50% off! Get Instant Access!