At IBC 2019 in Amsterdam, legendary battery maker Anton Bauer launched the Titon SL series of 14.4V Gold Mount and V-Mount batteries. The new series joins the first-generation Titon batteries launched earlier this year.
The rugged Titon SLs pack the consistently reliable performance found in other Titon batteries into a smaller and lighter-weight form factor, making them ideal for independent content creators and freelance camera operators. The Titon SL is currently offered in 150Wh and 240Wh models.
The Titon SL range features an all-new cell design that allows the batteries to be smaller and lighter meaning that the power and performance found Anton Bauer's original Titon 150, can now be packed into the same size as a standard 90Wh battery and has also enabled Anton Bauer to introduce a new larger-capacity 240Wh battery in a more compact form.
Titon SL batteries deliver long-lasting power to a wide range of DSLR, mirrorless, ENG/broadcast, and digital cine cameras. To give you some perspective, a single Titon SL 240 can power a broadcast shoulder camera like the Sony PDW-850 for up to six hours and a compact cine camera like the Blackmagic Pocket Cinema Camera 4K for up to 17 hours.
In addition, Titon SLs can power popular LEDs including Litepanels' Gemini Soft panels, video villages, and production monitors such as those from SmallHD, and bonded cellular transmission solutions such as LiveU and Teradek VidiU.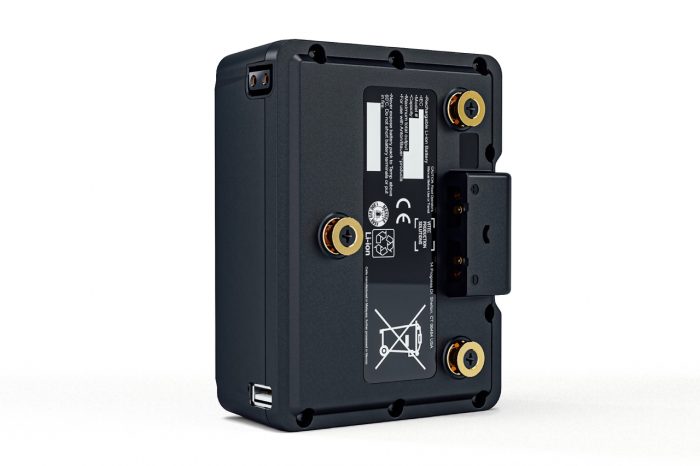 A single Titon SL 240 will power an LED light like the Gemini 1×1 Soft for more than an hour at full power, and two Titon SL 240s on a dual bracket will yield up to 2.5 hours of power for the same light.
Each Gold Mount or V-Mount Titon SL also includes P-TAP and high-speed Smart USB ports to conveniently power accessories such as wireless transmitters, LED lights, follow-focus lens controllers, and monitors as well as smartphones and tablets.
With the Titon SL's onboard LCD screen or the camera's viewfinder display, operators have a down-to-the-minute view of the exact runtime and remaining available power for the camera and accessories being powered.
Titon SL offers one of the widest operating temperature ranges in its class — from -4 °F to 140 °F (-20 °C to 60 °C) — ensuring its reliability even in the world's most extreme conditions, from the subzero Arctic to the harsh Sahara Desert and anywhere in between.
Titon SL batteries are compatible with Anton Bauer legacy chargers and are the ideal mobile power solution where portable power is preferred to facilitate faster setups, or in remote environments where outlets or generators are simply not available.
Titon SL will be on display at IBC 2019 in the Vitec Group booth, 12.E65. For full specs and more details, explore the the Titon SL ranget at the new Anton Bauer website – www.antonbauer.com.
You can see pricing and pre-order links for the Titon SL batteries below.
Claim your copy of DAVINCI RESOLVE - SIMPLIFIED COURSE with 50% off! Get Instant Access!