GoPro, the action camera king, who's crown was in heavy contention up until recently, just came back swinging and announced the new and reinvented GoPro Hero8 Black, new Mods and the GoPro MAX for 360 degree content.
While the previous two generations of their Hero camera might have been a bit underwhelming when it comes to overall innovative features, the new GoPro Hero8 Black has had some major tuning work under the hood and is not just a slightly "juiced-up" Hero7 Black.
HyperSmooth 2.0 is now the new and improved image stabilization, that unlike HyperSmooth 1.0 that was say on the Hero7 Black, now works in all resolutions and frame rates, even in in slow motion.
The revamped SuperPhoto feature delivers ghost-free HDR action photos, and all-new LiveBurst captures 1.5 seconds of 12MP (4K 4:3) footage before and after the shutter. The HERO8 Black also gets a new wind-optimized front-facing mic for better audio.
The Hero8 Black also features a new Boost mode and has in-app horizon levelling. Also new in Hero8 Black is TimeWarp 2.0, which features automatic rate adjustment and tap-control speed ramping.
Plus, new digital lenses help to set up the shot like a pro every time with one of four options—ranging from GoPro's patented SuperView to zero-distortion linear—and customizable capture presets provide quick access to settings for any activity.
However, it appears the the biggest improvement in my opinion is the more streamlined integrated housing – no more do you have to use the plastic frame – the mount pops up from underneath and it's a $20 replacement part if you lose it. This will most certainly help with speed, when you just want to grab your GoPro Hero8 and mount it to your helmet, rig, selfie-stick whatever and press record.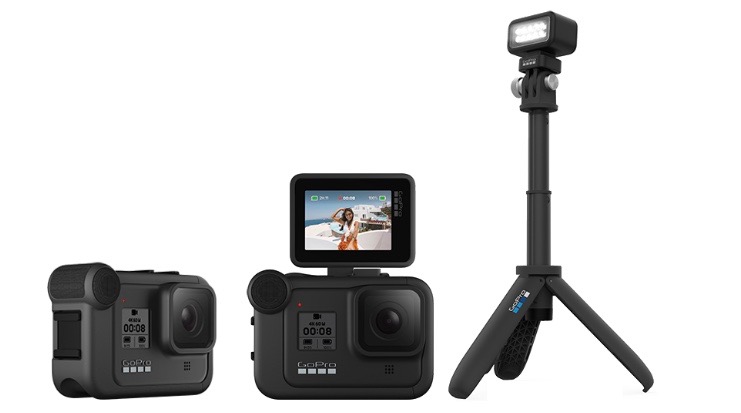 HERO8 Black can also be transformed into a vlogging or production powerhouse with GoPro's new modular accessory ecosystem.
GoPro Hero8 Media Mod ($79.99):
The $79.99 Media Mod delivers shotgun-mic directional audio performance and features two cold shoe mounts for additional accessories along with Type-C, HDMI and 3.5mm external mic adapter ports.
The Display Mod is a folding front- or rear-facing 1.90-inch display that attaches to the top of the Media Mod that is the perfect size for both framing up vlogging shots and folding down and out of the way when not in use.
Waterproof to 33 feet (10 meters), wearable and gear-mountable, the Light Mod can be mounted to the Media Mod or attached to a GoPro mount and as with any decent LED of this class, it's rechargeable and it comes complete with a diffuser to soften lighting when filming with the Hero8 Black.
GoPro Hero8 Black Features
Streamlined Frameless Design
HERO8 Black Mods
4K/60p + 1080p/240 Video

bit rate options of up to 100Mbps

RAW in All Photo Modes – RAW mode delivers the most flexibility and is now available for time lapse and burst photos.
Night Lapse Video – Shoot awesome time lapse videos at night in 4K, 2.7K 4:3, 1440p or 1080p, all processed in-camera.
HyperSmooth 2.0 works in all frames and resolutions

Improved overall baseline performance and dramatically improved stabilization in pitch-axis movement.
New Boost mode cranks up the stabilization when desired.

TimeWarp 2.0

Automatically adjusts speed based on motion, scene detection and lighting.

4x Digital Lenses:

Narrow, Linear, Wide and SuperView.

Capture Presets

Customize up to 10 presets, or
use preloaded video presets for Standard, Activity, Cinematic and Slo-Mo shots, for quick access to settings

On-Screen Shortcuts

Customize your screen with the shortcuts to the features you use most.

LiveBurst

Record the moments 1.5 seconds before and after your shot, so you can choose the best single frame for the perfect 12MP photo or share an awesome 4K 4:3 video.

SuperPhoto with improved HDR

Capture awesome 12MP photos with improved HDR

Live Streaming in 1080p
Voice Control
Advanced Wind-Noise Reduction
Rugged and Waterproof

without a housing to 33ft (10m)

Pre-order: $399 at B&H
The other new camera GoPro announced today is the GoPro MAX – a dual lens GoPro camera with front-facing dispay, that is can also be used as a waterproof (up to 16 feet), maximum-stabilized single lens HERO camera, dual lens 360 camera or next-level vlogging camera with its built-in front facing display and shotgun-mic audio capabilities.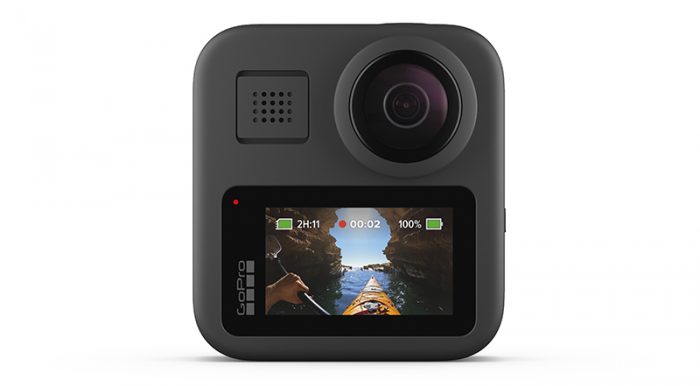 The GoPro Max is priced at $499 and features MAX HyperSmooth stabilization as well as in-camera horizon leveling, eliminating the need for a gimbal in most situations. Max TimeWarp bends time and space with expanded control and performance over traditional TimeWarp. And Max SuperView delivers GoPro's widest, most immersive field of view yet.
When creating 360 edits, MAX users now have Reframe, the GoPro app's new keyframe-based editing experience. Now it's easy to quickly "reframe" 360 footage into a traditional video with super-smooth pans and transitions. Reframe matches the power of desktop 360 editing solutions but with the convenience and usability of the GoPro app.
GoPro have designed the Gopro MAX with vlogging in mind as a complete solution with seriously good video stabilization, four digital lenses for the ideal "look", front-facing touch screen for easy framing, and six mics that enable shotgun-mic audio performance.
GoPro MAX Features:
5.6K/30p 360 video,
1440p/60 and 1080p/60 HERO video
5.5MP HERO photos and 6.2MP PowerPano photos.
Built-In, Folding Mounting Fingers
HERO + 360 Capture Modes

Switch between traditional HERO-style video and photo or immersive 360 footage.

Max HyperSmooth

MAX gives you unbreakable stabilization by using 180° capture as the ultimate buffer.

In-Camera Horizon Leveling

In HERO mode, game-changing horizon levelling gives you that silky-smooth cinematic look.

Max TimeWarp

Warps time in both 360 and HERO modes.
In HERO mode, TimeWarp automatically adjusts speed based on motion, scene detection and lighting + slow capture to real-time in one tap.

Digital Lenses

4 digital lenses make selecting a field of view easy and include the ultra-immersive Max SuperView option.

Max SuperView
PowerPano

Pano without the pan. Take incredible 270° distortion-free panoramic photos without having to scan the horizon.

Premium 360 + Stereo Audio

Six mics capture true-to-life 360 audio and deliver the best stereo sound ever from a GoPro.

Directional Audio

Directional audio in HERO mode lets you prioritize sound from either side of the camera, no matter which lens you're using—perfect for vlogging.

In-Camera Stitching

Offload and edit your 360 footage in the GoPro app.

Reframe + the GoPro App

Use the new keyframe-based workflow in the app to easily Reframe 360 footage into traditional videos and photos you can play back, edit or share.

1080p Live Streaming

Shoot in HERO mode and share while you're there in HyperSmooth stabilization.

Rugged and Waterproof
Voice Control

12 commands in 15 languages and dialects.
The GoPro HERO8 Black is priced at $399, while the GoPro MAX at $499 with pre-orders happening right now over at authorized dealers such as B&H and directly over at GoPro. The cameras are expected to be available starting October 15th.
Disclaimer: As an Amazon Associate partner and participant in B&H and Adorama Affiliate programmes, we earn a small comission from each purchase made through the affiliate links listed above at no additional cost to you.
Claim your copy of DAVINCI RESOLVE - SIMPLIFIED COURSE with 50% off! Get Instant Access!