The Skydio 2 is not just a super-advanced self-flying 4K/60p drone camera, but it is also one that is made by an American drone company. Yeah, 'Merica baby! Finally, a small American startup is challenging the hegemony of DJI, currently dominating the consumer drone market.
For some strange reason typing the previous sentence just felt so damn good! And I am not even American. But what makes the Skydio 2 drone so damn good you ask? Well, from the promo footage and online comments it's quite evident that the Skydio 2 kind of set the drone forums on fire. Just watching some of the demo footage it makes it seem like this is exactly how Skynet will start the upcoming (and inevitable) AI takeover.
IMHO, this is no fluke or flash-in-the-pan type of hype. It's real. The core team behind the Skydio R2 (or just Skydio 2 in other words) are MIT educated and know a thing or two about advanced AI and making a drone fly itself while also being able to take awesome pictures and 4K/60p video of humans or objects.
So now you you don't have to be a good drone pilot to get awesome 4K footage! This is the exact drone most of us have been waiting for – let the drone do the flying and let me worry about the images.
The Skydio 2 is said to be "the most advanced flying AI on the planet", and is built around the ground-breaking Skydio Autonomy Engine. The Skydio 2 sees in every direction with six 200-degree 4K cameras, which equal to about 45 megapixels of visual sensing, enabling it to map and understands the world around it, predict future path and make intelligent decisions that let it smoothly fly around obstacles while capturing amazing 4K HDR videos and stunning 12 megapixel photos.
The Skydio 2 comes with some super-advanced autonomous person and car tracking, and improves upon its predecessors Skydio R1's foundation with tracking speeds up to 36 miles per hour, and a new planning algorithm focused on cinematic capture.
At the heart of Skydio 2 is the NVIDIA Jetson TX2, the fastest, most power-efficient embedded AI computing device available featuring 256 GPU cores capable of 1.3 trillion operations a second.
The maximum flight time has been extended to 23 minutes and the Sony IMX577 1/2.3-inch 12.3 Megapixel CMOS sensor enables 4K UHD video capture up to 60fps as well as Full HD up to 120fps slow motion.
Skydio 2 4K Video Specifications:
Sensor: Sony 1/2.3" 12.3MP CMOS

Lens: 20mm f/2.8 (35mm equivalent)
Resolutions/Modes

4K UHD 3840 x 2160 at 24/30/48/60fps
1920 x 1080 at 120 fps
1920 x 1080 at 60 fps
1920 x 1080 at 30 fps
Bitrate: 100 Mbps
Video Codec/Format:

MPEG-4 (AVC/H.264, HEVC/H.265)

Stills Resolutions: 4056×3040 (12 MP)
Still Formats: JPEG, DNG (RAW)
Still Modes: Single, Interval
Dynamic Range: 13 stops
Storage:

Removable Micro SD Card
UHS Speed Class 3/V30
Skydio also released a Benchmark report evaluating their Skydio 2 camera vs. DJI Mavic Air vs DJI Mavic 2 Comparison – download it here.
Here is a really good How to Get Started with Skydio 2 drone tutorial from the company below: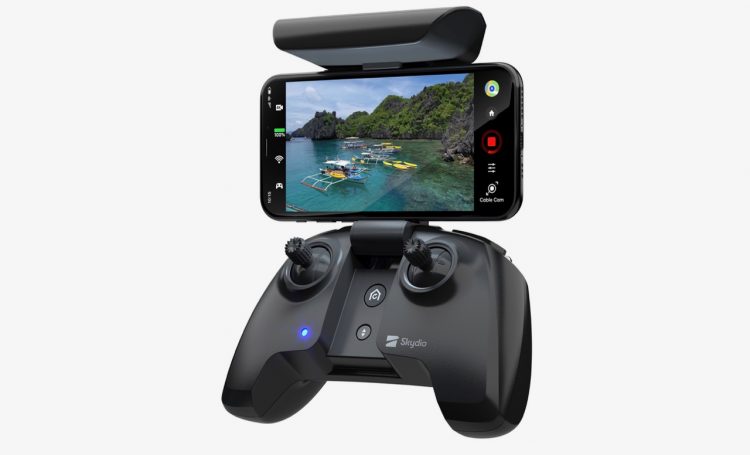 The Skydio 2 smart device app has been designed to be more like a camera app than a cockpit, which means if you can use the camera on your phone you can fly Skydio 2. The optional Controller delivers a unique flying experience by combining the precision of joysticks with 360 degree, high-speed, trustworthy obstacle avoidance that enables you to punch through narrow gaps – forwards, backwards, or sideways – or skim a surface, without the fear of crashing.
The controller also extends wireless range up to 3.5 kilometers, which means you can capture shots from arm's length to all the way down range.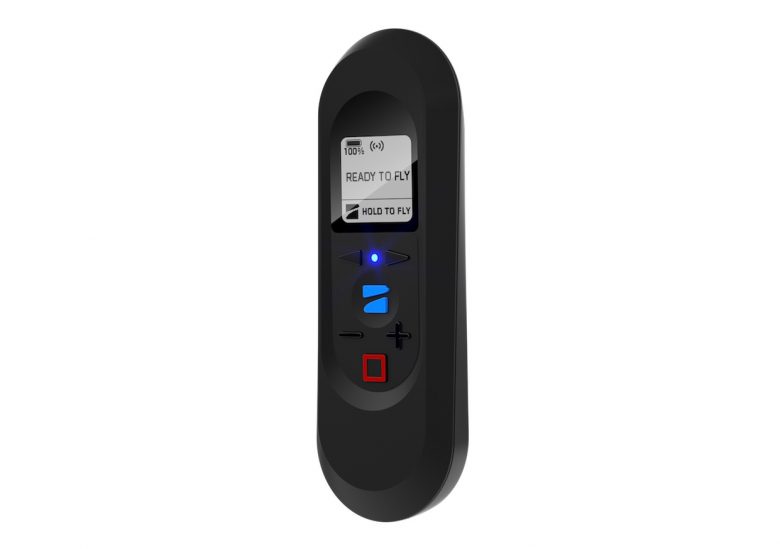 Skydio 2 also takes advantage of a new ergonomic remote control devices called the Skydio Beacon, which enables Skydio 2 to track you even if it can't see you by augmenting visual tracking with GPS. With Beacon's wand feature, you can control Skydio 2 by simply pointing where you want it to go. You can also access cinematic skills like Dronie or Rocket without taking your focus away from your activity.
Skydio 2 is available for $999 and right now you can reserve your spot in line by placing a $100 reservation deposit at skydio.com. Shipping is estimated to commence in November in the order in which reservations were placed, however the demand is said to be sky-high and quantities limited.
The optional Controller and Skydio Beacon are sold separately for $149 each.
Claim your copy of DAVINCI RESOLVE 16 - SIMPLIFIED COURSE with 50% off! Get Instant Access!