It seems boxy cameras are everywhere in 2019, and although the design has been around for some time, this year in particular we've seen quite a few cameras sharing a similar, super-compact cube-like design such as the Z CAM E2 and other variations of the camera from Z CAM.
Not to mention the upcoming RED Komodo 6K, which shares a similar design overall. And, just like the Komodo, the Z CAM E2 does require a cage of some sorts in order to accomodate various essential accessories requisite to get the camera ready for production; think monitors, external SSD recording media, audio, and more.
Zacuto has been making pro camera accessories for ages and is one of the more established brands out there, so naturally, a new Zacuto cage for a popular camera like the Z CAM E2 seems imminent.
The cool thing about the Z CAM E2 Flagship Cage from Zacuto is that the cage is also compatible with the other Z CAM camera bodies, namely the Z CAM E2G, E2-S6, E2-F6, and E2-F8. The Zacuto cage for the Z CAM E2 features a modular design encompassing a total of 6 pieces at its core – two Side Plates, a single Top Plate, one Bottom Plate, a USB Clamp, and an HDMI Clamp.
The Z CAM is a very light camera, and naturally the accompanying Zacuto cage for it had to share this feature – the good news is that the cage weighs under half a pound! Digging deeper into the design, one can find that the Side Plates, Bottom Plate, and both clamps are all separate pieces that can be used independent of each other, further adding to the modular benefit of this type of cage design. The Top Plate uses screw ports in the Side Plates to mount securely and can only be used with both Side Plates in place.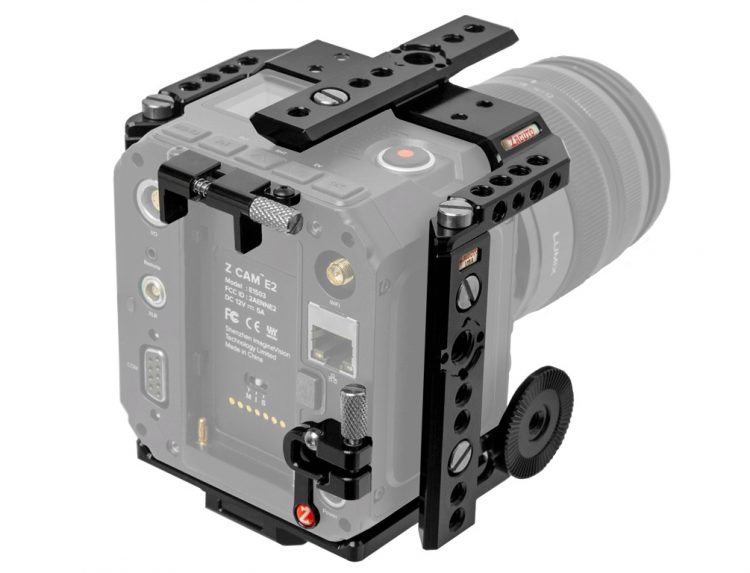 The Top Plate attaches to the camera using a standard 1/4 20-inch screw and then connects to each Side Plate with a 1/4 20-inch screw. A cool feature of the Top Plate is that it has a built in Z-Rail, 1/4 20-inch screw holes and ARRI 3/8-inch accessory mount for attaching accessories. Each Side Plate has a built in Z-Rail, M6 Rosette and accepts any ARRI 3/8-inch accessory mount as well.
The Bottom Plate attaches to the Z CAM cameras with two 1/4 20-inch screws and a locating pin. The Bottom Plate is Zacuto Polaris compatible (and Arca-Swiss compatible).
The USB Clamp and HDMI Clamp screw directly into the camera. These pieces can be purchased separately as well. This is a must have feature to protect your cabling and USB and HDMI port.
The Z-Rails built in to the top and sides of our Z CAM Cage makes it easy to mount a Top Handle or single or double Side Handles. Or, add our unique Zarn, a wooden ball handgrip; alternatively, the cage also supports an SSD Holder to mount an SSD drive, and is also compatible with the Zacuto Polaris Baseplate. Mount various accessories with a Z-Rail Ball Mount has also been designed to take the hassle off of rigging your Z CAM E2.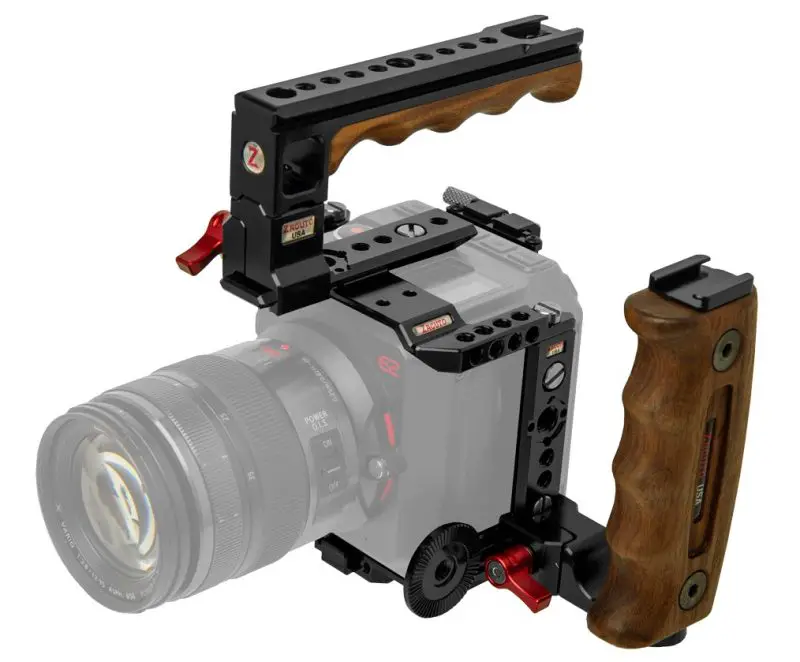 Zacuto Z CAM E2 Cage Accessories:
SSD Drive Holder

Attaches to the top plate.

Metabones Support for E2 camera

screws into the bottom plate of the cage

Top Handle / Side Handle
Zarn (wooden ball-shaped handgrip)
Polaris Mounting Plate & Polaris Baseplate
The base Zacuto Z CAM E2 cage starts at $205 and can also be rigged up to your liking by adding additional accessories such as Top Handle, Side handles, and SSD holder. Find out more over at Zacuto.
Claim your copy of DAVINCI RESOLVE - SIMPLIFIED COURSE with 50% off! Get Instant Access!