Innovative cinematography lighting maker Hive Lighting announced a new CX-Series range with two new LED lights – the Hive Lighting Wasp 100-CX and the more powerful Hornet 200-CX.
The Wasp 100-CX, much like its predecessor Wasp 100C is a compact LED light that draws only 75 watts of power and utilizes the company's proprietary Omni-Color array offering full control over RGB colours (as well as warm white) as well as producing some really high quality light output of 97 TLCI. The Wasp 100-CX is also flicker free and weighs just around 2 lbs making it super portable and easy to setup on set.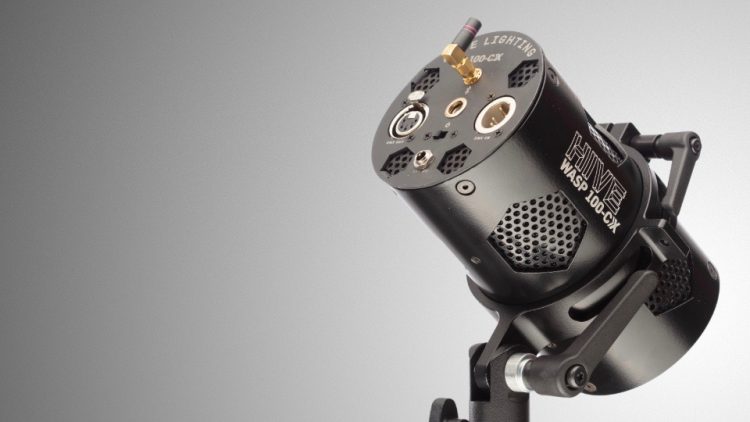 Light output is rated at about 320 foot candles at 5ft/1.5m, however this varies depending on which front attachment you use with the Wasp 100-CX, and there are plenty to choose from – available attachments include a Par Reflector, a Mini Leko, Adjustable Fresnel, Paradome softbox and more.
Thanks to its bayonet mount, the Wasp 100-CX is compatible with all Hive C-Series and Profoto modifiers and features a new enhanced Bluetooth range in the same premium aerospace-grade aluminium body as all C-Series lights.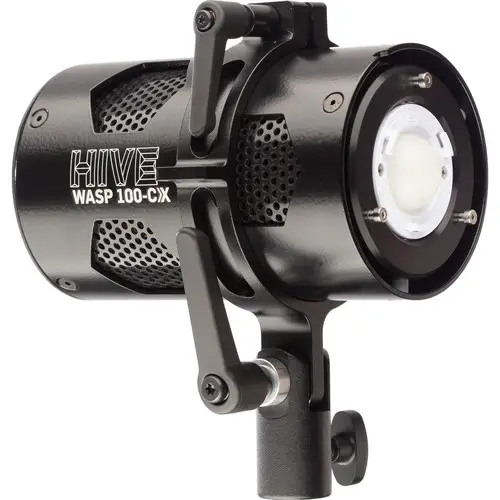 Hive Lighting Wasp 100-CX Features
Omni-Color LED / 75W draw
1,650K – 8,000K Color Temperature
400-750W Incandescent Equivalent
High Quality Light:
360 Degrees Hue Control
Zero to 100% Dimming & Saturation Control
Wired DMX and Smartphone control
100 – 240 V AC input via Universal Wall/Battery
6.5-inches/198mm Length
4-inches/ 100mm Diameter
2 lbs./0.9 kg. Weight
Price: $799 at B&H
The slightly bigger Hive Lighting Hornet 200-CX, comes in at just 2.2lbs in weight, but ups the power draw to 150W for some serious output of 12,000 lumens (roughly 1,115 fc) that you can modify to your liking with the same attachments available for the Wasp 100-CX.
CCT range is fully adjustable from 1650K to 8000K just like on the Wasp 100-CX, and both LED lights are compatible with the awesome Hive app giving you all the control you need from your smartphone via bluetooth.
The Hornet 200 CX is priced at $1,299 and you can learn more about it over at Hive Lighting.
Claim your copy of DAVINCI RESOLVE 16 - SIMPLIFIED COURSE with 50% off! Get Instant Access!