Atomos has just officially released the full Switching Firmware Update neatly packaged as AtomOS 10.4 for the Shogun 7 monitor/recorder. This full switching firmware release comes after the beta version, which was released for testing just a week ago. With the public release of AtomOS 10.4 update for Shogun 7 users can take full advantage of the awesome and highly anticipated touch controlled switching and quad-ISO recording features.
Operation is very simple and straightforward – all you have to do is just use the touchscreen on the Shogun 7 screen to switch between 4 live HD SDI video streams up to 1080p/60. Send the resulting switched program output to SDI and/or HDMI for live streaming or transmission. Record all four inputs as separate ISOs, as well as the program output as a fifth stream. This is all done asynchronously, without the need for Genlocked sources.
All switches are recorded in metadata with a choice of transition type. Once you've finished capturing your streams, simply import the resulting Apple Final Cut XML file along with your ISOs into your NLE and the timeline automatically populates with all the transitions in place.
But what about audio? Well, that's covered too – as every ISO can also record the 2-channel embedded digital audio from each source, as well as analog stereo channels coming into the Shogun 7 (via optional XLR breakout cable). The program stream always records the analog feed and switches between audio inputs for the on-camera audio to match the switched feed.
Quad ISO recording requires a compatible high performance SSD drive, so be sure to check the Atomos drive compatibility page for details.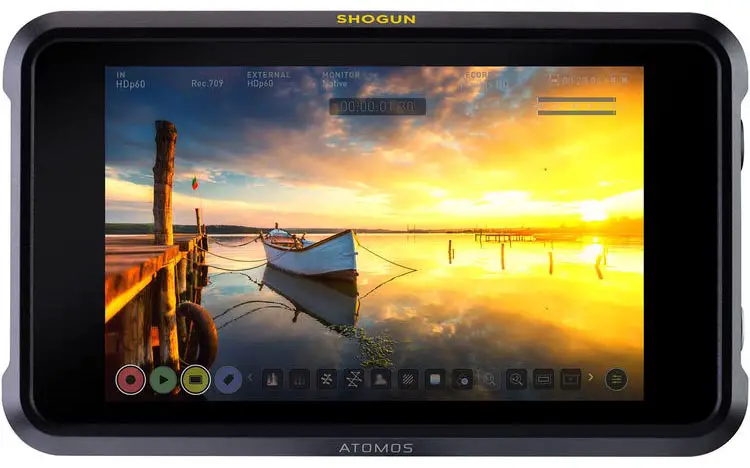 AtomOS 10.4 for Shogun 7 Details:
Quad HD live switching and 5 channel recording
Record up to 4 channels as ISOs, plus a simultaneous program recording.
View and record up to four asynchronous 1080p/1080i SDI inputs
Loop out program feed via HDMI or SDI, or both simultaneously.
A multi-cam Apple Final Cut .xml project

can automatically be created with touch screen selectable options
for hard cuts or dissolves.

Fully configurable audio:

Each ISO channel can record embedded channels plus the analog XLR input.
The program feed can be configured

to record audio from any single ISO channel and/or the analog XLR audio input.

Alternatively the audio can follow the embedded audio

from each ISO channel as it switches between sources.
Important notes:
To enable switching navigate to the input menu and select SDI Multi-stream as the source.
SDI Input 1 must always be connected to a source for the system to function correctly.

* All four inputs must be configured to the exact same frame rate.
A warning will pop-up on the screen for a misconfiguration and recording will be disabled until all inputs match.
Be sure the check the actual frame rate is precisely matched

eg. all cameras are 1080p23.98 and not a combination of 1080p23.98 and 1080p24.

XML projects will only be generated if all channels used for the program feed also have ISO recording selected.
It is recommended that all available ISO channels are recorded when Final Cut projects are required.
Dissolves are not visible during recording or playback.

Dissolves only visible once imported to FCP X.
Known issues:
Occasionally when using 1080p60 Genlocked inputs the 1-up view may become frozen.

To clear this event unplug and re-plug input 1.

Some cameras which only output 1080 50/60p Level B SDI may not be compatible.

If you experience this problem please set the camera output to SDI Level A
or change the frame rate to 1080 25/30p and power cycle your Shogun 7
In the demo below, Atomos CEO Jeromy Young shows you the features of the new Asynchronous switching and multi-channel recording upgrade for Shogun 7:
AtomOS 10.4 is available now as a free download here https://www.atomos.com/firmware/shogun-7.
It is worth to note that that this public release firmware update replaces the earlier limited beta and users of that version should update to AtomOS 10.4.
Claim your copy of DAVINCI RESOLVE - SIMPLIFIED COURSE with 50% off! Get Instant Access!