Chinese cinema lens maker Vazen has just announced the Vazen 28mm T/2.2 1.8x Anamorphic Lens for Micro 4/3 cameras. Vazen had previously made a huge splash in the community with the launch of the 40mm T/2 back at Cinegear Expo 2019.
The new 28mm is the second addition and the widest of their 1.8x anamorphic lineup. The whole set will contain three focal lengths (28mm, 40mm, and 65mm) as the 65mm is expected to be out in a few months.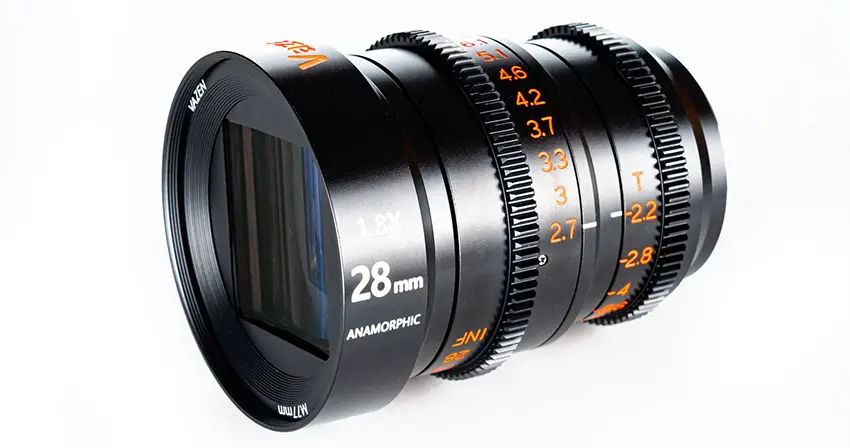 Unlike the 40mm, the new Vazen 28mm features a super compact and lightweight design. Weighing in at merely 1.59 pounds (0.72kg), it is currently the world's lightest 1.8x anamorphic lens. It can easily be used on gimbals or even handheld shooting without a rig.
Other than that, the anamorphic lens is designed with a 77mm front filter thread for installing ND filters or diopters easily. The entire unit is built up of aluminum and the independent aperture and focus rings are incorporated with 0.8 mod cine gears.
All the Vazen 1.8x anamorphic lenses feature a front anamorphic design that delivers a buttery smooth oval bokeh, signature blue, but not oversaturated, horizontal flare and the widescreen cinematic look.
The lens produces outstanding sharpness, even at wide open, which is unmatched by other anamorphic lenses with a similar squeeze ratio. Overall, the 28mm delivers a relatively cleaner image than its 40mm counterpart and the coming 65mm is expected to have the strongest anamorphic 'character'.
Vazen 28mm T2.2 Anamorphic 1.8x Specifications
Focal Length: 28mm
Min. Focus: 2.7' (0.82m)
T-stop range: T/2.2 – T/16
Filter Thread – 77mm
Front Diameter: 80mm
Weight: 1.59 lbs (0.72kg)
Dimensions: 80 x 107mm
Lens Mount: Micro Four Thirds (MFT)
Here is some sample footage shot with this lens:
The Vazen 28mm T/2.2 has a 1.8x squeeze design instead of the 1.33x as it creates a much more cinematic look. The 1.8x also results in the highly demanded 2.39:1 cinematic aspect ratio once de-squeezed when captured with cameras like Panasonic GH5 and Z-Cam E2 in 4:3 mode.
The 1.8x squeeze factor also perfectly matches the recently added 2.8K anamorphic mode on the Pocket 4K or when capturing in open gate mode via an external monitor. Last but not least, the lens features an ultra-wide 72° horizontal field of view, while the closest focusing distance from the sensor is 2.69 feet (0.82m).
The Vazen 28mm T/2.2 1.8x Anamorphic Lens is already available for pre-order from authorized resellers selling for $3,250. You can also get a $400 discount if you decide to purchase both the 28mm and 40mm anamorphic lenses.
[source: Vazen]
B&H Pre-Order Link:
Vazen 28mm T2.2 1.8x Anamorphic Lens
Claim your copy of DAVINCI RESOLVE - SIMPLIFIED COURSE with 50% off! Get Instant Access!