Japanese lens maker Tokina turns 70 this year and to celebrate its anniversary, the company plans to release ten new offerings, including five lenses for Sony E-Mount cameras, three lenses for Fujifilm X-Mount cameras, and two lenses for Canon EF and Nikon-F mounts.
Overall, that's fantastic news for all creatives who use Tokina lenses on a daily basis and want to expand their lens kit even further with a bunch of brand new high-quality offerings with relatively affordable price tags.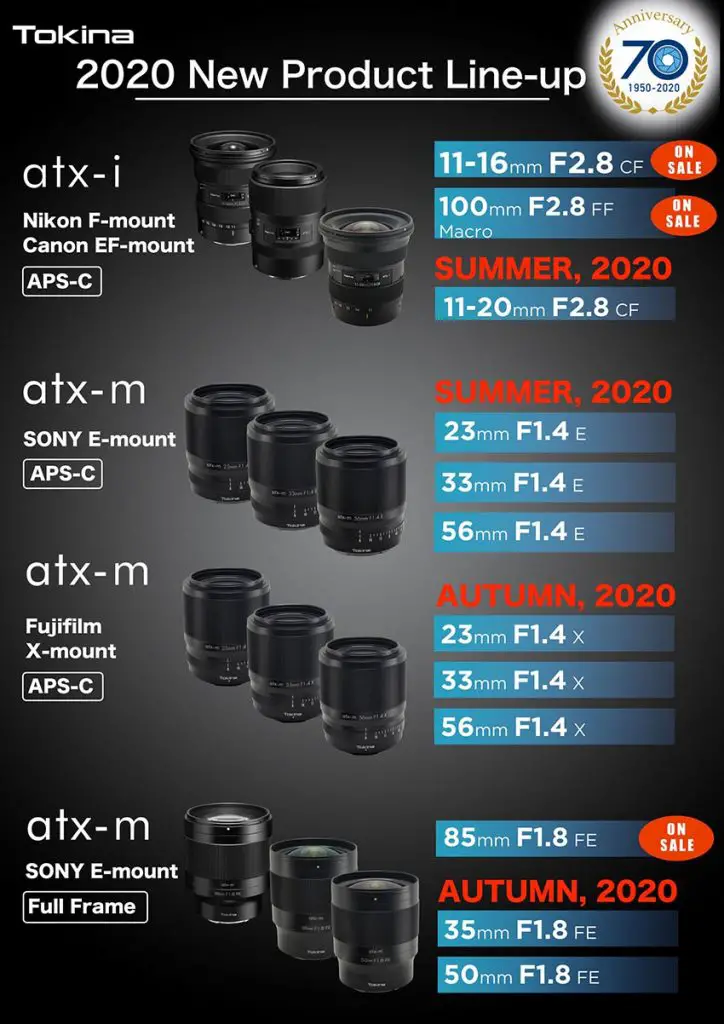 During Summer 2020, we should see the Tokina atx-i 11-20mm F/2.8 CF hitting the market in both Canon EF and Nikon-F mounts. The newcomer will be a follow-up to the Tokina atx-i 11-16mm F/2.8 that was announced back in October 2019.
Besides the new Tokina atx-i member, six new lenses will be added to the Tokina atx-m lineup as well, including Tokina atx-m 23mm F/1.4, Tokina atx-m 33mm F/1.4 and Tokina atx-m 56mm F/1.4.
According to the lens development roadmap these all will be available in Sony E and Fujifilm-X mounts. The former should be released during Summer 2020, whereas the latter are expected to be available for order a bit later during Autumn 2020.
Last but not least, come two new atx-m lenses for Sony-E mount that cover full-frame sensors. The Tokina atx-m 35mm F/1.8 FE and Tokina atx-m 50mm F/1.8 FE will be an excellent addition to the already available Tokina atx-m 85mm F/1.8 FE that was announced earlier this year. These two atx-m primes for full-frame cameras should be available during Autumn 2020.
[source: Tokina]
Disclaimer: As an Amazon Associate partner and participant in B&H and Adorama Affiliate programmes, we earn a small comission from each purchase made through the affiliate links listed above at no additional cost to you.
Claim your copy of DAVINCI RESOLVE - SIMPLIFIED COURSE with 50% off! Get Instant Access!