Considering the global impact of the quickly spreading COVID-19 across the entire world, this outcome was somehow expected and now it has been officially confirmed. For the first time in its history, the NAB trade show is CANCELLED!
Despite the big frustration among us all, it's fair to say that this decision is reasonable and justified, especially when you take into account the potential health issues such a massive gathering of people might cause. These are obligatory precautions against infection and further spread of the virus, so we should accept them as such.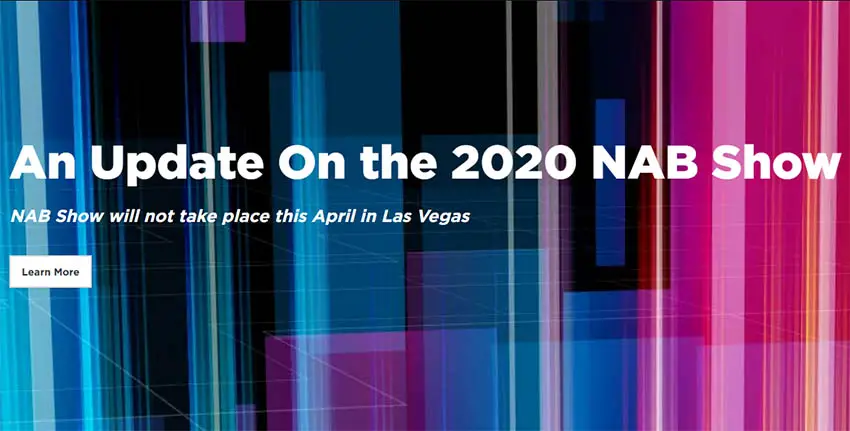 Meanwhile, here's the official letter of NAB President and CEO Gordon Smith sent to the NAB Show community just a few hours ago.
Dear NAB Show community,
As you know, we have been carefully monitoring coronavirus developments both domestically and globally over the past few weeks.
In the interest of addressing the health and safety concerns of our stakeholders and in consultation with partners throughout the media and entertainment industry, we have decided not to move forward with NAB Show in April. We are currently considering a number of potential alternatives to create the best possible experience for our community.
This was not an easy decision. Fortunately, we did not have to make this decision alone, and are grateful to our NAB Show community for engaging with us as we grappled with the rapidly-evolving situation. This Show is as much yours as it is ours, and it is important to us that we move forward together.
For nearly 100 years, NAB Show has provided superior value and the best possible experience for exhibitors and attendees. We knew that if we could not deliver on those expectations, we would not move forward. More importantly, keeping the community safe and healthy is NAB's highest priority; therefore, we are deferring to the developing consensus from public health authorities on the challenges posed by coronavirus.
We are still weighing the best potential path forward, and we ask you for your patience as we do so. We are committed to exploring all possible alternatives so that we can provide a productive setting where the industry can engage with the latest technology, hear from industry thought leaders and make the game-changing connections that drive our industry forward.
I want to stress that despite our disappointment at how this year's Show has been impacted by global public health concerns, we are more excited than ever about the future of NAB Show and our relationship with you.
We are grateful for each and every member of our Show community. It is your passion for the industry that makes NAB Show a success year after year, and it is that same passion that will drive us into the future as we look ahead to new possibilities later this year and beyond.
There's not much to add to this statement. Nevertheless, here at 4K Shooters, we'll do our best to keep you updated on all upcoming product announcements and news regarding the latest in our industry.
We can only hope that these severe measures will indeed prevent the worst-case scenario that might be caused by this dreadful pandemic. Most importantly – stay safe and healthy!
Disclaimer: As an Amazon Associate partner and participant in B&H and Adorama Affiliate programmes, we earn a small comission from each purchase made through the affiliate links listed above at no additional cost to you.
Claim your copy of DAVINCI RESOLVE - SIMPLIFIED COURSE with 50% off! Get Instant Access!