ANDYCINE has just announced the second iteration of their popular A6 Plus 4K monitor that comes equipped with a 5.5-inch IPS display with 1920×1080 resolution and 500nits of brightness. Unlike its predecessor, the ANDYCINE A6 Plus features a USB-C power input, allowing the monitor to be powered via a DC 5V supply.
Other noteworthy features on board include 4K HDMI input and output supporting up to 4K/30p, touchscreen display, built-in LUT support alongside essential assist features like waveform, vectorscope, false color, auto-mirror functionality and much more.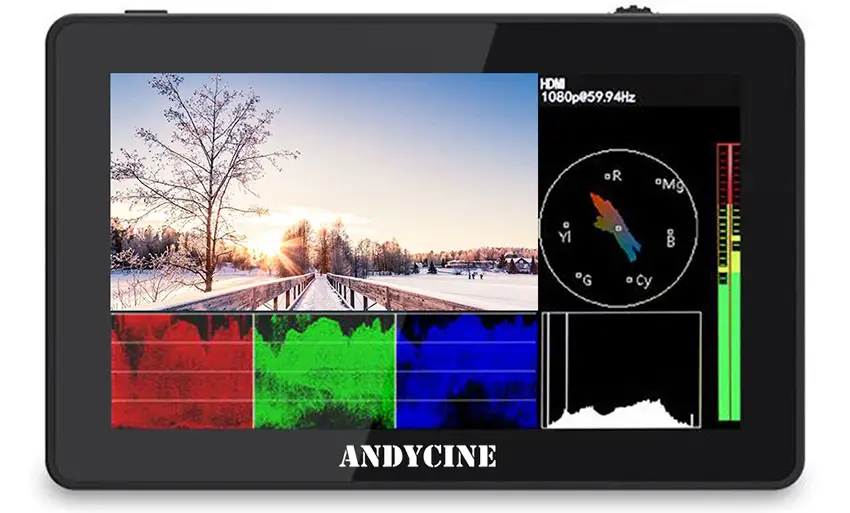 Additionally, A6 PLUS provides S-Log2/3, V-log, Log-C native support, allowing users to convert Log camera video feeds to REC709 in real-time. The LUT loading function makes the color calibration work easier and more intuitive while optimizing the workflow and improving work efficiency. Optionally, you can upload a wide variety of custom LUTs by using an SD card.
The ANDYCINE A6 Plus V2 also provides 3.5mm stereo headphone jack, a 12V DC input as well as two NP-F battery slots. Furthermore, A6 PLUS V2 users will get a cold shoe mounted Tilt Arm ensuring 360-degree rotation.
Beyond that, ANDYCINE A6 PLUS V2 features standard 1/4″ mount points (top, bottom, right) for attaching multiple accessories on the fly. A sunshade is also included with each unit for further convenience when operating in harsh lighting conditions.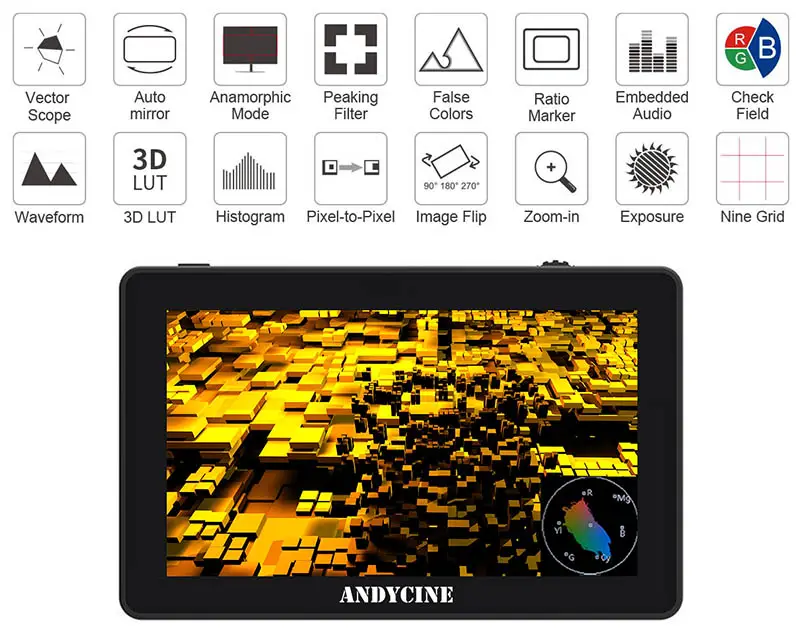 ANDYCINE A6 Plus V2 Highlights
5.5-inch display size.
4K HDMI input and output (up to 4K/30p).
Touch screen operation
500nit brightness
Full HD (1920×1080) display resolution
Waveform, vectorscope, false color
Built-in LUT's and custom LUT's can be installed
USB-C 5V and DC 12V power input
Battery power via NP-F and LP-E6 type batteries
ANDYCINE A6 Plus V2 sells for $209 and currently can be ordered directly from the Andycine's website here. Meanwhile, A6 Plus users can now download the latest firmware update for the unit to get waveform, vectorscope, auto flip, and nine grid monitoring features.
[source: ANDYCINE]
Disclaimer: As an Amazon Associate partner and participant in B&H and Adorama Affiliate programmes, we earn a small comission from each purchase made through the affiliate links listed above at no additional cost to you.
Claim your copy of DAVINCI RESOLVE - SIMPLIFIED COURSE with 50% off! Get Instant Access!