A new member of the Kinefinity lineup was just announced. The MAVO Edge boasts a Full-frame sensor (44.7MP) with 14+ stops of dynamic range and brings internal 8K video recording up to 75fps. Available codec options include Apple ProRes RAW alongside ProRes 4444 XQ, ProRes 422 HQ, and H.264 proxy.
The newcomer also features Open gate 3:2 8K mode at up to 48fps as well as 6K Wide at up to 100fps and 4K Wide at up to 160fps. Other noteworthy features include Dual native ISO at 800/3200 and internal ND filters. The brand new camera comes with a native KineMOUNT, which can be adapted to PL, LPL, active EF, and passive E-mount.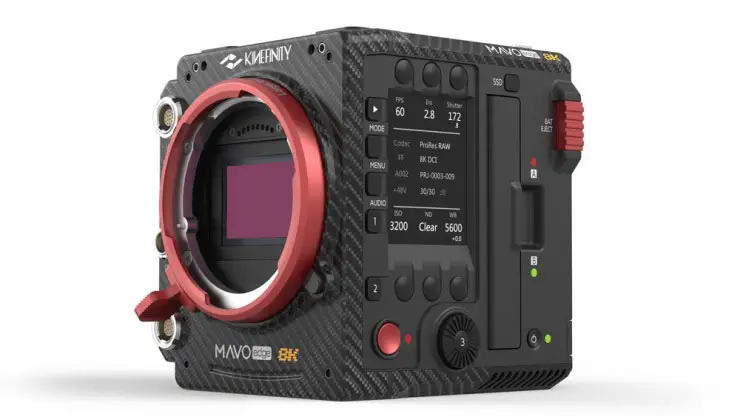 Interestingly enough, the MAVO Edge is the first Kinefinity camera to feature an internal motorized ND filter system covering a range of 2 to 7 stops with continuous adjustment.
Additionally, there's also an OLPF (optical low pass filter) alongside a UV and IR cut filter on board. The body of the camera itself is constructed from carbon fiber while weighing in at only 1.2kg.
The KineMAG system now utilizes NVMe M.2 instead of SATA 3.0, thus taking advantage of PCIe 3.0 protocol which allows coping with higher data rates up to 10Gb/s.
The MAVO Edge features dual media slot design enabling the camera to record the same clips simultaneously. Recording the main codec to one card and H.264 proxy files to the other is also possible.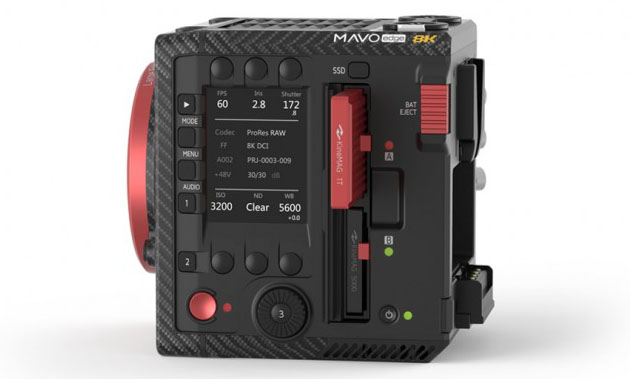 On the audio-side, the MAVO Edge comes with two independently controlled XLR inputs providing 48v Phantom Power along with a separate 3.5mm stereo mic in. The camera can be powered by both industry-standard 14.8v V-mount batteries as well as smaller Sony style BP-U30 types. Besides that, the MAVO Edge body includes a D-Tap port, 12v RS, and 12v Lens port.
The unit also offers a plethora of standard ports, including genlock, timecode, RS232 protocol, an RS port for powering and triggering external recording. There's a RJ45 port for Gigabit Ethernet, a WIFI5 wireless network, USB-C, and Bluetooth 5.0.
Last but not least, Kinefinity and Movcam have designed a dedicated KineKIT support system for MAVO Edge. In a nutshell, the 15mm baseplate has an uninterruptible power supply (UPS) function that's powered by two NP-F550 type batteries. This allows the baseplate to power the camera when switching out a V-mount or BP-U30 battery.
Kinefinity MAVO Edge Highlights
36 x 24mm Full-Frame CMOS sensor
8K (8192 x 5456) 3:2 recording up to 48fps
8K wide up to 75fps
8K ProRes RAW
Oversampling for 6K, 4K
6K at 100fps
4K at 160fps
ProRes 4444 XQ, ProRes 422 HQ, H.264 proxy
Dual Native ISO (800, 3200)
Built-in electronic ND filters
2 XLR inputs with 48V Phantom Power support
Dual SSD media slots
WIFI5 wireless network, USB-C, and Bluetooth 5.0
Price: $11,999
The Kinefinity MAVO Edge is already available for pre-order selling for $11,999 with expected shipping in Sept 2020.
[source: Kinefinity]
Claim your copy of DAVINCI RESOLVE - SIMPLIFIED COURSE with 50% off! Get Instant Access!