Now that the Sony FX3 has gotten a firmware update that rounds out its feature set, the compact 4K cinema camera has been officially declared "Netflix Approved."
The version 2.0 firmware update, adds support for true timecode sync through a Sony VMC-BNCM1 Timecode Adapter Cable, which enables the FX3 to fit more easily into various workflows and multi-camera productions.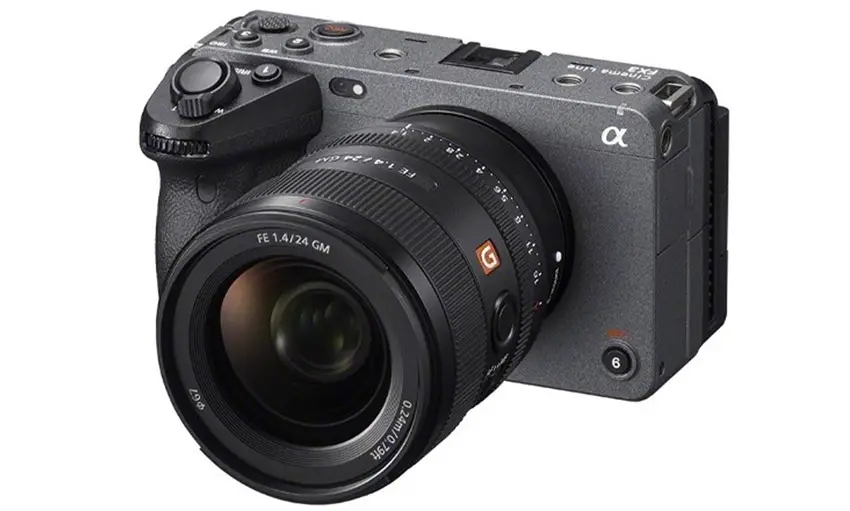 "Sony's FX3 full-frame Cinema Line camera has been added to the Netflix Approved Camera List," announced the company in a press release. "Last month, the FX3 got a software update that added even more advanced functionality which helped the FX3 to get approved by Netflix.
"In addition to being preferred by solo shooters, the FX3 has become a favorite of high-end cinematographers thanks to its compact and lightweight form."
Having been called a "Sony Alpha on Steroids," the Sony FX3 essentially repurposed much of the Sony A7III features into a compact cinema case with several professional-grade features added.
The main features of the full-frame FX3 include at stops of dynamic range, 4K image resolution at 240 Mbps, and with the new firmware update, a variety of Log shooting modes and 3D LUTs.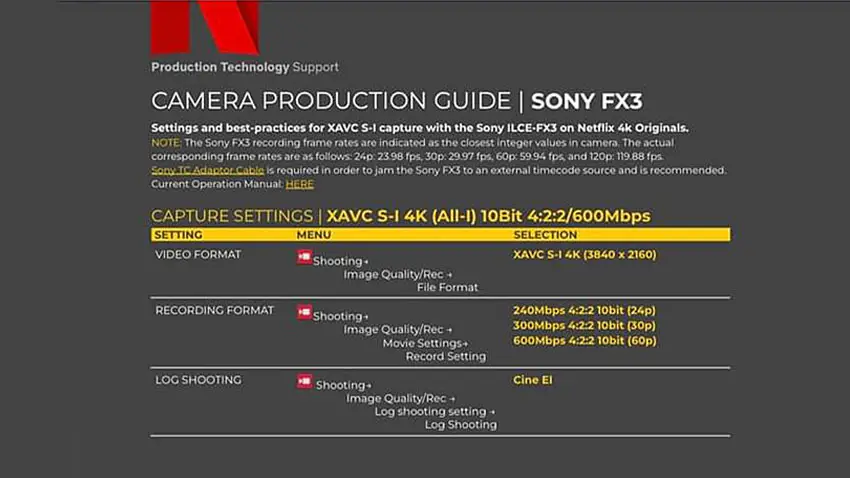 The FX3 is the fourteenth Sony cinema camera to receive the streaming service's covetous certification, joining three Sony Venice Cameras, the Sony FX9, F55, F65, FS7, and FS7II, FX6, two separate PXW-Z cameras, and the Sony HDC0F5500.
There is, however, one caveat. In order to achieve the Netflix Approved image quality, filmmakers must capture their footage with specific settings, namely XAVC 4K 10-bit 4:2:2. Cine EI with S-Log3 gamma or S-Gamut 3 or S-Gamut3.Cine is also supported. Users can also record in Raw using the Atomos Nina V external monitor recorder.
Netflix will also approve high frame rates of up to 120 frames per second when using the same settings in S&Q mode, although a Type A CFExpress media card is required for this operation.
While getting Netflix's blessing comes with a catch, it's a welcome sign for independents and single-man crews finally have a compact camera that they can use for shooting professional quality video with time code.
While the camera is more likely popular with content creators in social media and wedding videographers, the expanded Netflix certification is bound to give documentarians looking for a good B camera plenty of options.
[source: B&H]
Order Links:
Disclaimer: As an Amazon Associate partner and participant in B&H and Adorama Affiliate programmes, we earn a small comission from each purchase made through the affiliate links listed above at no additional cost to you.
Claim your copy of DAVINCI RESOLVE - SIMPLIFIED COURSE with 50% off! Get Instant Access!