Streaming giant Netflix has put out a behind-the-scenes video on YouTube, which gives users a peek behind the curtain of their Camera Lab and how it is used to calculate the scores for its official Approved Camera List. This list outlines the minimum specs required for a camera to be considered approved for Netflix Original Productions.
Netflix has been maintaining the Approved Camera list since almost the very beginning of offering original content on their streaming service. But the question remains, why does Netflix even bother to maintain such a list?
Well, it turns out that the approved list is largely motivational. "One of the biggest priorities for us as a studio is to help our filmmakers do their very best work," says Netflix camera specialist Chris Prygrocki. "We want our filmmakers to not only feel enabled but encouraged to use the very latest capture technologies to tell their stories."
Netflix has created a camera lab that tests every camera as it comes out to put together a list of specifications, in consultation with industry professionals and camera manufacturers. Cameras make the list based on an overall score which begins with a minimum resolution of 4K.
But as Prygrocki points out in the BTS video, the resolution is just one of a host of factors that contribute to generating a score that determines if a camera makes the Approved list or not.
Other factors include dynamic range, color reproduction, noise performance, sensor readout speed, compression, chroma subsampling, bit-depth, and even factors like camera stability and reliability, power and thermal management, editing software support for a chosen codec, and even the reliability of media used to capture the footage of a project.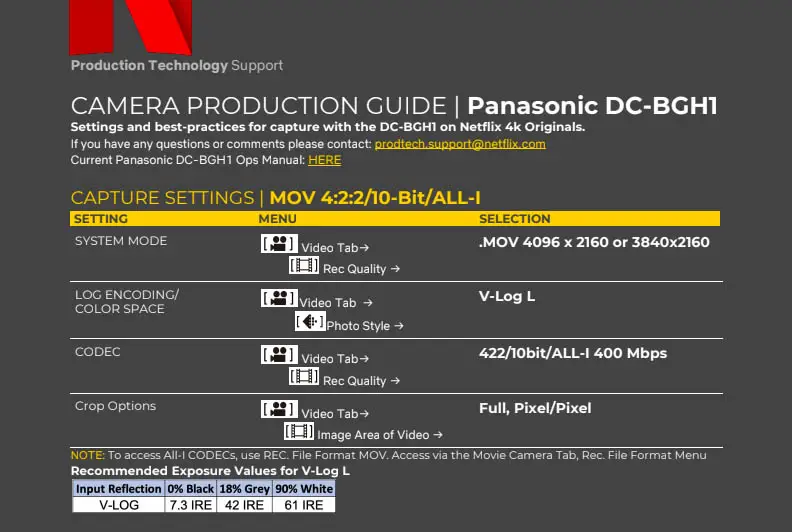 All this information is used to calculate a final score that determines what cameras make the list. Even how metadata is handled by a camera for sending data to post-production can make or break if the system makes the list.
Sadly, the peek behind the curtain is just that, a peek. Netflix doesn't get into the details of its methodology for assigning a score to each of these categories, or what the minimum allowable score is. There is a bright side, however.
While the list is a rather elite collection that Netflix is very committed to, they do recognize that there are situations when a non-approved, yet custom camera setup is necessary to capture a unique camera shot. To that end, when a specific camera is absolutely necessary to capture a shot as the filmmaker intended, Netflix allows for an allotment of non-approved camera usage, when required.
"It's always a struggle to balance the practicality of a camera's intended use, versus its image quality," Prygrocki adds. "We're flexible. There are shots that just can't be achieved without the use of a specialized system, and we get that."
With those non-approved cameras, Netflix has guidelines for optimum image quality, which includes capturing at the highest data rate, the maximum resolution, and recording in a wide color gamut and log curve. At the end of the day, it's to get the best possible work achieved. Because that "filmmaker joy," will translate into viewer joy.
[source: YMCinema]
Claim your copy of DAVINCI RESOLVE - SIMPLIFIED COURSE with 50% off! Get Instant Access!