Hey guys, this is just a quick heads up that the Complete Video Creators Bundle 2020 sale is coming to an end over at 5DayDeal in less than 24 hours!
At 12:00 PM (noon) PST tomorrow (that's 8:00PM GMT or 9:00 CET, a bit less than 24 hours from now), it will be gone for good, and the products included at this massive discount will NEVER return again (at these prices or part of this bundle).
So, if you ever consider participating, this is your very last chance to enroll.
As every year thus far, with the exclusive 5DayDeal Video Creators Bundle you get a unique massive collection of expert training, tutorials, eBooks, software, and digital tools for all levels of video creation – there's truly something awesome for everyone!
The bundle is available right now, but there is only a day left for you to save at least 96% on over $2800 in top products. That means you can get a year's worth of educational tools and resources for just $89!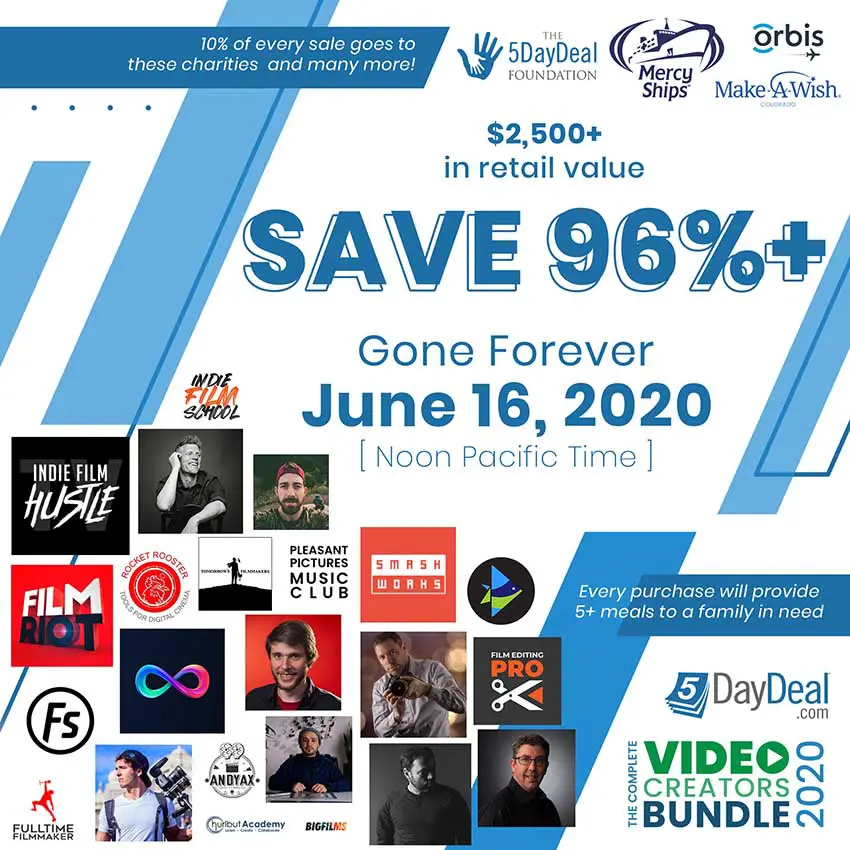 Maybe it seems too good to be true, but I assure you it isn't. The folks over at 5DayDeal are just really big proponents of quality creative and they believe that education should not be unattainable for anyone.
So, they have made it their mission to find top resources to help folks like you capture success (while also helping raise money and awareness for some amazing charities and making the world a better place to film).
That said, here's a brief summary of all the products included in this year's main bundle.
Complete Movie Making Bundle Pack by FilmRiot
Seamless Video Pro by Parker Walbeck
Learning To Light by Shane Hurlbut, ASC
High-End Stock Music Bundle by Pleasant Pictures Music Club
Introduction to Video by Fstoppers
Music Packs by  Andyax .com
QuickStart Guide by filmeditingpro .com
Final Cut Pro X Masterclass by Marcos Rocha
Videos That Convert by Clarke Scott
Video Editing with DaVinci Resolve + Twitter For Filmmakers by Indie Film Hustle
Screenwriting and Story Development by Indie Film School
Post Audio And Sound Design by Story & Heart
Grow (How to Grow your YouTube Channel) by Serge Ramelli
Film Overlays Mega Pack by Smash Workshop
Acting Cinema Course by Tomorrow's Filmmakers
Rocket Rooster Filmmakers Essentials by Rocket Rooster
HD MP4 – Stock Footage Pac by FILMPAC .com
You get all these awesome products ($2,709 retail value) with a whopping 96% discount by paying just $89! You can see the full range of bundle options here.
Last but not least, when you invest in your inner creative genius by getting the bundle, you'll be joining a network of #DifferenceMakers by supporting numerous charities! For every bundle sold, 10% of the revenue goes directly to making the world a better place to film.
Positively impact your own life and the lives of others. Make a #5DayDifference. Join now!
Claim your copy of DAVINCI RESOLVE - SIMPLIFIED COURSE with 50% off! Get Instant Access!