Kinefinity has been releasing regular updates for their cine camera lineup, thus adding a decent number of new features and improvements over time.
Today, the company has released the KineOS 6.4 firmware update. Teased back in January, Version 6.4 enables ProRes 4444 and 4444 XQ recording on the Kinefinity TERRA 4K alongside some new high frame recording options in 4K. No hardware changes are required.
Additionally, there are some new improvements to the camera's interface that should improve the overall operation and lower latency when monitoring the captured signal. The full list of the improvements could be found below.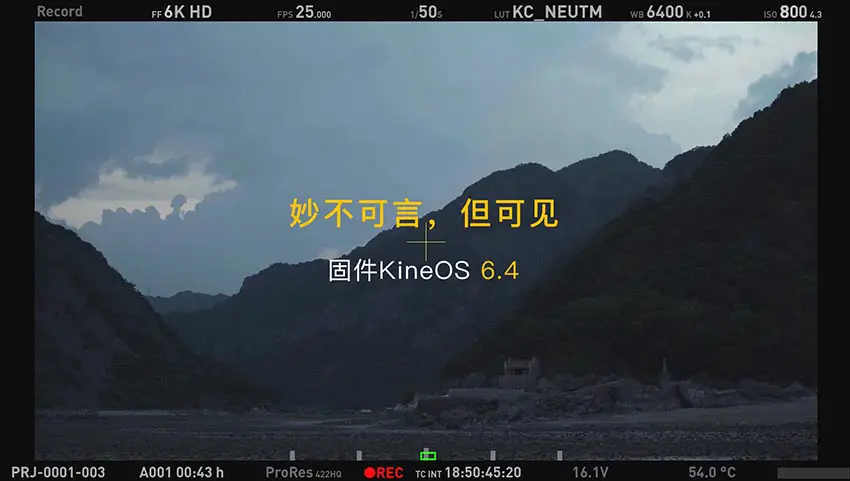 KineOS 6.4 Firmware Update Details
New recording options for TERRA 4K
4K 150fps ProRes422HQ
4K 80fps ProRes 4444
4K 150fps cDNG RAW
Preview file and Playback Fluency
When using the above settings, the quality of Preview video file is lower than the mov file;
"Preview" file can be burned in the monitoring LUT;
When frame rates are over 60 fps, "Preview" file will not be produced;
On/off: [MenuàSettingàPlayback Preview]
SSD
SSD format is moved to secondary menu;
To show the remaining recordable time of KineMAG on the UI;
Remaining capacity/time switchable: [Menu – Live View – SSD…];
The default format is NTFS;
When open clip "Preview" record or WIFI stream, please choose HFS to avoid FLUSH.
UI improvements
Improvements on 6K monitoring, 120 fps recording and playback;
Digital Horizon is added to the UI. [MenuàLive View…];
REC resolution switch is moved to the Menu; proportion of the resolution is added.
Red color "REC" is added to the middle bottom of UI;
Digital Horizon calibration is added to system
Export and Import User Settings are added to [Menu -System – …]
Tint/cc Adjustment
The new firmware adds a tint tuning/color correction function to the white balance settings. Users can not only adjust the color temperature (Blue and Yellow) but also Green and Magenta, based on the live-view image, for more accurate control over the color of the recorded clip.
Other New Functions or Improvements
Significantly increase the response speed of EF mount electronic aperture adjustment;
STANDARD mode of ACTIVE MOUNT now supports Samyang XP lens electronic aperture adjustment;
Add 120FPS option to PROJECT FPS;
When zooming into image, the waveform is enlarged synchronously;
Optimize the readability of waveform graph under strong light;
Optimize the dead pixel removal algorithm;
Optimize some labels and text descriptions;
Expand CTRL port function to support TALLY;
The default power threshold voltage as 12V;
When exiting the calibration mode, there is no need to restore the factory settings;
After the NTFS file format is accidentally powered off, read-only loading is used to view the footages;
The zebra stripe setting adds 70% options.
Fix Bugs and Improve Stability
Audio off-sync issue at certain settings;
TC display error when camera TC output to other devices;
Reel number as meta data in footage at certain settings;
Improvements on New Monitoring Devices
KineMON 5U/7H/EVF: add ARRI-style false color (Long press button 2), and IRE bar;
KineMON 5U/7H: support manual image rotation (Long press wheel);
KineMON 5U/7H/EVF: fix display bug of histogram at certain settings.
As usual, the new firmware update is available for free download for all existing customers. Use the following links depending on the Kinefinity camera model you currently own – MAVO LF KineOS 6.4, MAVO 6K KineOS 6.4, or TERRA 4K KineOS 6.4.
[source: Kinefinity]
Disclaimer: As an Amazon Associate partner and participant in B&H and Adorama Affiliate programmes, we earn a small comission from each purchase made through the affiliate links listed above at no additional cost to you.
Claim your copy of DAVINCI RESOLVE - SIMPLIFIED COURSE with 50% off! Get Instant Access!