Atomos has just announced that their Ninja V, Shogun 7 and Sumo19 HDR monitor recorders will record 4K 10-bit 422 Apple ProRes or Avid DNx video up to 60fps from the new Canon EOS R5 and EOS R6 full-frame mirrorless cameras.
Users will be able to both monitor and record the 10-bit Canon Log or PQ HDR output of the EOS R5 and EOS R6. Alternatively, multiple 3D LUTs can also be loaded into Atomos monitors that can show the Canon Log output of the cameras with a creative look applied.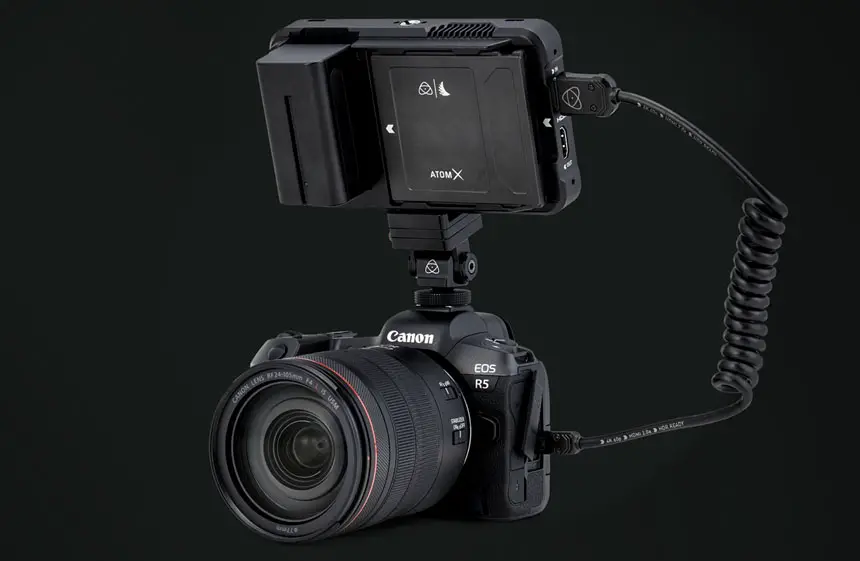 Canon Log signals can be viewed in PQ or HLG HDR standards on the Ninja V, Shogun 7 and Sumo19 to guarantee perfect exposure and color.
When shooting in PQ HDR on the EOS R5 and EOS R6 the Atomos monitor can be set up to display an accurate HDR image. Images from either Log or PQ HDR can also be instantly played out to a compatible HDR television or monitor in PQ or HLG standards.
Recording ProRes or DNx codecs ensures that footage from the EOS R5 or EOS R6 is production ready and has the widest possible compatibility with editing and grading software. This is the highest framerate 4K 10-bit HDMI video output that Canon has ever offered from a mirrorless camera.
Typically, users will see smoother color gradients, eliminating the commonly seen banding in areas with gradual tone change such as blue skies. Recording to an Atomos recorder perfectly preserves this information in the ultimate way possible.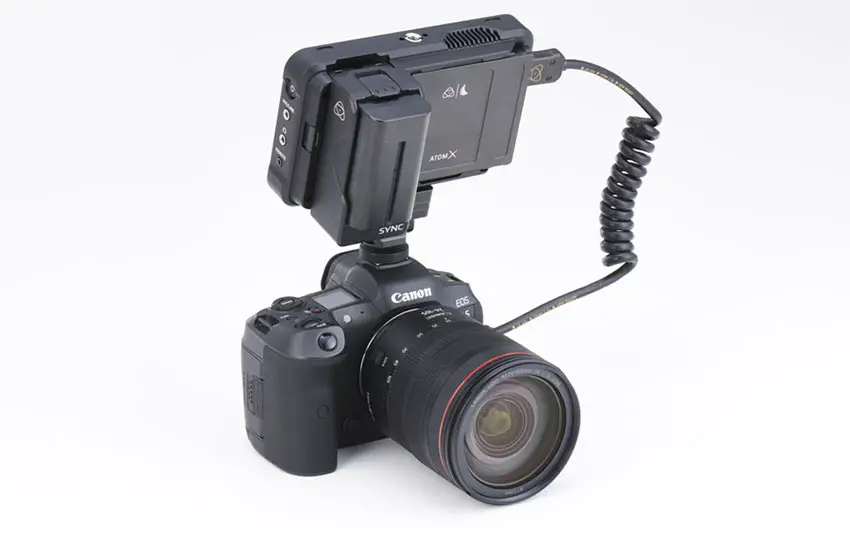 The EOS R5 and EOS R6 can be easily integrated into multi-cam shoots where other devices are also capturing in ProRes or DNx by using Atomos monitor-recorders. Multi-camera operation of the EOS R5 and EOS R6 is also greatly enhanced with the advanced wireless sync options offered by the Atomos AtomX SYNC clip-on module for Ninja V.
This connects multiple AtomX SYNC-equipped Ninja Vs with cameras and audio recorders by using patented long-range RF wireless technology to communicate at distances up to 200m. At the same time, the module can bring other devices into the synchronized system via in-built Bluetooth. For more details, head over to Atomos' official website here.
[source: Atomos]
Order Links:
Claim your copy of DAVINCI RESOLVE - SIMPLIFIED COURSE with 50% off! Get Instant Access!