In the past, beautiful tracking shots usually existed in the field of professional film studios. Most of photography addicts and amateur photographers can not afford the expensive dolly and track. But with the popularity of DSLRs, more and more people love to use it to shoot professional videos, many excellent easy-to-use but affordable camera sliders have been produced on the market.
Recently, the innovative filmmaking gear maker Smartta announced a new generation SliderMini 2. It's a pocket-sized motorized slider for video and timelapse with remote app control from your Android or iOS smartphone. The original SliderMini was released in 2018. It was launched on Indiegogo and 1693% funded within a month. What's more, it won an iF Design Award 2019.
What is the Smartta SliderMini 2?
Smartta SliderMini 2 is the second generation slider from the specialized company. Based on user feedback from the original, new SliderMini 2 offers some major upgrades. It uses a powerful motor and will allow you to hold and carry 15kg horizontally or 1.25kg vertically.
Built-in battery with larger capacity, it supports up to 52 hours of life. Well, in addition to the modes available in the first edition, a new mode called "Curve" has been added in SliderMini 2, which helps you adjust the speed profile of your slides, time-lapse and stop motion.
What Can You Do with Smartta SliderMini 2?
There are four main shooting modes where you can get the most from Smartta Go App – Time-lapse, Curve mode, Stop motion, and loop mode. Let's take a closer look.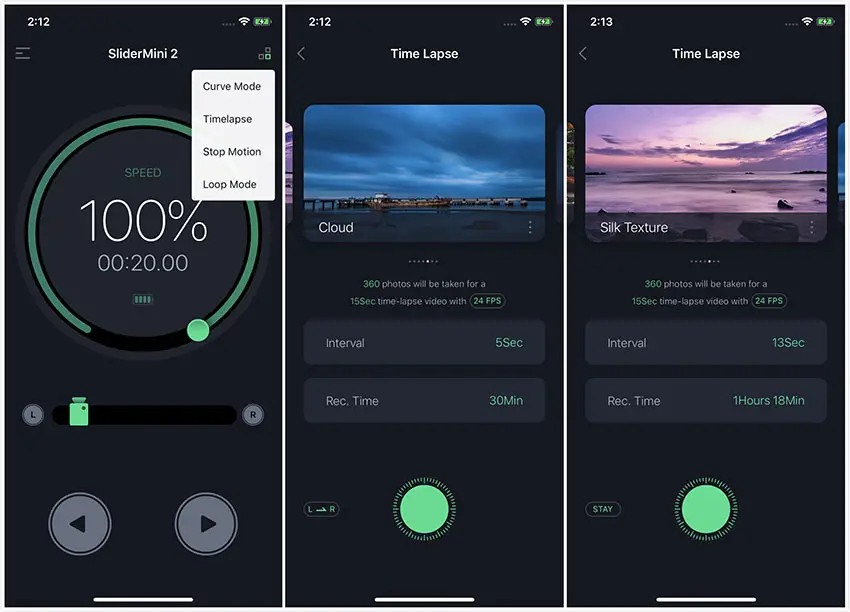 Time-Lapse
In short, time-lapse photography is a technique that can make time appear to speed up. A series of images can be a video. You can use this method to compress hours or days of material into just a few seconds.
The SliderMini 2 is a great gear for time-lapses. There are 10 preset time-lapse modes built-in the app (Smartta Go), which allows you to start to catch cinematic time-lapse videos in a single tap. Or if you would want to build your time-lapse library according to your needs, just feel free to adjust the preset settings of those modes. I think it's a good choice for a non-professional photographer.
Curve Mode
The new curve mode lets you change the various speed of camera movement. There are four types of speed mode built-in: Zoom In, Zoom Out, A to B, and Focus A.
My favorite point is according to different shooting needs, you can manually adjust the speed while the slider is moving by simply swiping the speed block up and down to achieve the desired effect.
Stop Motion
A long time years ago, I watched other people creating stop motion animation, and I really love it. But shooting stop motion animation will take a lot of time and energy, so I haven't shot a successful stop motion animation until now.
For someone interested in creating stop motion with a slider, SliderMini 2 provides you very easy-to-use features. With clear instructions in the app, just set up how many frames you want to shoot, you can create the illusion of movements and
makes all frames come to life.
Loop Mode
This mode I think it's pretty suitable for interviewing workers. It can move back and forth continuously until you tell it to stop.
Smartta SliderMini 2 Specifications
Size: (L x W x H) 264 x 30.5 x 84.8 mm
Weight: 0.57kg/1.26lb (Battery included: 30g)
Travel Length: 200mm / 8 in
Max. Speed: 10mm/sec (0.4 in/sec)
Min. Speed: 0.1mm/sec (0.004 in/sec)
Battery Life: Up to 52 hours
App Compatibility: iOS 10.0 or later & Android 5.0 or later
What's Included in the box?
SliderMini
Shutter Release – C1
Recharge Cable
Warranty Card
Shutter Release – S1
Shutter Release – C2
User Manual
Smartta is running a pre-sale now. If you participate in their pre-sale, you will get a free ball head. So a ball head will be added to your box.
Conclusion
SliderMini 2 has the same compact unibody design with no assembly required. It's small but does its jobs very well without stuck. If you have outdoor shooting work, you can easily take it out anywhere.
The Smartta SliderMini 2 is available now. To celebrate the release, Smartta is running a pre-sale campaign and offering 20% OFF plus a free Ball Head (a $69 value). It runs until the end of July.
[source: Smartta SliderMini]
Claim your copy of DAVINCI RESOLVE - SIMPLIFIED COURSE with 50% off! Get Instant Access!