With the ongoing adoption of 4K across the entire broadcast industry, the demand for sending 4K video over a large distance is constantly growing. This is where solutions like the brand new Teradek Ranger might be extremely beneficial.
Billed as the world's first zero-delay (< 1 ms) wireless video system to transmit uncompressed 4K HDR video up to 5,000 ft. (1,524m), Ranger can work reliably in various challenging RF conditions while offering a wide operating range from 4.9 GHz to 6.0 GHz.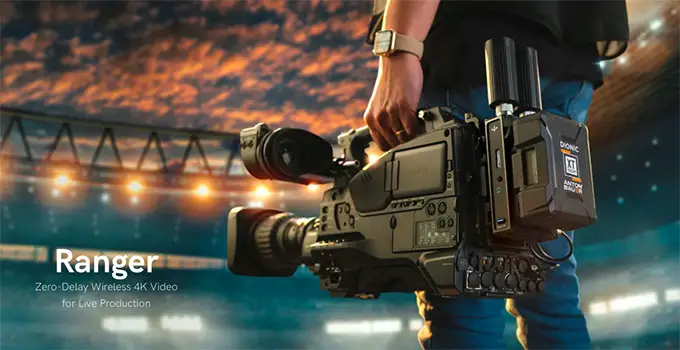 The system utilizes Teradek's patented Joint Source Channel Coding (JSCC) technology, which features MIMO and OFDM. This enables it to transmit uncompressed 10-bit, 4:2:2 video with less than 1 millisecond of delay.
Interestingly enough, Ranger uses AES-256 encryption and RSA 1024 key pairing to protect the transmitted signal so that nobody can decrypt the wireless feed or connect another receiver without explicit authorization.
I/O wise, Ranger features a 12G SDI input and a 12G SDI looping output alongside an HDMI 2.0 input and a 6-28V DC power input. The device is designed to be attached between a camera body and the battery while using either V-Mount or AB Gold Mount plates.

What's more, the system can be wirelessly controlled directly from your smartphone or tablet with the Launchpad app for iOS and Android. The app allows you to pair transmitters and receivers, monitor channel interference, set operating frequencies, and control your cameras directly from the palm of your hand.
Unlike Teradek Bolt, Ranger provides an expanded frequency range from 4.9 GHz to 6.0 GHz and finer manual frequency control. The onboard H+V antennas, on the other hand, deliver better image quality over longer ranges.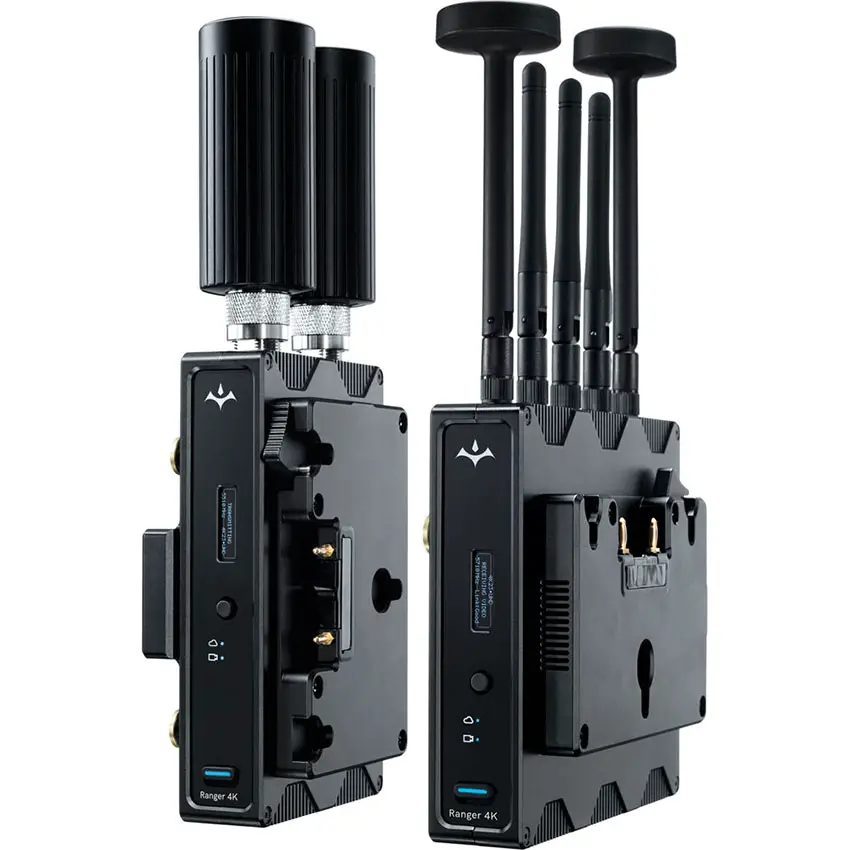 According to Teradek, Ranger is built on the latest Amimon 4K zero delay chipset (i.e. Bolt 4K), but has a unique RF design that allows it to do some things that none of Teradek's cinema products can do.
This is a product that competes with various devices from Vislink, ABonAir, and others in the broadcast and high end live production markets, which typically see wireless transmission prices well above the $20,000 mark.
So what makes Ranger unique?
Expanded frequency range: you can operate on 4.9 GHz all the way up to 6 GHz, while being able to move throughout those bands in just 5 MHz increments for very fine control over your spectrum use. This is very important when working with a frequency coordinator at major sports stadiums and a big differentiation compared to cinema systems like the Bolt.
UNII-5 ready: UNII-5 is a band of frequencies the FCC is about to open up, allowing us to make use of 5.925 GHz – 6.425 GHz. Combined with Ranger's already wide frequency support, this makes the system incredibly flexible for use around the world. Very few systems can go from 4.9 GHz to 6.425 GHz.
H/V antennas: This provides much better video quality over the wireless range than the stick antennas found on Bolt systems. You cannot simply put these on your Bolt XT and get the same experience — it requires new internals and software for its work. Only Bolt 4K MAX has the ability to use these.
Compared to other systems in the broadcast world, Ranger offers the lowest latency and highest video quality. While others in this space might have even more flexible RF capabilities (i.e. licensed bands) and features, they are at a much higher price point with much larger and power-hungry designs."
Currently, there are two Teradek Ranger versions. Ranger HD has a range of up to 1,500 ft and sells for $6,990 whereas the Ranger 4K supports signals of up to 4K 60p and it has a range of up to 5,000 ft. (1,524m) line of sight.
The flawless transmission of 4K video over such a long distance comes at a price, though. Get ready to shell out $14,990 if you want to get all the bells and whistles that come with the full-fledged Ranger combo. To learn more about the system, head over to Teradek's official website here.
[source: Teradek]
B&H Pre-Order Link:
Teradek Ranger 4K 12G-SDI/HDMI Wireless TX/RX Set Gold Mount
Disclaimer: As an Amazon Associate partner and participant in B&H and Adorama Affiliate programmes, we earn a small comission from each purchase made through the affiliate links listed above at no additional cost to you.
Claim your copy of DAVINCI RESOLVE - SIMPLIFIED COURSE with 50% off! Get Instant Access!