Blackmagic Design has just announced ATEM Mini Pro ISO, a new low-cost live production switcher with a new 5 stream recording engine that allows all video inputs to be recorded and edited after the event.
This allows users to get a clean feed of all inputs and use edit software multi-cam features for later editing. ATEM Mini Pro ISO also records all audio files, media pool graphics and a DaVinci Resolve project file, so a live production can be opened and edited with a single click.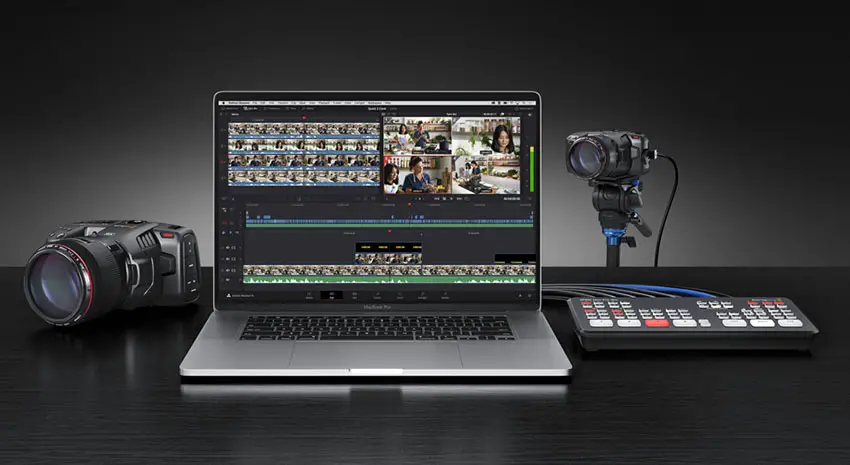 This model adds recording of up to 5 separate H.264 video streams in real-time. That's a clean feed of all inputs and plus the live program. A DaVinci Resolve project file is also saved so that users can open their live production to adjust edits, change shots, remix audio, and adds color correction.
With 4 independent HDMI inputs, you can connect up to 4 high-quality video cameras to the ATEM Mini PRO ISO. All video sources will re-sync to the switcher if they operate at different video standards so you don't have to worry about connecting video devices as they all just work.
The ATEM Mini Pro ISO also has a built-in hardware streaming engine for live streaming via its ethernet connection. That means you can live stream to YouTube, Facebook and Twitch in better quality, without dropped frames and with much simpler settings.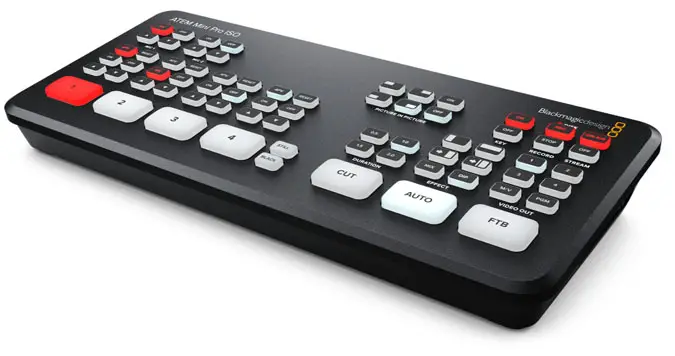 Just select the streaming service and enter the streaming key. There are palettes in ATEM Software Control for streaming setup, plus streaming status is also displayed in the multiview. Streaming status is easy to understand as the data rate indicator shows internet speed required for the video format users are using.
The ATEM Mini Pro model also supports direct recording of the streaming data to USB flash disks. To ensure maximum compatibility, ATEM Mini features a USB connection that operates as a simple webcam source. ATEM Mini works with software and platforms such as Open Broadcaster, XSplit Broadcaster, YouTube Live, Facebook Live, Skype, Zoom, Twitch, Periscope, Livestream, Wirecast, and more.
Each of the 4 HDMI inputs feature their own dedicated standards converter. That means ATEM Mini will automatically convert 1080p, 1080i and 720p sources to the video standard of the switcher.

The HDMI output is a true "aux" output so users can clean switch each HDMI input or program to this output. If you are using program/preview switching, the HDMI out can be selected to preview, or on the ATEM Mini Pro model, it can be selected to display a full multiview.
The ATEM Software Control app, on the other hand, unlocks the hidden power of ATEM Mini and allows access to every feature in the switcher. The software features a visual switcher user interface with parameter palettes for making quick adjustments.
The built-in "media pool" allows the loading of up to 20 separate broadcast quality RGBA graphics for titles, opening plates and logos. Graphics can be loaded via ATEM Software Control or downloaded directly from Photoshop using the ATEM Photoshop plug-in.
ATEM Mini PRO ISO also sports a built-in Fairlight audio mixer. It features a total of 12 channels so customers can mix audio from all sources. That's audio from all HDMI sources and the 2 stereo mic inputs. Each input channel features the highest quality 6 band parametric EQ and compressor, limiter, expander and noise gate as well as full panning.
ATEM Mini Pro ISO Features
Miniaturized control panel based design.
Built-in support for recording each input as a separate ISO file.
Saves DaVinci Resolve project file for 1 click editing of live production.
Supports connecting up to 4 cameras or computers.
Live streaming via Ethernet supported on ATEM Mini Pro.
USB output operates as a webcam and supports all video software.
Automatically standards converts and re-syncs all HDMI inputs.
Includes free ATEM Software Control for Mac and Windows.
Internal media for 20 RGBA graphics for titles, opening plates and logos.
Includes ATEM Advanced Chroma Key for green/blue screen work.
Multiview allows monitoring of all cameras on ATEM Mini Pro.
Audio mixer supports limiter, compressor, 6 band EQ and more!
ATEM Mini Pro ISO is available now for $895 from Blackmagic Design resellers worldwide.
[source: Blackmagic Design]
Claim your copy of DAVINCI RESOLVE - SIMPLIFIED COURSE with 50% off! Get Instant Access!