Some of you may recall that back in July, SmallHD unveiled the shipping dates and prices of its brand new 4K Production Monitor lineup. The OLED 22, Vision 17, Vision 24, and Cine 24 combine the 4K HDR post-production viewing experience with the rugged construction needed for physical production environments.
Today, the company announced that the OLED 22 4K Pro Monitor starts shipping selling for $11,999. Keep in mind, though, that this is a limited-time introductory price whereas the regular price will be $14,999. Let's take a closer look at the details below.
To recap, the OLED 22″ features a 21.6in/55cm screen size, a claimed >1,000,000:1 contrast ratio with an absolute black point, 10-bit color depth, and a resolution of 3840×2160. It covers 100% P3 / 135% Rec 709 color gamuts. The monitor has virtually no image degradation at any viewing angle, providing a real-time image as vivid and pristine as the final output.
It's also worth mentioning that the OLED 22's hardware design is built around the Small4K Video Processing Architecture, which provides a good range of input/output options with eight 12G-SDI and two HDMI 2.0 ports, all of which enable 4K signal processing.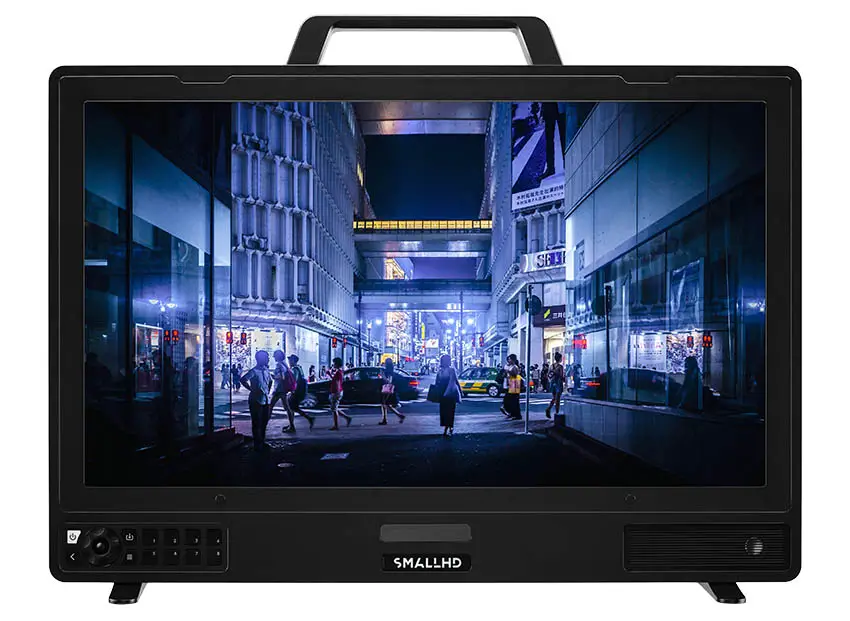 Furthermore, the monitor is housed in a rugged, unibody, milled-aluminum chassis that includes 36 individual ¼-20" mounting points along the top and sides. The OLED 22 weighs-in at 4.2kg (9.3-lbs) and comes equipped with a removable handle and feet which allow for convenient portability.
It also has two hot-swappable power inputs along with one 3-pin XLR and a slide-on Dual Battery Plate (Gold Mount & V-Mount options, sold separately). Theses can be attached via the built-in Smart Rail on the rear side of the monitor. A two 2-pin locking accessory outputs add power flexibility for additional devices.
Last but not least, the OLED 22″ is Teradek Bolt 4K compatible and features SmallHD's PageOS 4 which provides users with easier access to a diverse and customizable array of curated exposure tools and workflows. The operating system supports a streamlined color-calibration experience with Color Pipe, an intuitive rendering tool that accurately converts log formats into SDR and HDR.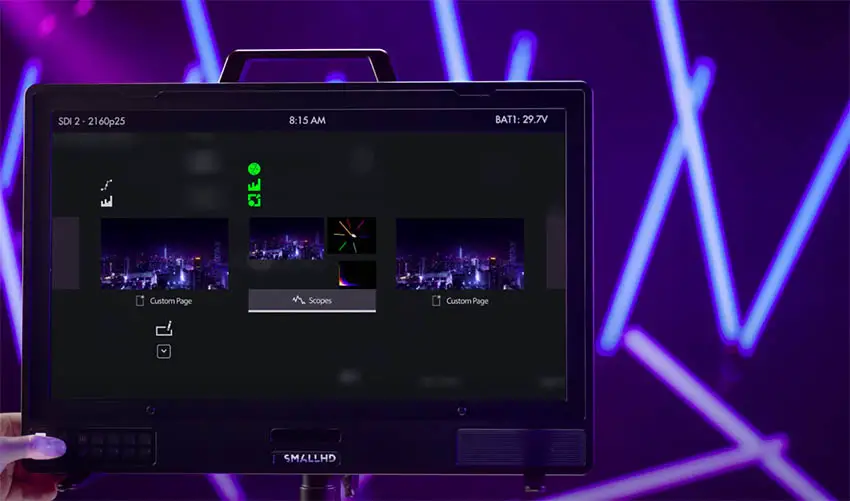 It also brings significant upgrades in user page presets, 4K HDR (PQ) waveforms, improved false color, and dual/quad viewing options as well as retaining the same dependable features known to users of previous PageOS-equipped monitors.
SmallHD OLED 22 Highlights
3840×2160 Resolution
21.6in/55cm OLED
>1,000,000:1 Contrast
350nits
10-bit Color Depth
Absolute Black Point
180-Degree Viewing Angle
True-to-life Color Accuracy
4K HDR waveform and scopes
Dual & Quad-view
Color Pipe HDR color rendering
Monitor Calibration Wizard
Inputs: 4x 12G-SDI, 1x HDMI 2.0
Outputs: 4x 12G-SDI, 1x HDMI 2.0
Ultra Lightweight: 9.35lbs
Teradek Bolt 4K compatible
Price: $11,999
[source: SmallHD]
B&H Order Link:
SmallHD OLED 22″ 4K Reference Pro Monitor
Claim your copy of DAVINCI RESOLVE - SIMPLIFIED COURSE with 50% off! Get Instant Access!