For those of you who need a viable live streaming solution specifically designed for your favorite iOS device, then Teradek Airmix might be just the right tool for you.
In a nutshell, the app allows users to stream to multiple platforms like Facebook, YouTube, or Periscope all at once while turning your smartphone or tablet into a live video switcher. On top, it offers a variety of custom graphics, animations, transitions, customizable lower thirds, scoreboards, and scaling options.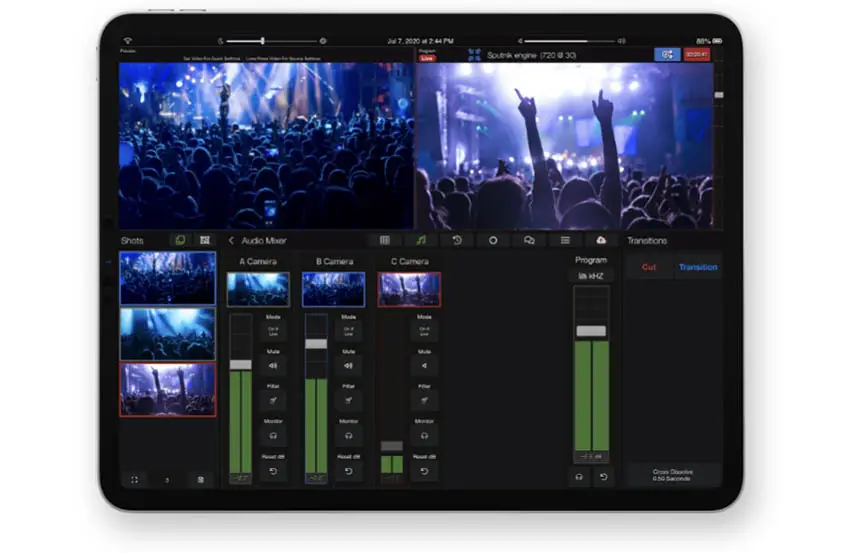 Teradek Airmix has an intuitive and simple user interface that besides the ability to switch between up to 10 video sources, allows users to control audio levels and set parameters for each video stream. You can even add YouTube, Twitch, and Facebook chat to your live broadcast.
The iOS app supports single or multi-camera live productions, but if you really want to take your live streaming workflow to the next level, you'll need an optional Teradek Core or Sharelink account to enable multi-platform streaming.
It's also worth noting that in an environment without an internet connection, Airmix can record the video signal and stream/upload the video later.
Last but not least, the app includes a sports timer and a set of custom scoreboards. It also allows you to re-watch the important moments throughout the broadcast in Instant Replay using slow motion.
By using Teradek Airmix, you can switch between multiple cameras like DSLR's and camcorders with Teradek encoders and pre-recorded video and audio files.
You can also add PowerPoint files, PDF files, or web-based links on the fly. Teradek Airmix is available in three different versions that are already available on the App Store.
[source: Teradek]
Claim your copy of DAVINCI RESOLVE - SIMPLIFIED COURSE with 50% off! Get Instant Access!