Premiere Pro, Premiere Rush, and Audition just got native support for new Apple M1 chipsets. These are available in public Beta today. The M1-native Premiere Pro Beta includes the core editing functions and support for the most widely used codecs: H.264, HEVC, and ProRes.
Since Premiere Pro is built on a large codebase with support for a wide range of media and functions, Adobe is taking a phased approach while building out native Apple M1 support. This allows the software engineering team to validate performance for specific parts of the application before adding new components.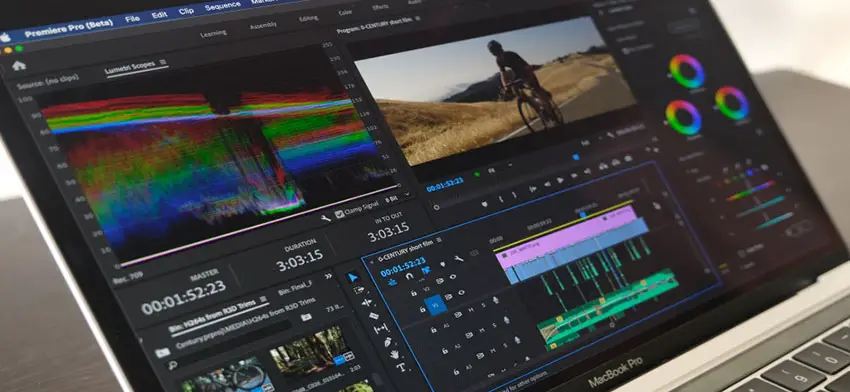 Users should note that the Premiere Pro Beta for Apple M1 incorporates the latest builds of Adobe's new captions workflow, which requires a project file format upgrade. It's recommended to create a copy of current projects for Beta testing to avoid compatibility issues for any ongoing production work.
Limitations for the initial Premiere Pro Beta on Apple M1 hardware include third-party integrations, such as Transmit reference monitoring hardware, plugins, extension panels, and control surfaces.
The M1-native Premiere Rush Beta, on the other hand, includes core editing functions, support for H.264 video, the ability to add titles and audio from Rush's built-in libraries, and will allow users to create projects and export locally on Apple M1 devices. Additional format support, syncing projects between devices, and exporting to social platforms will be introduced in future Beta builds.

Last but not least, the Audition Beta with native Apple M1 support already shows performance gains for many audio effects. Other improvements include real-time performance for the Spectral Frequency Editor. The Audition Beta for Apple M1 hardware incorporates most of the existing audio editing features but does not yet have support for video playback, extension panels, or some third-party formats and integrations.
While Adobe completes the Apple M1-native versions of their applications, users can install and use the existing release versions using Rosetta 2 emulation with Apple M1 devices with macOS 11.0 (Big Sur). An issue with Roto Brush 2 in After Effects in Rosetta 2 will be addressed in an upcoming release. Please note that third party integrations have not been tested in Rosetta 2 emulation mode.
Release versions of Premiere Pro, Audition, and Premiere Rush with full native support for Apple M1 systems on macOS will be available in the first half of 2021.
Work on native Apple M1 support for After Effects and Character Animator Apple M1 will begin in 2021. The Beta builds for Premiere Pro, Premiere Rush, and Audition with native Apple M1 support can be installed directly from the Creative Cloud Desktop application.
[source: Adobe]
Claim your copy of DAVINCI RESOLVE - SIMPLIFIED COURSE with 50% off! Get Instant Access!