Teradek has just announced a brand new ultra-slim HD streaming encoder called Vidiu X. The unit enables the broadcasting of HDMI video signal up to 1080p60 resolution from your camera to the Internet using Ethernet, Wi-Fi, or even an optional 4G/3G modem when a LAN isn't available.
You can also use the available HDMI output on the Vidiu X for local preview on a monitor. Additionally, the device is Wi-Fi 6 and 5G capable, so it is ready for super-fast data rates and future compatibility.
Vidiu X users can also broadcast using the optional Sharelink cloud service (subscription required) and bond their stream over seven different sources.
The unit supports high-quality, low-latency AVC H.264 compression for compatibility with a wide variety of streaming applications and platforms such as Facebook, YouTube, Vimeo, and other RTMP/RTMPS web services.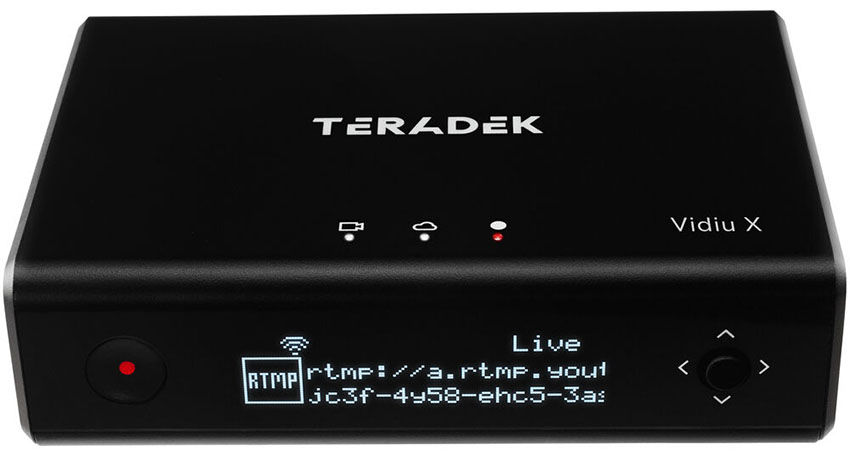 The downloadable VidiU App for iOS and Android, on the other hand, allows you to configure your streams remotely, so you can remain fully mobile.
The Teradek Vidiu X comes equipped with an SD/SDXC card slot, a bright OLED screen showing the status of the ports, power, and stream information along with a USB Type-C power input that allows you to power the unit using a variety of mobile power options.
There are also 1/4″-20 and M3 threads available for quick and easy mounting onto a camera or rig without adding too much bulk.
Teradek VidiU X HD Video Streaming System
Compact 1080p60 Video Streaming Encoder
HDMI Input & Output, OLED Display
USB Type-A 3G/4G Modem Support
Ethernet & Wi-Fi , Wi-Fi 6 & 5G Capable
7-Link Bonding via Optional Sharelink
AVC/H.264 Compression, Video Scaler
500 kb/s to 12 Mb/s Preset Bitrates
VidiU App for iOS and Android
SD/SDXC Card Slot for Recording/Storage
M3 and 1/4″-20 Mounting Threads
The Teradek Vidui X is available to order retailing for $699.
[source: Teradek]
B&H Pre-Order Link:
Teradek VidiU X HD Video Streaming System
Claim your copy of DAVINCI RESOLVE - SIMPLIFIED COURSE with 50% off! Get Instant Access!