When Blackmagic Design introduced the option to record directly to a portable SSD drive, it was a game changer. With faster write speeds and storage space in the terabytes, a portable SSD drive is a great option for longer-form videos, like interviews or documentary shooting.
But the current popular SSD alternatives like the Samsung T7 or the Sandisk Extreme drives can cost around $150 and have at best 1GB/s write speeds. But with a do-it-yourself option, that uses a faster M2 NVMe SSD drive and an external drive enclosure, users can not only get over twice the speed and storage space but can do it for less.
The idea comes from the popular YouTube Channel Tech Notice, which seeks to provide the "best bang for the buck" when it comes to using technology in content creation. This creator shoots using the Blackmagic 6K Pocket Cinema Camera and was looking for a faster, more affordable way to record video externally.
The Samsung T7 Portable SSD drive sells on Amazon for about $120 US, while the SanDisk Extreme is $130. Could he actually make a drive that costs less and performs better?
Well, the DIY route seldom accomplishes both goals, but this is what he came up with: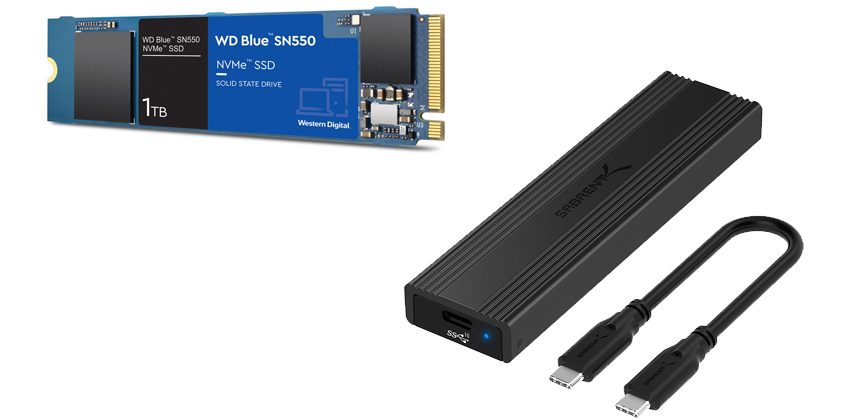 The parts list for the DIY Portable SSD drive breaks down to an M.2 Western Digital 1TB WD Blue SN550 NVMe Internal SSD at Amazon, and the Sabrent M.2 NVMe External drive enclosure. Total price – $120.87 with free shipping as a Prime Member.
Just barely, but the DIY route checks the price box. Now onto the benchmarks. After putting the drive and enclosure together, benchmarks were tested using the CrystalDiskMark SpeedTest software, and Blackmagic's own Speed test utility. The result was a read speed of 1043MB/s and 952 Mb/s read-write speeds using CrystalDiskMark, and 911 MB/s read and 938 Mb/s writing speeds.
Then, he copied a 6K file onto the external drive from the camera to see just how fast it would write video in a real-world condition. He found that it could write at 700 mb/s, which is double what he was getting using another SSD drive recording directly at 6K. Twice the speed? Well, that seems to check the performance box.
Lastly, there's the longevity of the Samsung T7 and the DIY SSD option. According to Samsung's own website, the T7 SSD has a terabytes written lifespan of a maximum of 300 TB written before it starts to fail. While Western Digital specs out their Blue SN550 at twice that 600 TB written.
Your mileage may vary, of course, but if the numbers hold up, this DIY option may just be a faster way to record higher resolution video directly to a portable SSD than just paying the nameplate premium.
[source: Tech Notice]
Order Links:
Samsung T7 NVMe SSD Drive (B&H)
Sabrent M.2 NVMe External drive enclosure (Amazon)
Claim your copy of DAVINCI RESOLVE - SIMPLIFIED COURSE with 50% off! Get Instant Access!