Ideal shooting environments are 100% under our control. Some electronic making noise in the background? Just unplug it. A light shining in from the window? Pull the curtains or turn the light off completely.
Unfortunately, reality doesn't often provide us with these perfect worlds. Often, plenty of our footage has background noise, so we must try to deal with it during the edit. Sometimes the problem comes from the equipment itself, such as with noisy preamps.
Audio expert Dave, brought to us by Josh Olufemii, has a tutorial on how to remove background noise in Premiere Pro. For people uncomfortably with roundtripping their files through other programs or simply want a quick fix for smaller clips this might be a great workflow option.
Headphones recommended!
Among the first and easiest things to do is to bring up your levels. A lot of people are cautious with their audio and want to avoid clipping, so they are stuck bringing everything up in post. This has the side effect of raising the volume of everything in the recording, including background noise.
Assuming you can handle the leveling process, we move right into working on the background noise. Turn on the Audio Track Mixer (it's under Window).
Be careful as this will affect the whole channel, you'll want to change over to clip if you only want to work on one clip. Channel does make sense for many workflows as you might have one person's voice on one channel and a second on the next channel.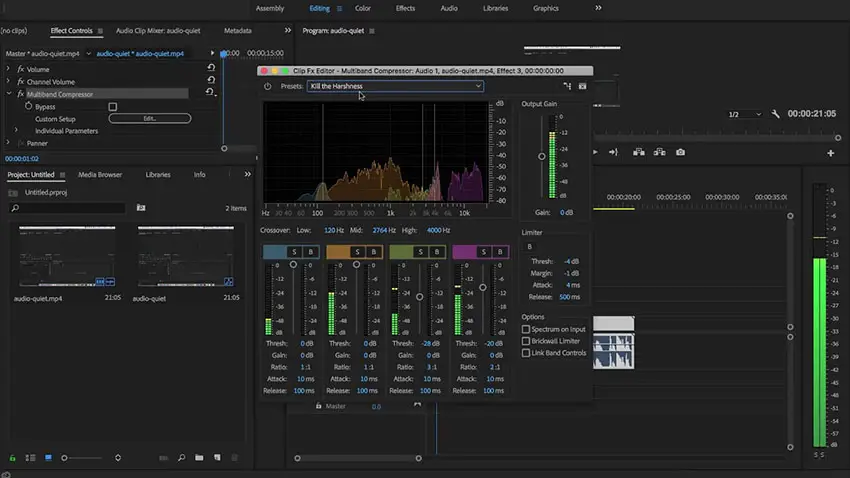 Using a Compressor, Dave brings up the volume. Then, wanting to clean up the noise on the channel he heads up to the mixer and adds a simple Denoise effect – before the compressor.
The built-in denoise tool is simple and might just do what you need it to without much fiddling. Just keep bringing up the strength percentage until you get to a happy place that doesn't make the audio sound unnatural.
You'll want to keep some degree of background noise in as an ambience. Cleaning it up 100% will usually make it sound weird since people are used to hearing some degree of background noise all the time.
That's a good start if you want to stick with built-in tools. If you want better you'll need to look outside Premiere, and that's where the Waves NS1 Noise Suppressor plugin comes in. It is also a one-slider tool to remove noise. It is much more effective and has presets to deal with common situations, like air conditioning.
Looking for more control? Izotope has a few plugins worth looking at. The Voice De-noise is up first. This allows you to actually profile the sound. Meaning the software can analyze the clip, figure out the background noise, and then more accurately remove just the noise from the clip. This can be a little more effective at cleaning up the actual noise in the background. Dave actually stacks this with the Waves NS1.
Finally, the last recommended plugin is the Izotope Spectral De-noise – essentially a more advanced form of the Voice De-noise. It has a similar analysis feature but has a few more settings you can learn to get a much more fine-tuned de-noise profile.
Even if your noise isn't too noticeable there's value to just applying a very basic noise removal to clips. It can clean things up easily and perhaps make your work feel a tad bit more professional.
[source: Josh Olufemii]
Claim your copy of DAVINCI RESOLVE - SIMPLIFIED COURSE with 50% off! Get Instant Access!