Guys, this is just a quick heads up that there are less than 24 hours left to get thousands of dollars worth of video creating tools for just $89. Remember, this year's 5DayDeal Video Creators Bundle is a brand-new exclusive collection packed with over a dozen of resources that won't be available at this heavily discounted price ever again!
We all love getting value at a fraction of the cost, right? Well, this is a once-in-a-lifetime opportunity that you definitely don't want to miss. So, get the resources you need to grow your video business, from the industry professionals you trust, at a price you can afford.
The 2021 5DayDeal Video Creators Bundle contains courses on lighting, editing, compositions, lens effects, screenplay writing, and so much more. Regardless of what type of video production you are interested in or what you plan on using video for, you'll be well-equipped to create your best work to date.
These contributors have created various resources to drive creativity, productivity, and further knowledge. Their products are normally priced in the range of $50-$600, but they have been bundled together and are being offered for less than most of them cost individually. Here are some of the assets you'll get right away:
Learning to Light Night Exteriors by Hurlbut Academy
CYBERPUNK Scores & LUTs Library Vol. 2 by Triune Films
Observational Editing + Pace & Timing by Inside The Edit
Real Estate Video Master Class by Brandon Washington
AE Academy Volume I by Motion Science
Lut Collection by Tropic Colour
Color Grading Secrets Pro by Denver Riddle
The Hand Painted Master Bundle by Smash Works
FILMPAC HD Stock Footage Pac byFilmPac
How to Film Yourself by Andyax .com
The Ultimate Timelapse Guide + Timelapse & Photo Editing by Matthew Vandeputte
Ultimate Editor Bundle by Eric Thayne
Mastering Cinematic Compositions by Cinecom.net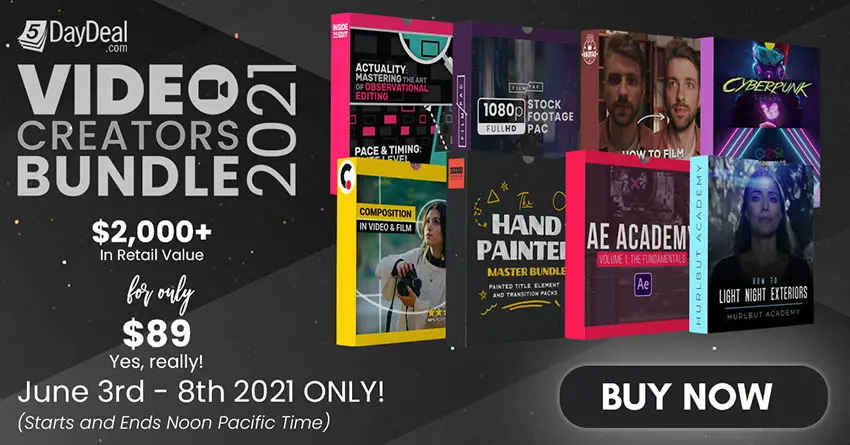 Yeap, there are 12+ products in the main bundle alone and you'll have access to all of them for a one-time payment of $89 – but only in the next 24 hours.
Best of all, when you invest in your inner creative genius by getting the bundle, you'll be joining a network of #DifferenceMakers by supporting numerous charities! For every bundle sold, 10% of the revenue goes directly to making the world a better place to film.
Head over to 5DayDeal right now, get your bundle before it's too late, and learn from the best in our industry. The #5daydealvideo bundle sale ends tomorrow at noon, so don't miss it!
Claim your copy of DAVINCI RESOLVE - SIMPLIFIED COURSE with 50% off! Get Instant Access!